Fast Food Restaurants Target Toddlers
How Old Was Your Child When They First Tasted Fast Food?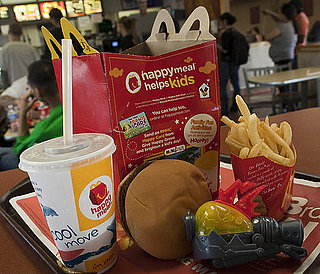 It's like feeding french fries to a baby! Kids aren't the only ones that find Happy Meals are pleasing. According to a recent report, the highly caloric kiddie meals at fast food restaurants are targeting really young tots! In some cases, babe could be unwrapping a burger or sipping a soda before they are out of diapers! It said:

"What we found in the marketing data is a staggering amount of fast-food advertising that starts when children are as young as 2 years old," Jennifer Harris of the Yale University Rudd Center for Food Policy & Obesity in Connecticut told a telephone briefing.
How old was your child when they first tasted fast food — even if it was just a bite of a mommy's fry swiped in ketchup?