Feed USA + Target Collection For Babies
Exclusive First Look: Lauren Bush Lauren's Feed USA + Target Collection For Babies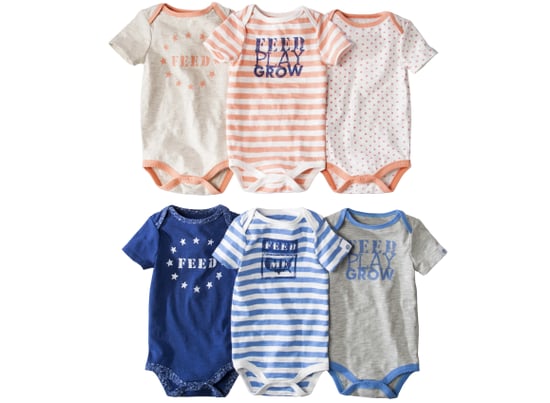 What if, on your next weekly trip to Target to "pick up a few things," you ended up providing 12 meals to Americans in need? And what if you could do so by simply purchasing a set of adorable onesies for a mere $20? Beginning June 30, helping the nation's hungry will be as easy as visiting your local Target store thanks to the retailer's upcoming collaboration with FEED Projects, Lauren Bush Lauren's six-year old charity that provides meals to children around the world. The limited-time-only collection includes more than 50 products codesigned by Lauren and directly benefitting Feeding America, the nation's leading domestic hunger-relief charity.
And while we love the idea of the collapsible bike and dangling bangles in the Feed USA + Target collection, our hearts skipped a beat for the adorably sweet onesie three-packs ($20) and sets of bibs ($15 for three), the sales of which will feed 15 and 12 meals respectively. Target's giving us an exclusive first look at the two pieces of the baby collection, which manage to incorporate the charity's name while still remaining cute and practical. Through the collaboration, Target hopes to provide 10 million meals to hungry tots throughout the country. Take a look at the pieces, and tell me: will you be running to your local store to pick up some pieces?
Keep reading for a sneak peek a the rest of the Feed USA + Target Collection for babies.