Felt Sewn Fall Leaves Craft For Kids
Craftastic! Felt Sewn Fall Leaves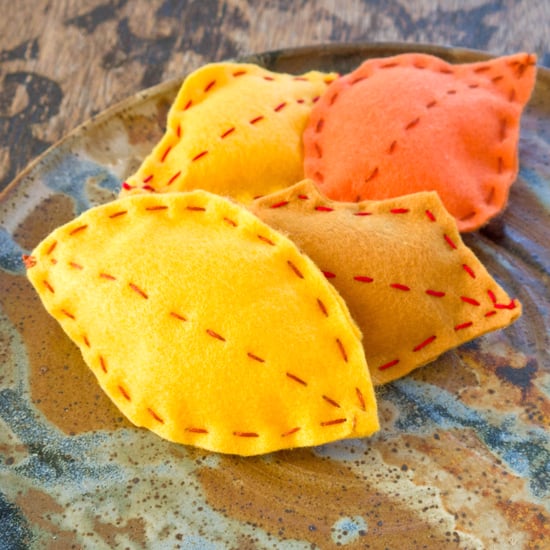 Create something really special with your child that will decorate your home and bring the beauty of falling Autumn leaves indoors — without creating a big mess. Sewing is an important skill for kids to master, making this craft perfect for children 6 and up. And with a bit of adult supervision, these felt sewn leaves are easier to make than you think, turning into a colorful Fall centerpiece or soft playthings for indoor imaginary play.
Keep reading for the directions.
What You'll Need:
Various colors of felt
Scissors
Craft string
Craft needle
Fiberfill stuffing
Directions:
Start by selecting a color of felt for the first leaf, then fold the sheet in half. Invite your child to cut the shape of a leaf, creating two sides for the felt sewn leaves.

Now your child can cut a length of craft string, thread the craft needle, and then straight stitch down the center of one of the leaf sides, knotting the ends. A straight stitch is simply sewing the string up and down, creating very small stitches. Offer assistance as needed, encouraging your child to make same-size stitches and to work in a straight line.

Once your child has finished creating the center vein of the leaf, match up the two sides of the felt leaf, cut a longer length of string, and begin stitching around the outside edge. Encourage your child to continue stitching around the leaf but to leave a one- to two-inch opening before finishing.
Now your child can stuff the leaf with a handful of the stuffing and then close with a few more stitches. Secure the finished leaf with a knot.

Continue making stuffed felt leaves until your child has a collection. Arrange on a plate for a colorful Fall centerpiece for a special dinner, use for fun Autumn imaginary play, or add lengths of string and hang somewhere special.