Field Station Dinosaurs Theme Park in New Jersey
Din-O-Mite! New Dinosaur Theme Park Breathes Life Into Prehistoric Creatures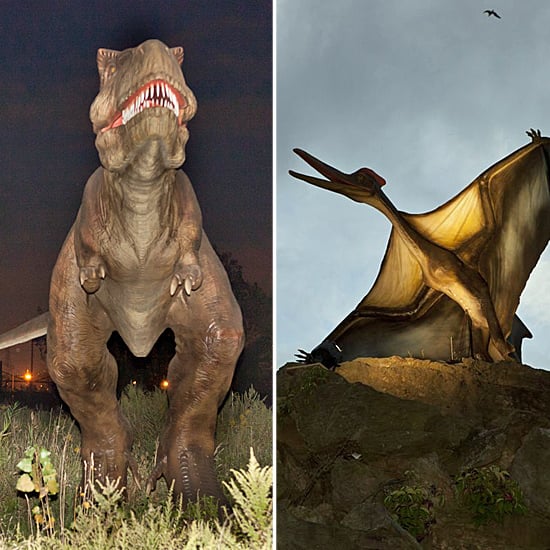 Dinosaurs are alive and . . . living in New Jersey? It may sound a bit farfetched, but with a slight suspension of disbelief, it's true, and it's amazing.
Field Station: Dinosaur, a Jurassic Park-like prehistoric theme park in Secaucus, NJ, opened in May and has been attracting dinosaur-loving tots and their eager parents ever since. The park's 31 life-size dinosaurs not only stand just minutes away from the hustle and bustle of New York City, but thanks to animatronics and facial-recognition technology, they move and roar as visitors happen upon them in the park's 20-acre footprint. The park's founder traveled the world to find the best and most lifelike dinosaurs in the world before opening the doors. So not only is the 15-foot-tall T. rex a showstopper, but the baby dinosaurs that rest in the "field guides'" arms when visitors walk into the park are enough to make grown-ups do a double-take.
Keep reading for more details on the park and their Halloween-themed tours.
With a dinosaur-loving preschooler at home, I couldn't wait to visit the park and show my tot more than just the bones that exist at the Museum of Natural History. The park's new "Dinosaur After Dark" weekend tours — complete with Halloween-inspired ghosts and spooky tales — were the perfect opportunity to do so. With a dinosaur-themed singalong during our pretrek meeting, a flashlight-lit discovery of triceratops and argentinosaurus, a dino-centric dance party, geologic discoveries, and finally an old-fashion campfire complete with s'mores, we truly felt like part of a paleontology expedition. Though the park does feel a bit Disney-esque (the paleontologists have the same eagerness as Disney's cast members and the animatronics are just like those you'll find on Disney rides), the excitement and sheer magnitude of the creatures make it an experience that both parents and kids will appreciate.