Fireworks Ice Cream With Pop Rocks Candy
Fireworks Ice Cream: Kid Friendly or Are You Kidding?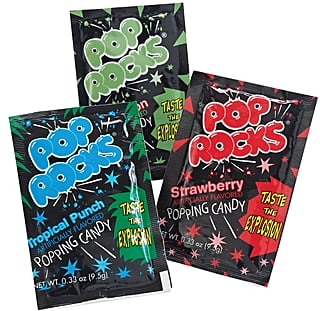 In the '80s, Pop Rocks were the ultimate candy, until rumors circulated about the danger of mixing them with soda. I'm fairly certain it was an urban myth, since my older sister once shook a pack of the popping candy in her mouth then guzzled half a can of Jolt and lived. I never thought of mixing the crystallized sugar candies with ice cream, but Stewart's Shops on the East Coast did. Their menu reads:

Celebrate any day with a bang! Our Fireworks flavor combines creamy vanilla ice cream with a tart cherry swirl and red and blue pop-rocks that burst in your mouth!
Independence Day is approaching, but would you give this treat to your kids?