The First Years I-Alert Car Seat
The World's First Mobile-Synced Car Seat: Would You Buy One?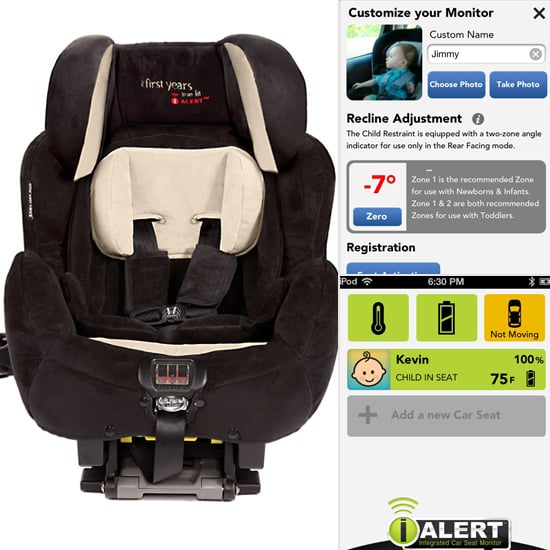 After sneaking a peek of a prototype at last year's ABC Kids Expo, we were excited to receive an invite to experience The First Years I-Alert Car Seat in action last week. The I-Alert is the first of its kind, as it's the only car seat that syncs to an app on your smartphone to alert you about potentially harmfully situations for your little one in the back row.
Featuring all the same safety components of The First Years' True Fit Convertible Car Seat, the I-Alert integrates unique technology to alert Mom and Dad if the child gets out of his or her seat, or is left unattended in the car. I-Alert also allows parents to monitor whether or not the car seat is installed at the proper angle, and if temperatures reach uncomfortably high or low levels. Having witnessed the monitoring system in action in a moving car, we can attest to the fact that it's impressive. Driving alone with a baby in the backseat can be stressful (especially when said baby is crying), and the I-Alert takes the guesswork out of worrying whether he or she is overheating (or freezing) and securely fastened, and whether or not the seat itself is properly installed.
The convertible seat is rear-facing for use with babies from five to 35 pounds and forward-facing for use with babies and toddlers from 23 to 65 pounds. It retails for $400 and is currently available for exclusive pre-order through Amazon. So what do you think? Is the I-Alert a brilliant new technology or an unnecessary add-on?