Fish Purees For Babies
Want a Bright Baby? Feed Her Fish Food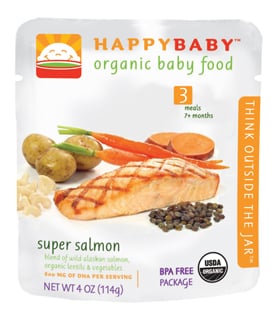 Fish is what's for dinner. A new article on Time.com suggests that moms should introduce omega-3 fatty acid-rich fish to wee ones' diets at the same time as chicken and beef to boost a child's brain power and get her accustomed to the taste.
According to Susan Brewer, a professor of food science at the University of Illinois, ingesting omega-3s, particularly DHA, will provide infants with the levels they need for proper brain development. She's developing a fishy baby puree that combines wild salmon, salmon bonemeal, and roe (to boost nutrient levels) into a meal that "tastes more like salmon and cream-cheese dip than plain salmon." It may be a while before her creation hits store shelves, but Happy Baby ($17 for 16) currently has one on the market. When did your children start eating fish?
Keep reading for a basic fish puree recipe.
Ingredients
1 pound potatoes, peeled and diced
1 1/2 tbsp milk
2 3/4 tbsp butter
a little salt and pepper (for babies over one)
1/2 oz butter
1 oz onion, peeled and finely chopped
1 tbsp flour
4 1/2 oz cod fillet, skinned and cubed
4 1/2 oz salmon fillet, skinned and cubed
1 tsp chopped fresh parsley
1 bay leaf
1/3 cup milk
1/4 cup vegetable stock
1 3/4 tbsp frozen peas
2 oz Cheddar cheese, grated
1 lightly beaten egg
Directions
Preheat the oven to 350F. Bring a pan of lightly salted water to the boil, add the potatoes, reduce the heat and cook for 15 to 20 minutes or until tender. Drain the potatoes and mash together with the milk and half butter until smooth and season to taste for babies over one.
Melt the remaining butter in a saucepan, add the onion and sauté until softened. Add the flour and cook for 30 seconds, stirring. Gradually stir in the milk and then the stock. Bring to the boil and cook for one minute. Add the fish with the parsley and bay leaf. Simmer for about 3 minutes and then stir in the peas and cook for one minute. Remove the bay leaf and stir in the cheese until melted. Season with a little salt and pepper
Divide the fish between 3 ramekin dishes and top with the mashed potato. Brush with the lightly beaten egg. Heat through in an oven preheated to 350 for about 15 minutes and finish off for a few minutes under a preheated grill until golden.
Information:
Suitable for freezing
Suitable for babies from 10 months
MAKES 3 PORTIONS
Information
Category

Main Dishes, Fish

Cuisine

North American