Floor Beds For Babies
Would You Ditch the Crib and Try a Floor Bed?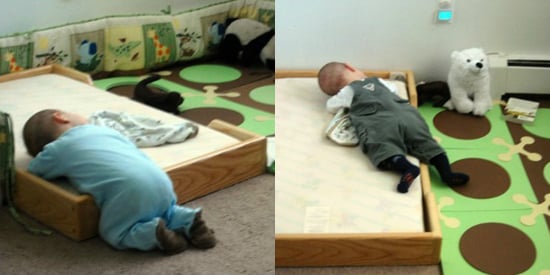 The crib is the centerpiece of a lil one's nursery, or is it? According to the Montessori educational philosophy, a mattress placed directly on the floor (of a child-safe room) is the ideal place for a lil one to sleep — the thought being that once the tot can crawl, he can play with the items in his room — meaning the crib has no place in the nursery.
One mama is sharing her adventures in trying to "floor sleep" train her 8-month-old tot. On Tall Tara, Tara shares images and insight into her son's adjustment to the unusual sleeping arrangement — five months into the "experiment" she says he wakes up on the bed approximately 95 percent of the time (though nap time is a whole other story!), while other times he can be found just resting his head on the mattress, or completely on the floor.
Would you consider ditching the crib and relying on a floor bed?
Photos courtesy of: Tall Tara