Flower Print Kids Craft
So Pretty: Flower Prints Are Perfect For Summer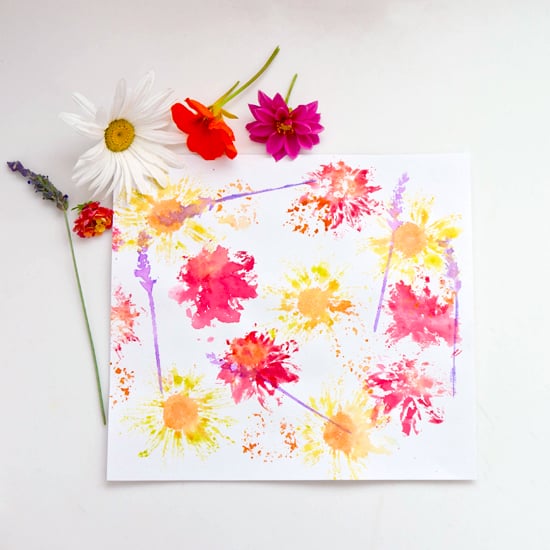 Get crafty with a few flowers and watercolor paints to form this simple creation with your tot — flower prints! It doesn't matter if you have a field of wildflowers in your back yard or a great florist around the corner; this activity is wonderfully easy and perfect for kids of all ages. Bring in the science by discussing parts of the flower while creating the colorful prints, and then use finished prints to adorn the front of cards, or pop in a simple frame to brighten a room!
Keep reading for the directions!
What You'll Need:
Fresh flowers
White drawing paper
Eight-color set watercolor paints
Paintbrush
Small container of water
Sheets of scrap paper
Directions:
Gather the flowers to use for making the flower prints. Daisies work really well, but any type of fresh flower will work. Select flowers that have distinct petals for the best results.
Remove the stems from the flowers to help them press flat while making the prints. This is a great opportunity to chat about the parts of the flower with your tot! Discuss how the stem provides water and nutrients to the flower from its roots as well as holds up the flower.
Get out a sheet of paper, as well as a few sheets of scrap paper, the watercolor paints, a small paintbrush, and cup of water. Invite your lil one to select one flower and then gently paint, flower side up, with the watercolor paint. Along with creating something pretty, she's honing her fine motor skills!
Now she can flip the flower and position on the paper, painted side down. Place a sheet of scrap paper over the flower and gently press. Remove the scrap paper, lift the flower, and check out the pretty print!
Your child can continue painting and pressing flowers until her entire paper is filled with beautiful prints. While she's working, you can share how the petals attract insects to pollinate the flower, which helps create more beautiful flowers!