FlyeBaby Airplane Travel Seat
FlyeBaby Air Tavel Hammock: Kid-Friendly or Are You Kidding?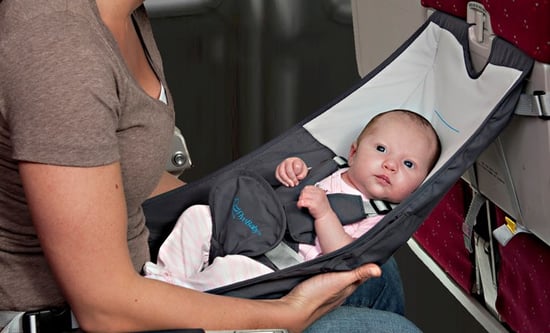 Ask any traveling mama the hardest part of flying with an infant, and she'll likely say it's finding a place to put her during the flight. For tots under 2 who are traveling as lap babies (meaning not with their own seat), Mom's lap is only so big, and with airlines packing their planes to the gills these days, it's rare to have an empty seat next to you.
For one mama, the solution was obvious — a hammock seat that attaches to the seatback in front of her so baby has a comfortable place to rest and play. With that in mind, FlyeBaby ($45) was born. A sling-like design that includes a five-point harness, FlyeBaby turns almost any airline seat (except an exit row and bulkhead seats) into baby-friendly space. According to the company, the seat can also be used on some dining room chairs to create an instant high chair when traveling. With flight costs steadily increasing and space at a premium, what do you think?