Food Allergy Tattoos For Kids
Should Kids Wear Allergy Tattoos?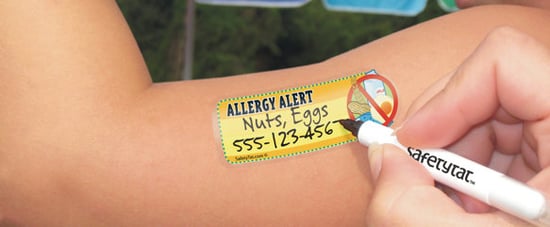 Serious allergies can be fatal, but does that mean parents should be sticking temporary tattoos on their children? Some students with severe allergies are heading back to school this year with their medical allergies and emergency contact numbers inked on their skin, Yahoo! Shine reports.
Michelle Walsh, who founded the company SafetyTat, says she created temporary tattoos and long-lasting write-on skin stickers after visiting an amusement park with her kids. In case her family got separated, she scrawled her phone number on her kids' arms with a ballpoint pen as a safety measure. That gave her the idea that a warning label on the body could be useful to other parents. Her sister-in-law's son, in fact, was prevented from eating a salad with peanut oil dressing after a server noticed the sticker on his arm warning of his severe peanut allergy.
Other companies have also developed safety tattoos, but not everyone is a fan of the temporary tats, noting that it could lead kids to feel marginalized. What do you think of the tattoos?