Foreign Surrogacy Story in The Sacred Thread
Surrogacy in India: Adrienne Arieff's Amazing Journey to Motherhood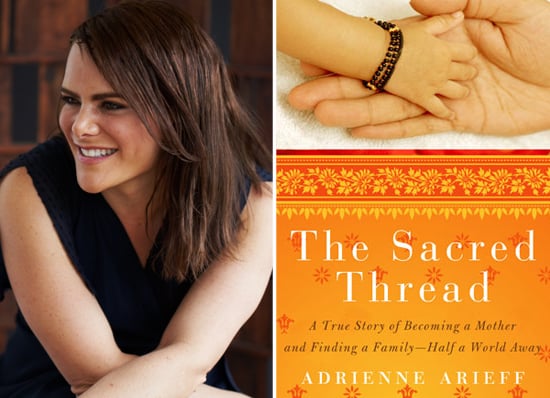 Infertility can devastate the strongest of women, including Adrienne Arieff, a successful media and communications pro, writer, and San Francisco native. But Arieff chose to deal with her fertility issues in a remarkable way, hiring a surrogate in India after reading about the growing popularity of India's "reproductive outsourcing" in The New York Times and watching an investigation into the hot topic on Oprah. Now the mother to 3-year-old twins, Emma and India — who are the biological children of Adrienne and her husband, Alex, but who developed in the womb of an Indian woman named Vahina — Adrienne has chronicled her unique journey to motherhood in the fascinating book The Sacred Thread. "Since surrogacy is controversial, I was nervous to tell anyone in the beginning, but now I'm chanting it more than ever," Adrienne says, citing the growing interest in surrogacy sparked by celebrities like Giuliana Rancic, Sarah Jessica Parker, and Nicole Kidman. "Beautiful things come into this planet in many ways." I talked to Adrienne about the challenges of infertility, of traveling across the world to undergo IVF, and of trusting another woman to carry her children. Keep reading for more of her amazing story.
On her struggle with infertility: I had had three miscarriages, the first one when I was six months pregnant. My doctors told me I couldn't carry a baby because of fibroids and a misshaped uterus. I was looking into adoption and not really thinking of surrogacy when my husband read an article in The New York Times about Dr. Patel and the Akanksha Clinic in Anand, India. We emailed the doctor and checked her references; one of my childhood friends had gone to medical school with her! So I had really great reference points to have faith in this woman's ability. A few months later, I went to India.
On her surrogate: I met with potential surrogates, including Vahina, whom my doctor had picked. In the beginning it was really weird; it's so weird to picture this woman carrying your baby. But we really start to form a bond. I can't imagine how you wouldn't.
On criticism: Some people have called me a "rich white woman" with infertility issues. I am white, but I'm not rich. Actually, surrogacy can cost more than $100,000 in America, but in India it was around $30,000 (which is 10-15 years of salary for the average Indian family), and you're getting the exact same medicine. Also, the laws in the US vary from state to state [Lil Note: Surrogacy is illegal in some states and many others have no laws governing the rights of parents or surrogates.], but in India there's a very clear contract that stated our surrogate would hand over our babies after birth.
On the waiting: I was in India for the beginning and the last couple of months of the pregnancy. Today, the communication is much better. There are lots of middlemen who will give you daily updates and can send you pictures every day. I heard from the clinic once every six weeks, and the doctor kept saying "no news is good news." I got one photo the entire pregnancy. So you just have to have a lot of faith. I consumed myself with work, meditated, did a lot of yoga . . . it felt a bit surreal. It didn't really feel real until they were born.
On her daughters: Once your child is here, what you're doing is no different than what every other mother is doing. Now Emma and India are 3. They're very fashion-y and girlie. They love purple and pink, wings and glitter. I'm totally potty training them with toddler nail polish. Go to the potty and you'll get glitter-pink nails for the day.