France Prescribes Postnatal Vaginal Therapy to New Moms
Mon Dieu! The French Government Wants to Tone My What!?!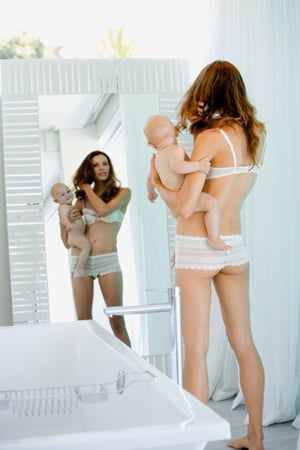 Here in the US, the postpartum Ob/Gyn interaction for a new mom generally involves little more than the six-week checkup, where she's usually cleared to have sex again, and perhaps given some gentle encouragement to try Kegel exercises.
So you can imagine the shock of American writer Claire Lundberg, who after giving birth to her daughter in Paris, was prescribed 10-20 sessions of . . . vaginal physical therapy. La rééducation périnéale has been paid for by French Social Security since 1985, and was implemented not only to aid in restoring a healthy sex life for new parents, but also to encourage additional pregnancies and increase the national birthrate. Lundberg shared her hilarious recollection of the experience on Slate.com:
There are two methods for the reeducation itself, manual and biofeedback, and most kinés use a combination of the two. The first is just what it sounds like: The therapist inserts two fingers into your wuzza and talks you through a series of exercises designed to give you better control over your muscles. Can you, for example, contract your vagina and pull her fingers in and up? You may find this cringingly embarrassing, especially when afterward she tells you, "C'est assez faible" ("It's rather weak") and that you're going to need more than 10 sessions.
New moms, how would you feel about a postnatal prescription for vaginal therapy?