Free Family Fun For Fall
10 Free Activities For Families This Fall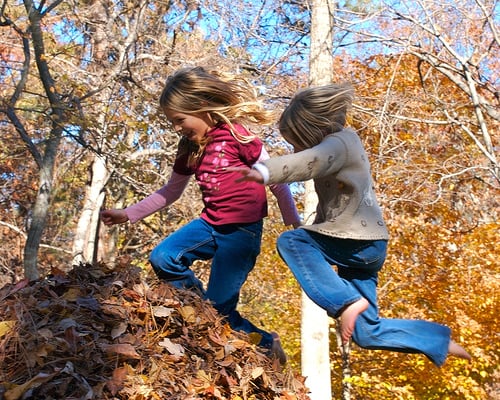 The days of Summer fun may be over now that school is in session, but kids can get just as much joy from Fall. Here, we've rounded up 10 free and affordable ways for families to frolic, as recommended by our community.
Reading Programs
Several moms suggest you head to your local library or bookstore to take advantage of free reading programs. As Kelly A. says, "Public libraries often have story times that are a great way to beat the heat or cold, depending on the season."
Bike Rides
Laurie W. says the best activities involve the outdoors, but you don't always have to explore on foot. Hop on a bike, and you can breeze across the pavement, hit the trails, follow a path along a stream, and cover more ground. Julie R. says her family both walks and bikes on the bike trail in her area. "The kids love it."
Nature Centers
Fall is a busy time in nature with leaves changing and animals preparing for Winter. Lisa N.'s family observes all the activity up close and receives an educational lesson by visiting nature centers. "Most have different programs you can enroll in for a small fee," or maybe even for free, she says.Keep reading to discover six more fun and free Fall activities!
Leaf Crafts
When leaves are falling all around, take advantage of Mother Nature's bounty by collecting some for leaf rubbings or incorporating the red, yellow, and orange specimens into another art project. Joanne E. says her family takes advantage of the whole tree, finding a hollowed-out trunk to "build a fairy house." Even if your kids aren't that imaginative, nearly every child loves getting bundled up and running through leaf piles, Sarah-Anne V. says.
Bake and Cook
Living in the Pacific Northwest makes Lindsay S. an expert on colder and rainy-day activities. For fun, she says her family loves to bake cookies, sweet breads, etc. " Cooking is full of opportunities to talk about measuring, fractions, following directions, reading, where food comes from, and you get a treat at the end!"
Head to a Museum
When the weather doesn't provide a conducive environment for an outdoor activity, Keona A. suggests heading indoors to a museum. Many museums offer free activities for kids on certain days of the week, she says. 
Game Nights
Every Friday and Saturday night, Barbara P.'s family pulls out board games like Chutes and Ladders and Candy Land and makes popcorn, and everyone puts on pj's and just has fun.
Scavenger Hunts
Heather S. says "scavenger hunts are always great for curious kids — you can do them anywhere," and Mother Nature provides a bounty of things for kids to find.
Fruit Picking
Fall yields a variety of produce like pumpkins, squash, and apples, which makes it a great season to head to u-pick farms for a day of fun. Although you will have to pay for what you take home, by picking your own produce, families truly can enjoy the fruits (and veggies) of their labor.
Build a Bonfire
There's no better way to enjoy s'mores than around a bonfire. If you're not up for a weekend camping trip, you can always roast marshmallows around an outdoor fireplace.
Source: Flickr user Lecates