Frozen Banana Treats
Seriously Easy Frozen Banana Treats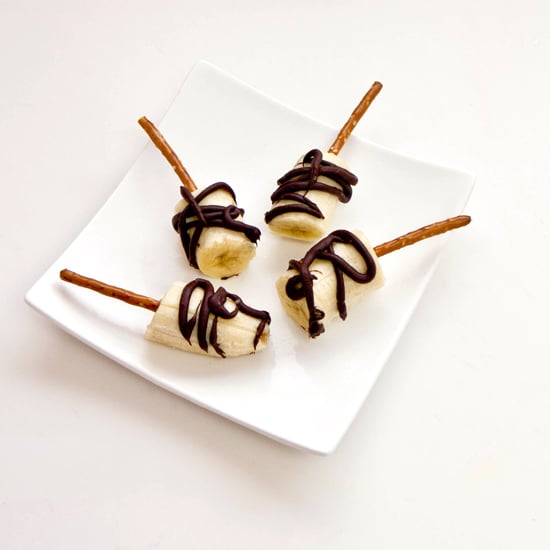 Transform a basic piece of fruit into a beautifully sweet dessert that your child will go bananas over! No sticks here: this frozen dessert uses small pretzels, making it entirely edible. Converting a plastic baggie into a piping bag allows your child to swirl and drizzle the melted chocolate over the bananas in an expressive design, creating almost-too-pretty-to-eat banana goodies. Not only is your child learning basic cooking skills, he's expressing his artistic side, too!
Keep reading for the directions!
Frozen Banana Treats
From Sarah Lipoff, LilSugar
Ingredients
4 bananas
1/2 cup chocolate chips
12 small pretzel sticks
Directions
Enlist your tot to help peel the bananas. While he's working, melt the chocolate chips in the microwave on low for two minutes or in a double boiler over medium heat. Stir the melted chocolate chips until smooth and then let cool while continuing to make the treats.
Offer your child a butter knife and invite him to cut each banana into three equal parts, creating 12 banana sections. Along with learning basic knife skills, he's also exploring mathematical concepts!
Line a plate with aluminum foil. Now your child can press a pretzel stick into the middle of each banana section and place it on the lined plate, leaving a bit of space around each.
To create a homemade piping bag, spoon the melted chocolate into a baggie, pressing the warm chocolate into one corner. Snip the corner and then gently press until the chocolate starts piping out.
Invite your child to gently squeeze the chocolate over the banana sections while looping and swirling until all the chocolate is gone. He can create zigzags of chocolate or curving long lines.
Place the chocolate-drizzled banana treats in the freezer for at least two hours. Carefully remove from the plate and enjoy!
Makes 12 pieces.
Information
Category

Desserts

Cuisine

North American