Gift For Newly Pregnant Friend
Yay Cleavage Shirt: Ga Ga or Gag?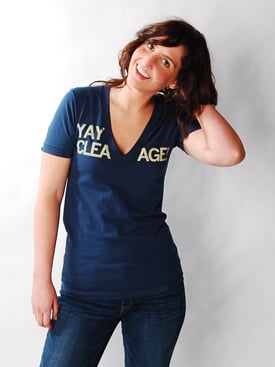 There's no denying one of the first and most eagerly anticipated side effects of pregnancy — new cleavage. Even before those two lil lines show up on a pregnancy test, many mamas-to-be can tell they are pregnant just by putting on their bras.
Raygun wants to celebrate mom's new shape with a t-shirt that highlights her figure. Its Yay Cleavage Deep V Tee ($19) isn't necessarily designed for newly expectant moms, but it can be easily worn by them. Though best worn around friends — it might not be the best shirt to wear to the future grandma's house to announce the pregnancy — it could be a fun gift to give a newly pregnant friend, or is it?