Gisele Discusses Breastfeeding
Is Gisele Bundchen Really Mom Enemy #1?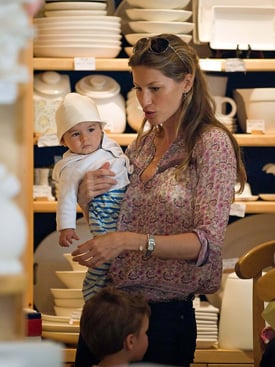 Since giving birth to baby Benjamin Brady, 7 months, Gisele Bundchen has not been shy about expressing her thoughts on virtually everything related to pregnancy, birth, and motherhood. From declaring that her all-natural water birth didn't hurt a bit to discussing her healthy pregnancy habits, and the joys of breastfeeding, the supermodel has become a fountain of opinions when interviewed by the press. Her latest comments, suggesting that there should be laws requiring breastfeeding for six months, sparked a world of controversy. Now, Bonnie Fuller, is declaring the Victoria's Secret model an enemy of moms everywhere, writing:
Be quiet and get a life – a real life, Miss. Perfect Supermodel Mom, Gisele! When you pronounced to the world in the new September issue of British Harper's Bazaar that there "should be a worldwide law, in my opinion, that mothers should breastfeed their babies for six months," you became new mom enemy #1.

How dare a pampered 30-year-old model who earns $60 million a year dare tell the world's far less fortunate non-supermodel moms that they are negligent for giving "chemical food to your child when they are so little"? That chemical food would be baby formula.
Do you agree with the former US Weekly editor?