Giving Away Toys
8 Tips to Help Your Child Give Toys Away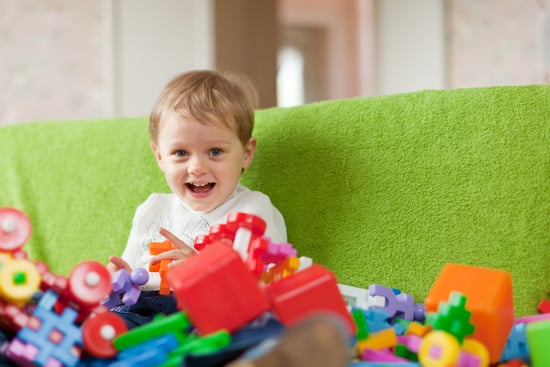 How do you slim down a surplus of playthings when your child doesn't want to let any of them go? It's a common question for moms with young children.
Circle of Moms member LiAnne P., for example, says it's time for Spring-cleaning, but her children are really attached to their old toys. "Is there a way to make it easier on them?" she asks the Circle of Moms community. 
Similarly, Paulette R. says every room in her home is "jam-packed with crates of toys." As her family gets ready to move to a new house, she knows they need to de-clutter, but her sons get upset when she tries to pare down. "I have tried on many occasions to get rid of things, and they become hysterical," she shares. "Hence the reason why I have never been able to bring myself to throw anything way since they were babies . . . they have both been having meltdowns this morning for the last two hours."
If you, too, are finding your children have formed strong attachments to their toys, here are eight tips from Circle of Moms members on how to make saying goodbye easier.
Keep reading.
1. Do It Covertly
At a young age, children might not understand the reasoning behind parting with their belongings, or be able to process the emotions that come with it. As a result, several Circle of Moms members say there's no shame in giving toys away without children knowing. "When my kids were small, they were not allowed in the room or were not home when mom did her 'clean-outs,'" Heather R. relays, noting that she goes through toys once or twice per year "to keep things manageable."
Like other parents, Trisha M, says she also waits until her sons are away to clear the house. "My son is unable to let go of anything, even discarded paper, so we are just all healthier human beings when I wait," she says. 
Among the better times to pack up toys on your own are when children are sleeping or at school, Trish H. suggests. "Just pack it up, and when they ask, tell them [to] play with their other million of toys. Make it easy for yourself," she says.  
2. Filter Out Broken Toys First
Generally, parting with toys is easier when parents and children start by getting rid of broken and unused items first, Heather R. advises: "When those things disappeared, they didn't even notice. Do it a bit at a time and be sure to steer clear of anything near and dear to them — no matter what shape it's in." 
After "filtering broken items out first," Sandie E. suggests, "try packaging the less-used items with the children's help. If possible, dispose of the packaged items at an appropriate time." Packing up items first before giving them away helps in case your child changes her mind and wants something back.
3. Offer Choices
If there are still too many toys around even after packing up the broken and unused items, then help children choose what to keep. Chrissy R. explains one way to do so: "My friend offers her daughter choices. She sets out two or three items and tells her to pick one and continues until the toys are down to a manageable level."
In a similar vein, Tanya S. would have her children collect a certain number of toys. "For instance, I'd say 'four', we'd practice [counting to four], then I'd tell them we were collecting that many toys that they really don't want to play with anymore," she says.
4. Avoid Certain Words
Tanya S. also recommends avoiding certain words altogether with young children: "Never mention 'getting rid of' or 'giving away' until afterward (if at all). This method worked great because they weren't under pressure knowing it's going away. I'd keep the basket of toys . . . and hide the basket in a closet for a few weeks. [After that], if they weren't asking about them, they were outta here." 
5. Encourage Money-Making
As an incentive to get rid of unnecessary toys, moms like Wendy D. and Jennifer S. tell their children that they can sell toys at a garage sale and then use the money for new playthings. Jennifer's children pick out the items they want to sell, mark the prices, and then she makes sure they get the money. "Even if they only make $0.50, they get all excited about it. Then they know that things that don't sell go to charity," she says.
Wendy agrees a monetary incentive works, especially because her son's "taste in toys has got more expensive." She reports: "So far this has worked and we now have a box of his things ready for the garage sale that I now need to organize."
6. Talk About Helping Others
To help your understand the concept of charity, explain how giving toys away helps other less fortunate boys and girls, Christina W. suggests. She tells her sons that donating toys to other boys and girls will help children who don't have toys, birthday presents, etc., and also gives "reasons that kiddos would not have toys . . . parents lost jobs, house fires, mom or dad may be sick. I have to remind them 'every time' we go in to do this, but it works every time," Christina notes. "They love to help if they know that toys will be going to someone who may not have toys."
Tonya F. tried this tack before Christmas one year and also said it worked. "My son is older, but we sat down with him and talked about all the boys and girls in the world that were not going to get any presents for Christmas because their mommies and daddies didn't have any money. We said that he could donate his nice toys to the local Goodwill so that other children could have a Christmas, too," she says. "We got a big black garbage bag and went through his closet. He said goodbye to each toy as he put it in the bag. I had to keep reminding him of how much another child would love to play with it. I told him that his toys were 'lonely' and wanted to be played with again. It worked!"
 
Kimberly H. says her children have been taught about the "homeless backpack" she keeps in her car with nonperishable food, gift cards, bathroom items, as well as a few books and stuffed animals "just in case the good Lord moves me to help a poor soul" . . . and "just in case they are accompanied by a homeless child."
7. Make Giving Away a Tradition
To reinforce the idea of getting rid of and giving away toys, several Circle of Moms members recommend making toy giveaways a tradition in your household. "I teach my kids young that we cannot keep everything and we go through toys two times a year," says Tanya B., who has been doing a Spring and Christmas cleanup/giveaway for the past seven years since her children were born. "I involve my kids in the giving the toys away thing. We have a box of giveaway[s] and they can only keep what fits in the toy box with the exception of a very large toy, like they have a doll house that I don't count as fitting in the toy box. But they pick and choose what stays and what goes."
Peg H. is another mom who has a toy cleanup tradition. Starting the week before each of her three sons' birthdays, and again before Christmas because they know they will be receiving new toys and books, she says her family "would together go through their toys and gather gently used toys and books to take to Toys for Tots. It was always such a wonderful thing to see them send much-loved toys along because they knew that another child could love it too. Of course, we would always pick out new toys throughout the year for Toys for Tots as well." 
8. Lead by Example
Overall, Peg believes that when it comes to cleaning up, giving toys away and being charitable, setting a good example is key: "If you set a good example and make it part of your daily routine, then your children are going to learn by example and just life."
Mom Janine D. agrees: "Leading by example is the key. It is not a matter of how much you have or how much you have to give, but the act of giving." She says her son knows that toys he does not play with anymore he packs in a box, and every six months the box is donated to less fortunate people. And now, she says, weeding out toys to give away and sharing "comes naturally."