Gluten-Free Stuffing Recipe For Thanksgiving
Grain-Free Stuffing (Yes, Stuffing!) For Gluten-Free Kids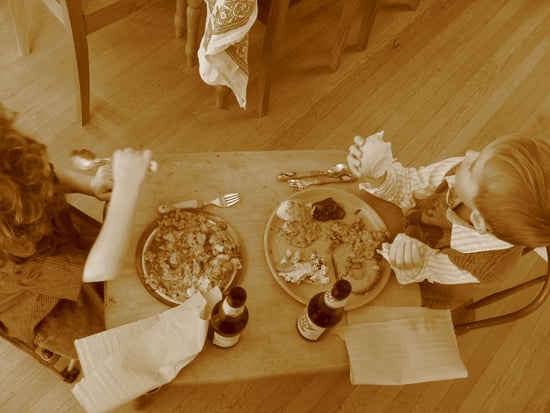 Pumpkin pie isn't the only Thanksgiving staple no one should live without. What's a turkey without delicious stuffing? For kids with food allergies, gluten is an extremely common culprit and an ingredient that's difficult — but not impossible — to avoid when making stuffing, one of the most classic Thanksgiving foods.
One of the great things about this recipe is that, despite the apparent ingredient restrictions, it's actually very easily modified. Last year, we were dealing with a gluten allergy, so it was perfect as written; this year, we'll be omitting the walnuts, in deference to a lil boy with a major nut allergy. Whatever you omit or add, this savory stuffing recipe is so tasty that no one will ever suspect that it was made entirely free of gluten and grains. Get the gluten-free stuffing recipe now.
Ingredients
5 pearl onions, peeled and cut in half
4 small shallots, peeled and cut in half
1 large bulb fennel (white part only) cut in half, then cut lengthwise into 1/4-inch-wide strips
1 stalk celery, cut in half lengthwise and chopped
1/4 cup organic extra-virgin olive oil
3/4 to 1 cup gluten-free chicken broth (add more, 1 tablespoon at a time, if mixture becomes dry during cooking)
1 teaspoon gluten-free poultry seasoning blend
3/4 cup pan-toasted walnuts
8 ounces portobello mushrooms, quartered and sliced about 1/4 inch thick
Unrefined sea salt and ground pepper to taste
1 tablespoon chopped fresh parsley
1 tablespoon chopped fresh fennel leaves
1 tablespoon good quality cooking sherry, optional
Directions
Heat oil in a deep saute pan. Add onions, shallots, fennel and celery. Stir to coat vegetables in oil. Brown slightly on medium heat for several minutes, stirring occasionally.
Add chicken stock, bring to a boil, reduce heat to low and cover pan. Simmer ingredients for 20 minutes. Add sage and salt and pepper to taste. Add walnuts, cover and continue to cook mixture, stirring occasionally, for 5 minutes.
Add mushrooms, gluten-free sausage (optional), and sherry (optional), cover and cook on medium for an additional 10-12 minutes, stirring occasionally. When mushrooms are cooked and walnuts slightly softened the stuffing is done. If there is excess liquid, cook uncovered to reduce, but leave some liquid for reheating.
Add additional salt and pepper if needed.
Serve warm or refrigerate and reheat when ready to serve. When serving, sprinkle with chopped fresh parsley and fennel leaves.
Information
Category

Side Dishes, Stuffing/dressing

Cuisine

North American
Source: Flickr User eyeliam