Going to the Bookstore With Kids
Thank You, Barnes & Noble, For Making My Life Hell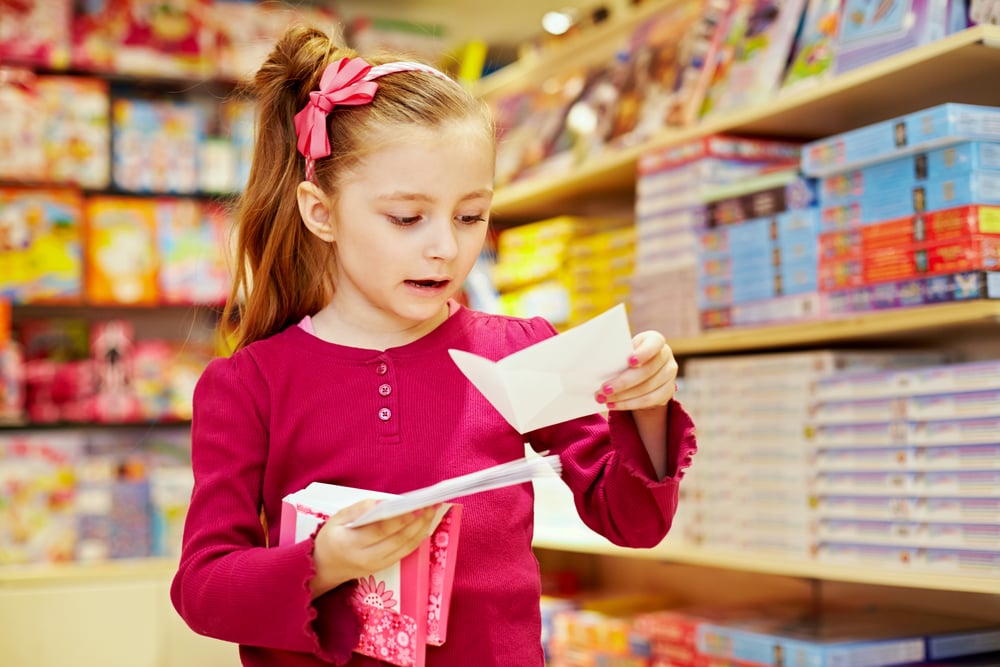 Back in the day — now I really sound old — a mother could take her child to a place called Waldenbooks and get her kid a ton of books. That kid was me. When my mom and I went to the bookstore, there were just books and book-related items there to buy — bookmarks, reference books, etc. An educational and literacy-rich experience. Now, when I take my daughter to admittedly one of my favorite places in town, Barnes & Noble, not only are there books, but there are also toys, toys, toys, and some more toys. Oh — and chocolate, kitschy cute cups, stuffed toys, candy, and other things that are clearly not books.
It's not just Barnes & Noble; all retailers seem to be succumbing to this trend to overpopulate their stores with other crap and add on's that no one really needs or went to that original store for. Like, for instance, Old Navy has toys, candy, and dolls lining up near the registers. And even good old boring and smelly (pardon me, but manual labor gives me tremors) Lowe's has candy and books toward the cash registers also. It's not that these companies want to be like a Target, but that the retail marketing trend is this:
Give the people more stuff.
And when it's not enough, offer them more and more stuff. Do you need this stuff? Do you need sour apple candies, cartoon-character bobbleheads, and dollar coloring books when you go to Home Depot? Do you need Rudolph the Red-Nosed Reindeer socks on sale, light-up lollipops, and other things made with potentially nuclear reactive chemicals?
According to advertisers, yes, my mommy friends, we do need this junk. And if I didn't have a child, it might not be so bad, but as I'm mothering an almost 4-year-old, the plethora of crap offered at stores on displays at, of course, strategically placed preschool, infant, and toddler eye level, is enough to make me want to carry a rosary every time I enter a store. For the record, I'm kinda Jewish.
Going to Barnes & Noble with my girl when she was just 18 months for storytime or just to find a new book or play with the free Lego and train tables (good tactic to get us moms in your store, B&N — well played!) started out fun, but every now and again . . . our visits aren't so fun. Why? Well, each time I take my kid, I tell her ahead of time that we will only be buying one book, but once she sees the stockpile of toys and other child propaganda (you can get the toys they carry much cheaper on Amazon, by the way), it sometimes becomes a fight. Kind of like this:
Me: Sees Sophia the First display. Tries to bring 3-year-old in a new direction.
3-Year-Old: Not fooled by the diversion. Pulls back toward the display. "Look! It's Sophia the First," she says! Makes beeline for toys.
Me: "That's a really nice doll, but we are not buying toys today. We are here to buy ONE book."
3-Year-Old: "But I don't have this doll. I really need it!"
And so it begins: the battle of "I want a toy" versus "But Mommy said we came here to buy a book." By the time she has pulled out every possible rebuttal, I am running out of arguments, and she's running away from me and making her way around the store with a Sophia doll in her hand while every single patron of the store thinks I am a total jerk and reject mother.
I know what you're thinking: I need conviction and the ability to tell my kid no, and indeed, my mommies, I do. I "just say no" all the time, and most of the time, it goes over pretty smoothly, but sometimes? Oh, sometimes it's a doozy. The ever-waging cries, shrieks, screams, and occasional fits that have me dragging my kid out of the civilized "Honey, we use quiet voices in the bookstore" — Barnes & Noble stinks.
And hey, B&N, if you want a nice, quiet atmosphere, get rid of the toys; otherwise, accept that some noise will occasionally disrupt your easy-listening soundtrack.
It's not just retailers and their evil marketing campaigns and propaganda that are trying to bring me down. Let's not forget some of the patrons of these fine establishments. Like the last time I brought my girl to Old Navy. As soon as we rounded the corner to pay for the leggings and sweater we had picked out — baam! — juice boxes and candy. Of course, my daughter had just finished telling me how no, she wasn't thirsty for the water I had for her until she saw the colorful packaging and allure of the juice and candy.
"But I want the juice — and the candy!"
I told her no, we have free water right here. Remember? You said you didn't want it. Do you want it? No, she refused and instead broke down in tears. Mind you, at this point, we were past the napping hour — far beyond the napping hour. Or in other words, I was dead meat.
That's when the woman in front of us turned around and said, "You can't make her cry. Oh, poor thing. Just get her something."
Why you little?! I am getting her something — leggings and a sweater! I will not be brought down by the man. I mean, wo-man.
She went on to say, "Oh, look at that face."
I wanted to kill that woman. My daughter looks at me like, "Yeah, listen to her. Just get me the juice and candy."
And so there I am in line during the holiday rush with my sleepy, cranky girl, and as we get closer to the register, there is just one item after the next after the next that seems so wonderful to my daughter's eyes. And, of course, the woman in front of us keeps furthering my kid's cause. By the time I get to the cashier, I have imagined all kinds of evil scenarios involving this woman's impending doom. None of which are repeatable to the American public.
What it all boils down to is not only are we as parents being constantly marketed to, but so are the kids. We are in a state of "Don't you want this? You must have this!" We want variety, options, and the ability to go back and try something else if option number one doesn't work. We want our cake and to eat it too. And really, there's nothing that I can do about it besides perhaps blindfold my kid when we get to the store, but then again, people will just think I'm a freak. At the end of the day, I've got to keep doing exactly what I am doing by manning up and continuing to fight the good fight by saying an empathetic "no" when need be.
So the next time you go to the store and your toddler is eye to eye with princess dolls and M&M's (thanks, Target), please just say a silent prayer for me as I will be for you all mommies. That we may have the conviction to just say no, because really, we don't want our kids to grow up like spoiled brats straight out of Willy Wonka & the Chocolate Factory, do we? Nope!