Governor Mark Sanford Did Not Vow to Stay Faithful
Could You Wed a Man Who Wouldn't Forsake All Others?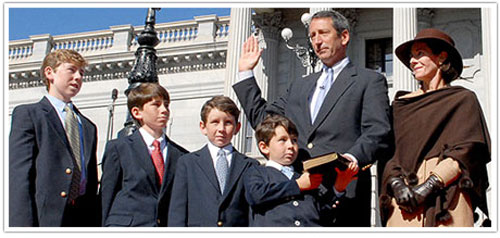 "I do... err, I will... if we could just cross that one tiny little line out." The rules of a marriage vary from couple to couple, but there are a few standards that are common to most committed people. One of them is fidelity. When saying their wedding vows, husbands and wives often swear to love, honor and cherish each other as well as forsaking all others. But for some, it's not an option.
In her interview with Barbara Walters set to air tonight, South Carolina's First Lady Jenny Sanford spills the details of her marital vows that have many wondering if she got what she signed up for when she married her husband. She declares that prior to their wedding, Mark Sanford said that he would not vow to "forsake all others." She said:
It bothered me to some extent, but ... we were very young, we were in love... I questioned it, but I got past it ... along with other doubts that I had.
Some people expect cheating in their marriages and others even welcome it. Could you put a ring on your finger for a man who couldn't fully commit to you, especially if kids were in your future?