Hair Washing and Kids
Mommy Dearest: Daughter Refuses to Wash Her Hair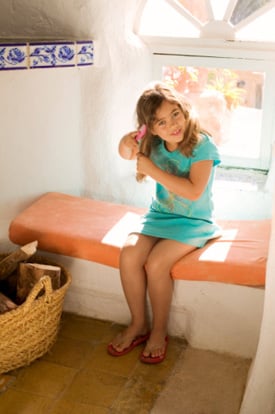 Mommy Dearest –
I'm a full believer in allowing children to express themselves. I don't argue when my daughter wants to wear crazy things to school. I allow her to paint her nails in hideous colors. And I've even been known to help her add some wild purple streaks to her hair. But we've come to clashes over self-expression versus hygiene.
After running around at camp all day, she resists bathing and when I can get her in there, she outright (and physically) refuses to let me wash her hair. She says she likes the way her dirty hair looks and doesn't mind the smell. I've tried explaining the health reasons for washing and she insists that this is her "new look". While I'm happy for her to look however she likes, the smell is getting really bad, and I'm afraid that she will be mocked at camp. Do you have any advice?
– Shear Madness Mama
To see Mommy Dearest's response, read more.
Dear Shear Madness Mama –
Sounds like you have quite a stinky situation on your hands. In your effort to provide your daughter with the freedom of self-expression, you seem to have become lenient in reminding her about limits. As her mother, you have the last word. Rather than worry about her being mocked at camp, you might focus on the cleanliness issue here. She needs to know that cleanliness is not negotiable.
– Mommy Dearest
Have a question you need answered? Submit it to the Mommy Dearest Group in our Lil Community.