Don't let all your Halloween sugar highs [1] come from prepackaged candy. We found 37 awesome, creative desserts [2], all sure to inspire you to create your own spooky cookies, cakes, and more. From the elaborate — we're loving the Dracula-esque cookie sandwich with marshmallow teeth — to the simple (you can make Nutter Butter ghosts in just a few minutes), these treats might be scary, but they're also supersweet.
Pumpkin Macarons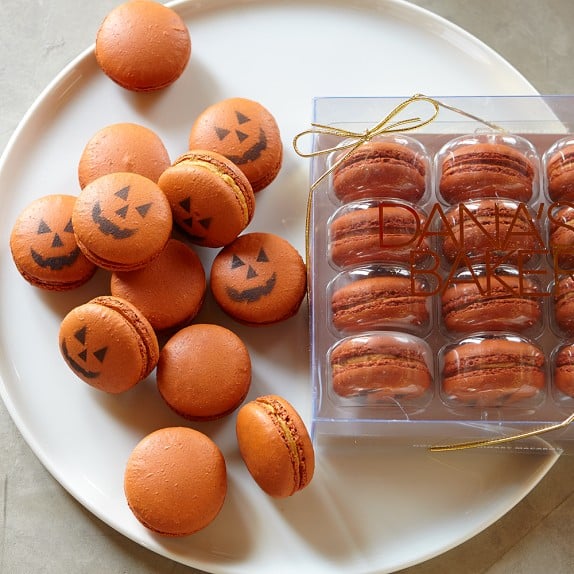 Williams-Sonoma's sweet pumpkin macarons [3] ($40/dozen) will surely delight kids, but are also sophisticated to serve to adult revelers.
Candy Corn and Ghost Nibbles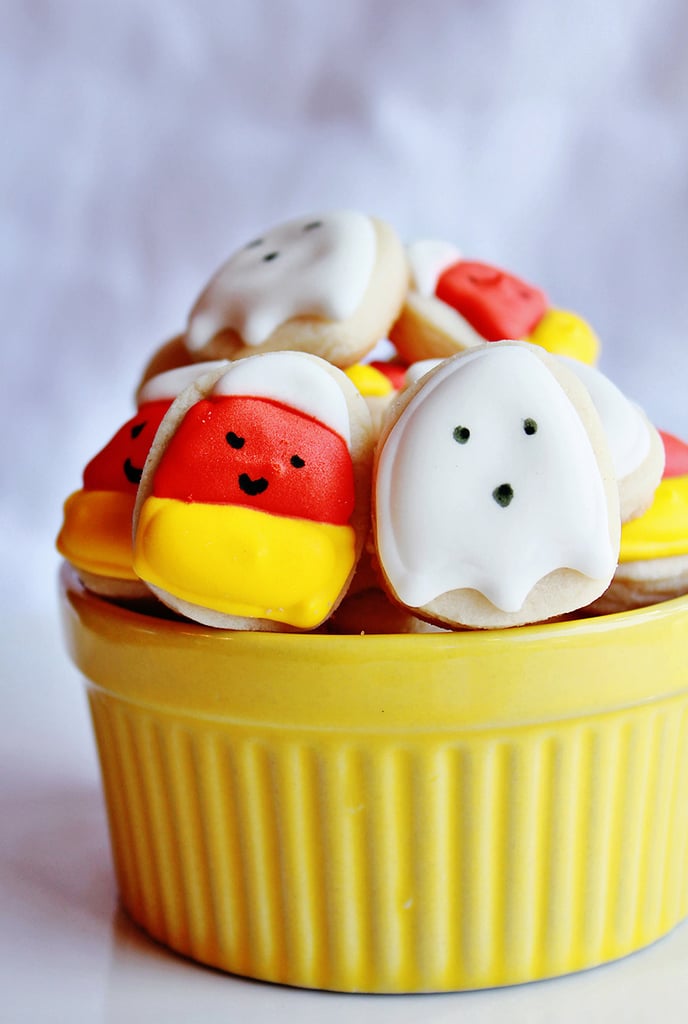 Hallowen cookie nibbles [4] ($21/three dozen) from Etsy's Crafted Cookies come with 30 mini ghost and 30 mini candy corn cookies, each of which are only one-inch in size for guilt-free Halloween [5] snacking!
Mini Halloween Cookies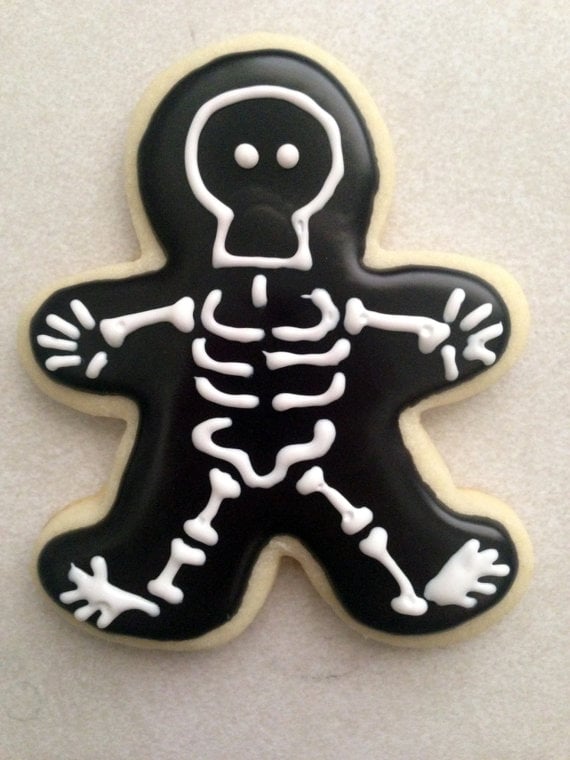 QZcookies's Skeleton cookies [6] ($24 for two dozen) are sure to be a hit at your Halloween [7] party.
Trick or Treat Cookies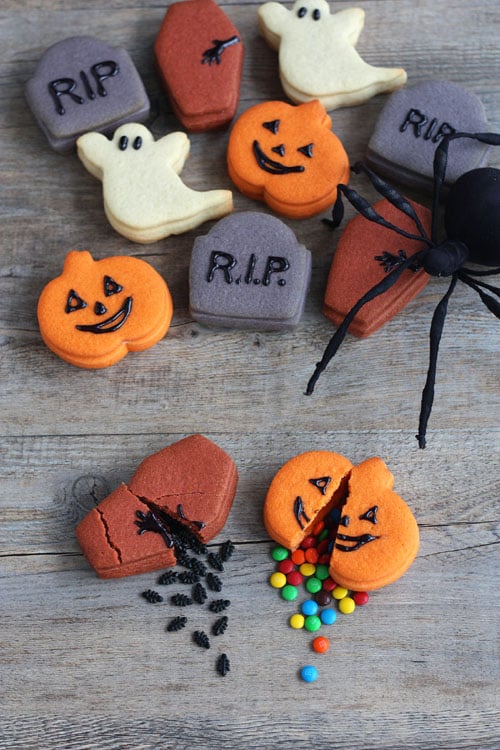 Not Martha's trick-or-treat cookies [8] are twice the fun. Outside, they look like simple Halloween [9] cookies shaped like pumpkins, coffins, gravestones, and ghosts, but inside they're stuffed with treats (mini chocolate candies) or tricks (small sugar ants).
Boo Cake Pops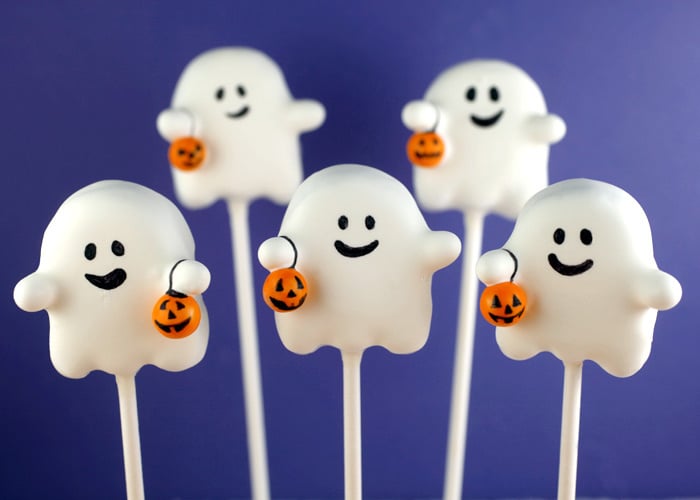 Bakerella always makes the cutest cake pops, and these trick-or-treating ghosts are no exception. Get the full tutorial here [10].
Spider Peanut Butter Blossoms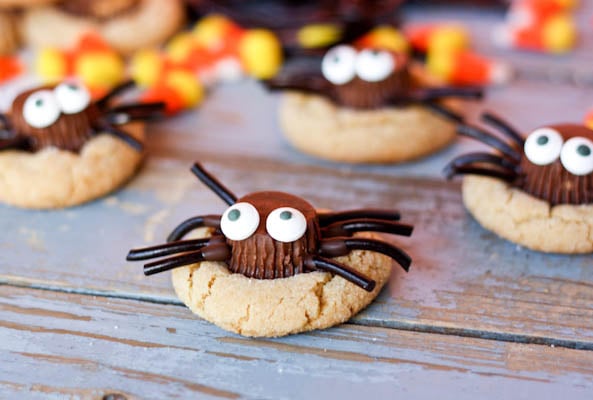 Black liquorice legs and candy eyes turn a peanut butter cup into a cute spider, made even yummier sitting on top of a peanut butter cookie. This creation from Confessions of a Cookbook Queen is guaranteed to impress your kiddos! Get the full recipe here [11].
Black Velvet Halloween Trifle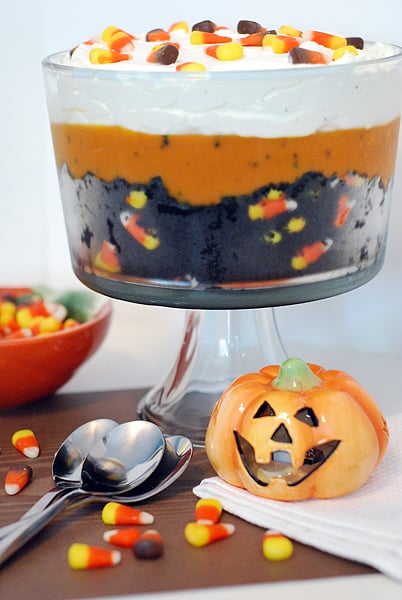 Bluebonnets + Brownies's black velvet Halloween trifle [12] uses red velvet cake turned black, candy corn, butterscotch pudding turned orange, and whipped cream. Delicious!
Gooey Monster Eye Cookies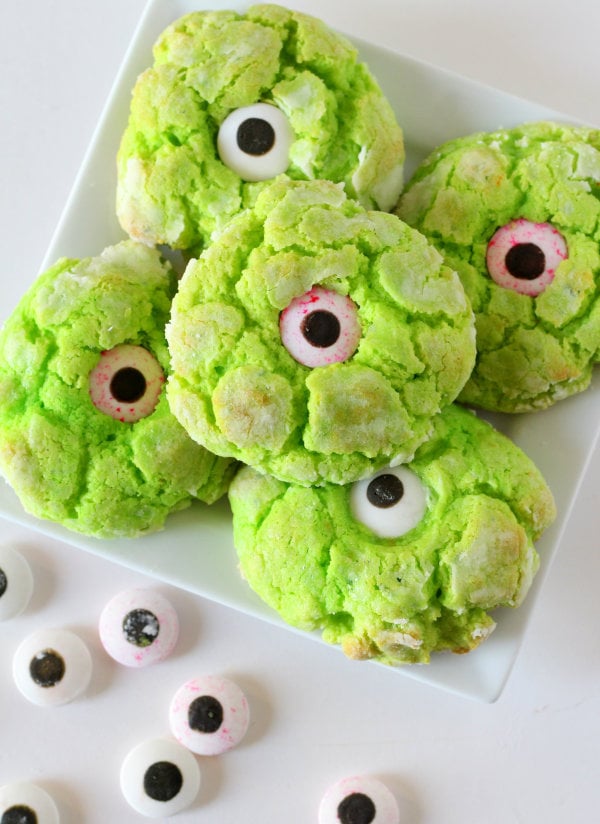 Lil' Luna's gooey monster eye cookies [13] are with delicious butter cookies laced with green food coloring and candy eyes. Creepy, but delicious!
Candy Corn Rice Krispies Treats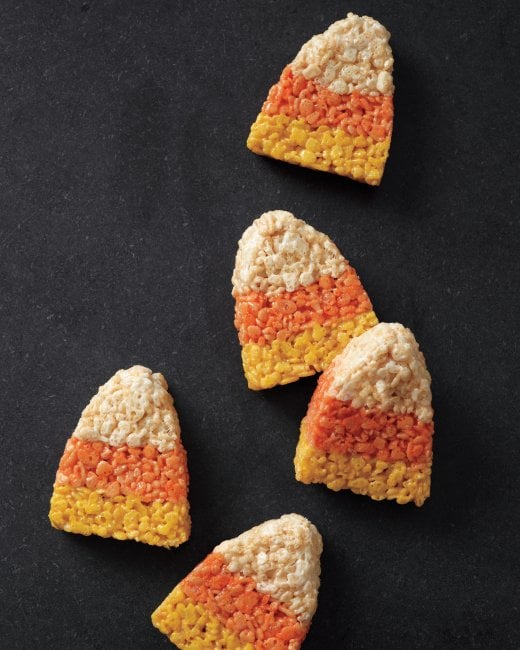 Martha Stewart [14]'s candy corn Rice Krispies Treats [15] are spiked with citrus zest to add some bright, unexpected flavor.
Monster Munch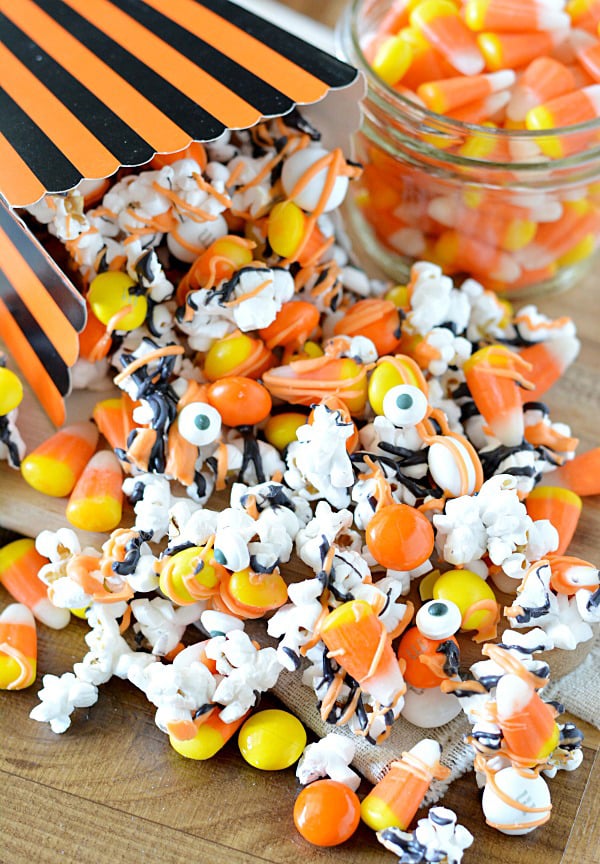 Eighteen 25's monster munch [16] mixes popcorn, orange and black candy melts, candy corn M&M's, candy corn, and edible monster eyes to create an addictive Halloween [17] treat.
Haunted Owl Pretzels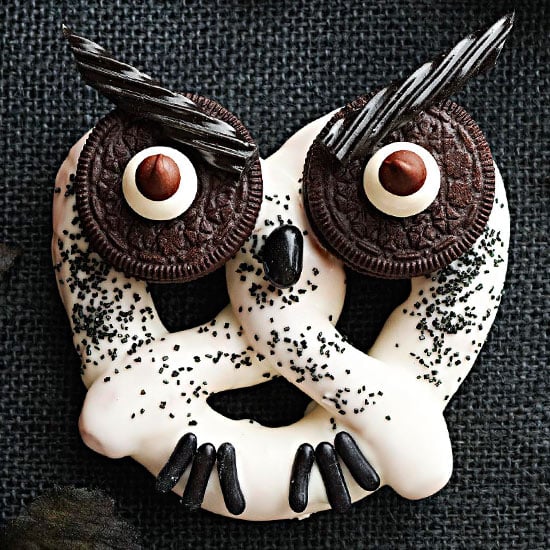 Better Homes and Gardens' haunted hooting owl pretzels [18] aren't that hard to make (they do require quite a few ingredients), but the results are utterly owl-tastic!
Candy Corn Pudding Pops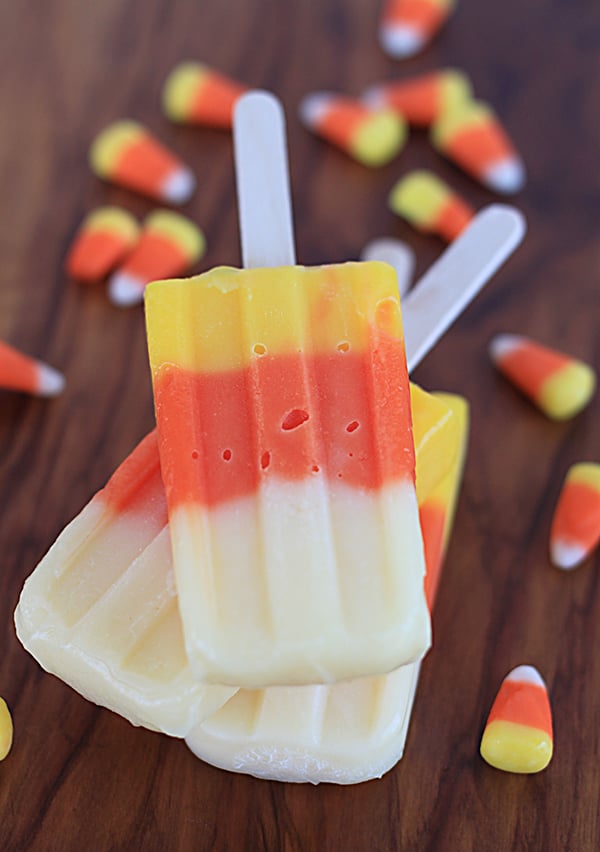 If Fall weather hasn't hit your area, these candy corn pudding pops [19] from Eighteen 25 will cool your little trick-or-treaters right off.
Boo Cups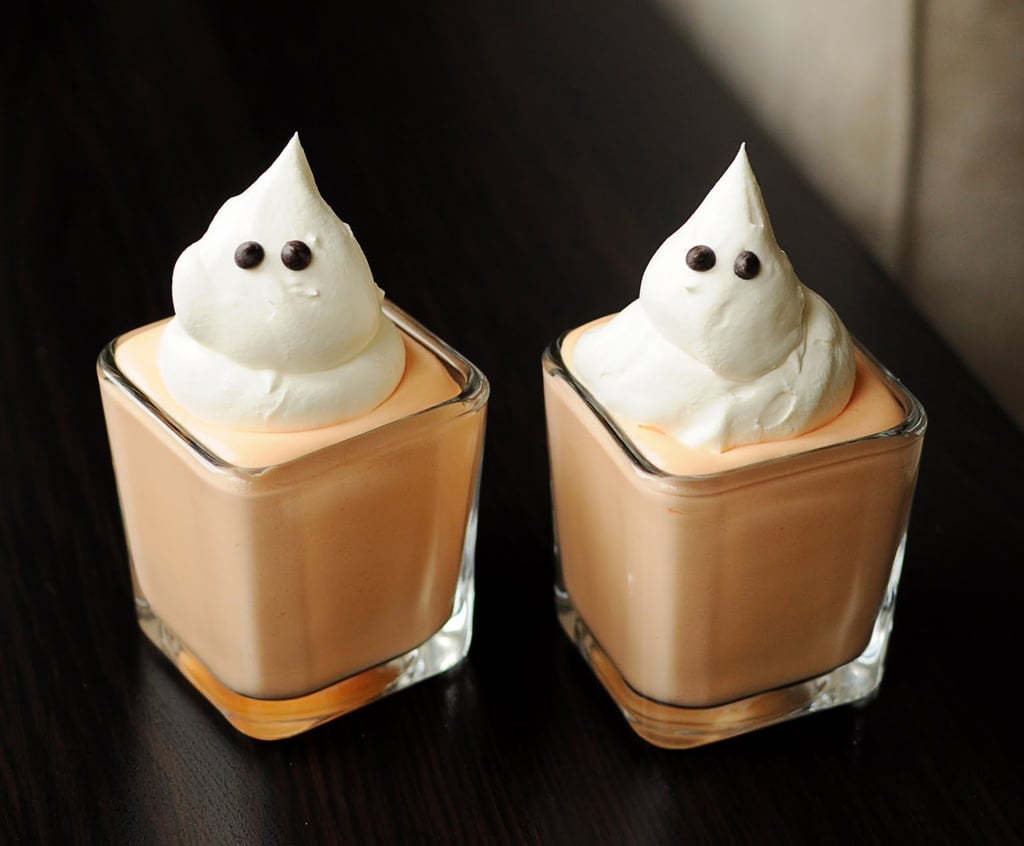 Orange gelatin, Cool Whip, and chocolate chips are the only ingredients you need to make these sweet and simple boo cups [20].
Ghost Cupcakes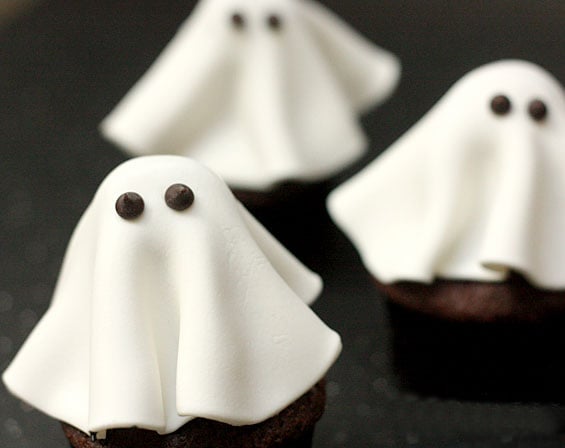 If you're not a fan of frosting, try Ambrosia Baking's ghost cupcakes [21]. Fondant draped over a lollipop makes a scary, floating ghost.
Pumpkin Pie Bites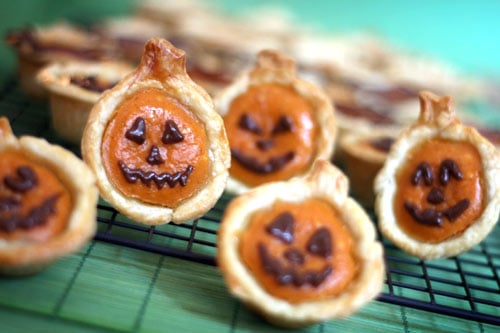 What could be cuter than a mini pumpkin pie with a jack-o'-lantern face? Bakerella's pumpkin pie bites [22] are a unique, bite-size Halloween [23] treat.
Scaredy-Cat Brownies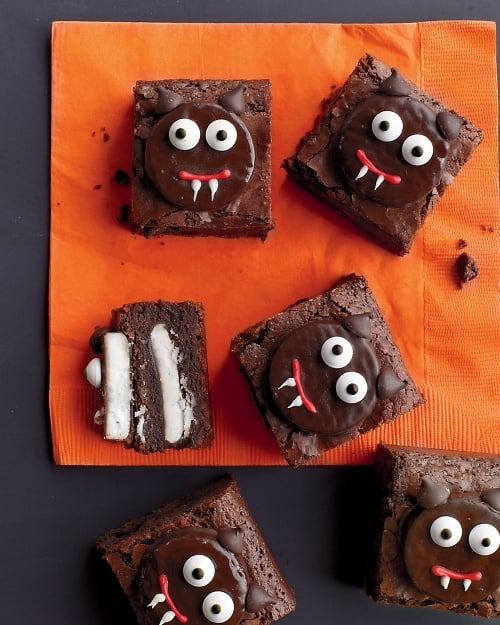 More cute than creepy, Martha Stewart [24]'s scaredy-cat brownies [25] have a peppermint surprise!
Painted Pumpkin Cookies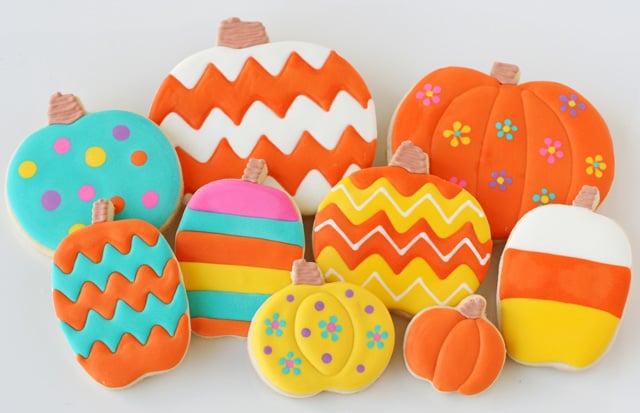 Glory from Glorious Treats created these almost-too-pretty-to-eat pumpkin cookies using sugar cookies, royal icing, and a lot of creativity. Get the instructions here [26].
Dracula Dentures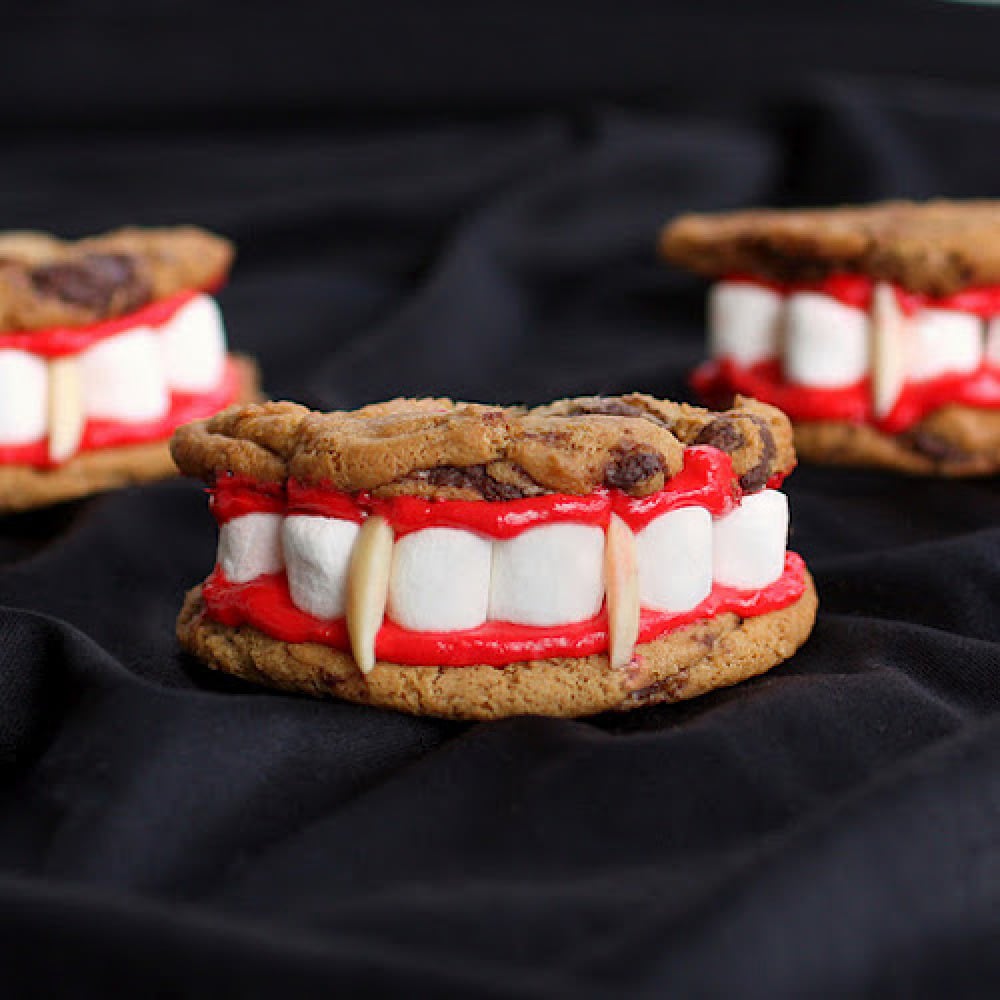 These Dracula dentures look elaborate, but they only take a few ingredients: chocolate chip cookies, tinted vanilla frosting, miniature marshmallows, and slivered almonds for those scary fangs. Get the full instructions here [27].
Frankenstein Fruit Snacks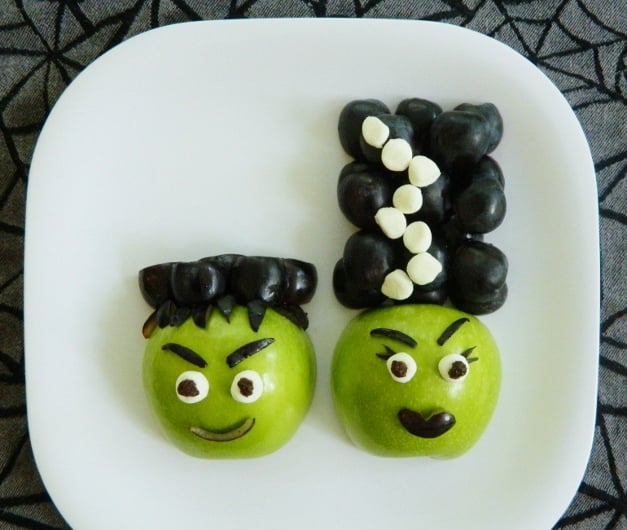 If you prefer to keep your Halloween [28] treats on the healthy side, try this Frankenstein fruit snack [29], created by Jill of Kitchen Fun With My 3 Sons with green apples, black grapes, and mini marshmallows.
Candy Corn Cake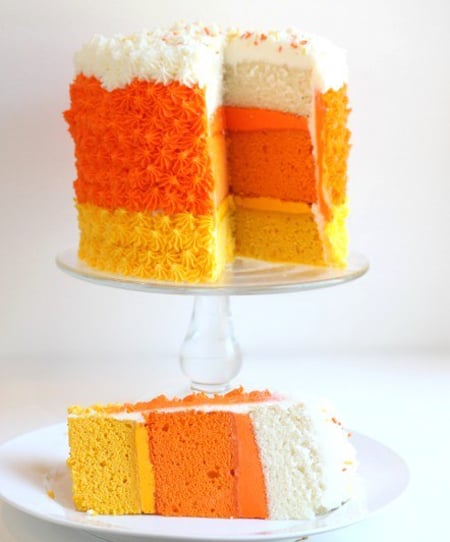 Created by Diane's candy corn cake is an homage to Halloween [30]'s most classic candy. Get the recipe here [31].
Candy Corn Cake Pops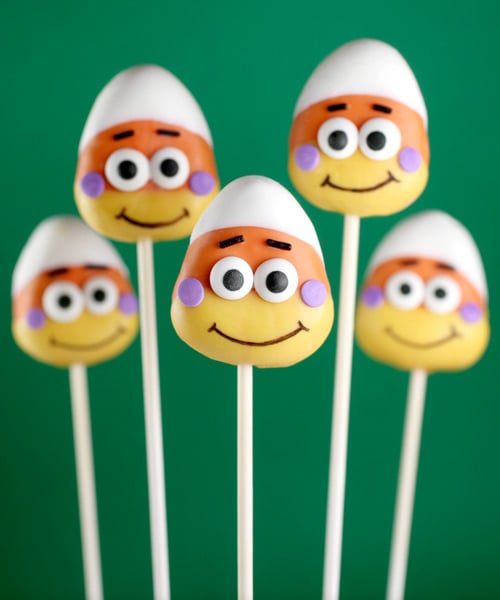 Bakerella's candy corn cake pops [32] pay homage to the holiday's most iconic candy.
Spider Web Cake Pops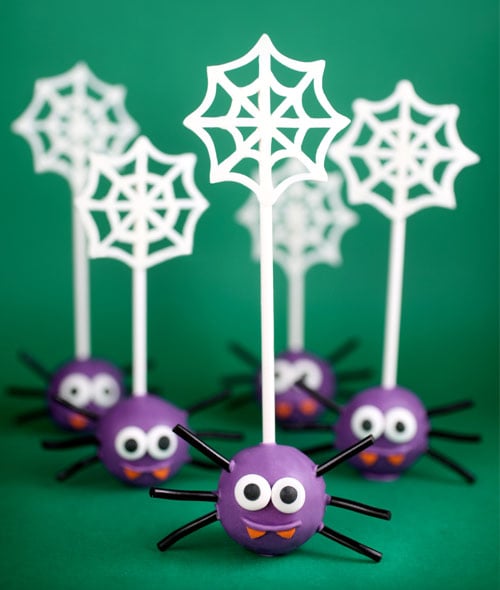 These spider web cake pops [33] from Bakerella have candy-coating webs, making these pops sweet from top to bottom.
Candy Corn Jell-O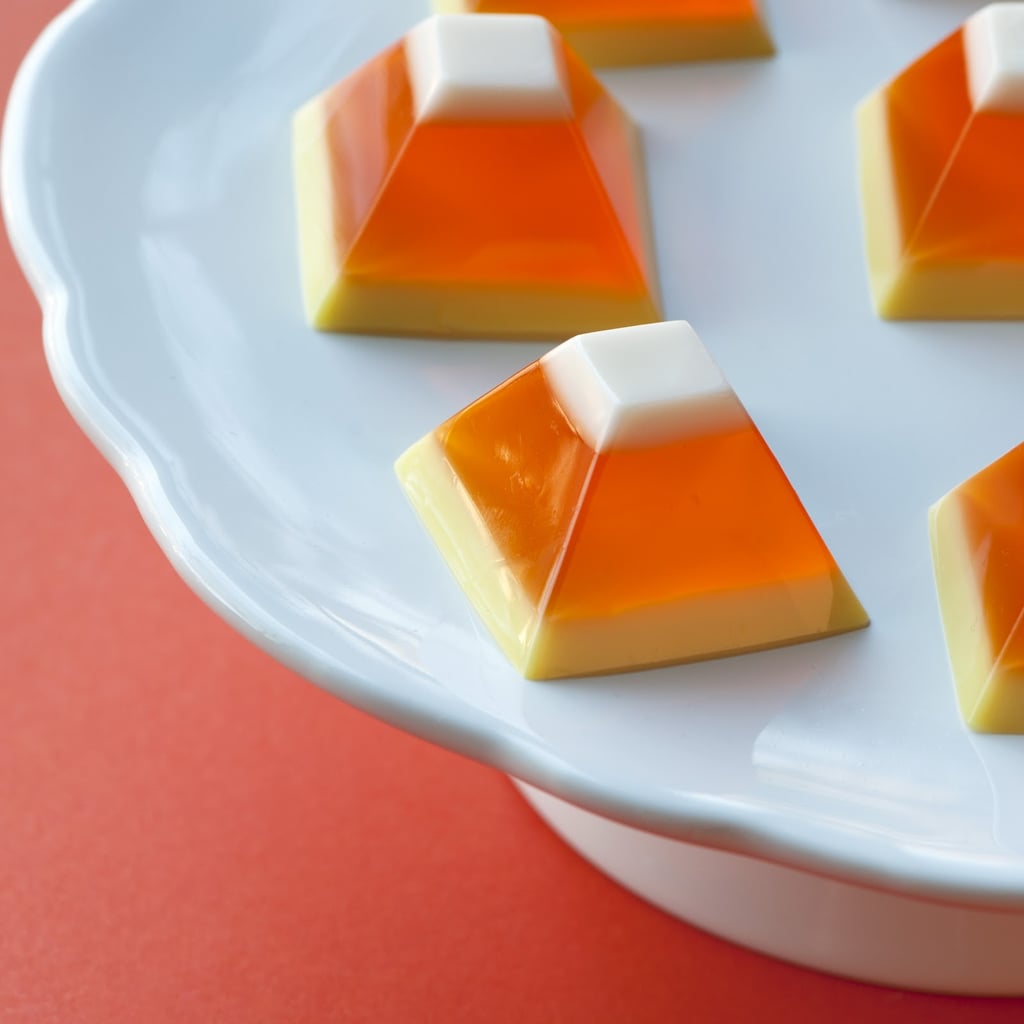 We recently discovered Jelly Shot Test Kitchen, and while there are quite a few grown-up recipes on the site we'd like to try, these Candy Corn Jell-O bites [34] are nonalcoholic and perfect for a pre-trick-or-treating snack.
Sparky Cake Pops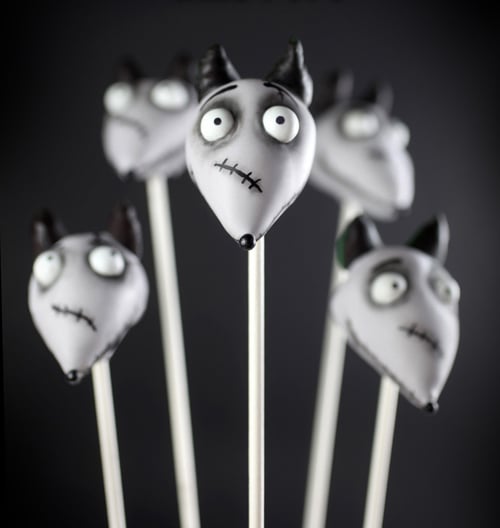 Frankenweenie's Sparky gets his own cake pop with these amazing Bakerella creations [35].
Bat and Cobweb Cookies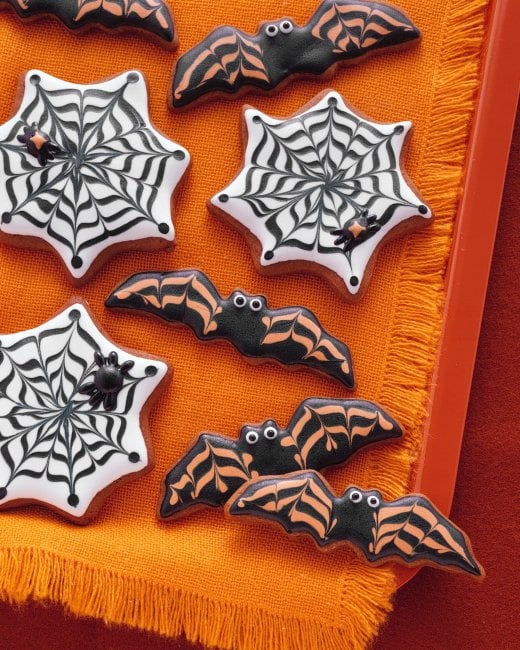 Martha Stewart [36]'s bat and cobweb cookies [37] are made with gingerbread and lemony royal icing. Spooky and sweet!
Candy Corn Cupcakes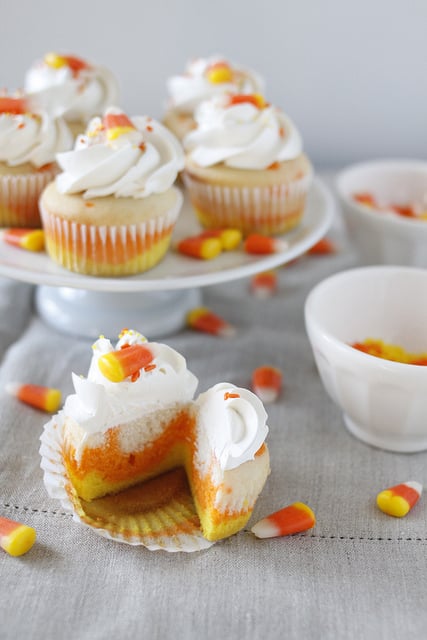 Treats SF added a little food coloring to a white cake mix to make a cupcake [38] reminiscent of the classic Halloween [39] candy corn.
Frankenstein Marshmallows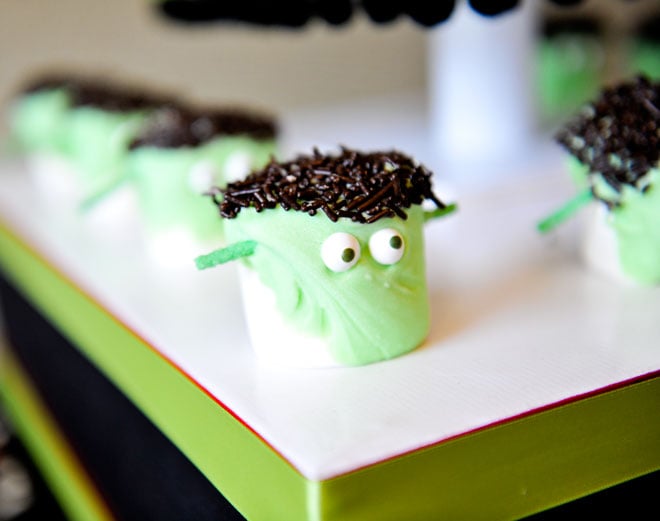 Love the Day's Spooktacular Halloween party [40] has lots of cute treats, but we are especially partial to these adorable (and easy-to-re-create) Frankenstein marshmallows. Love the sprinkle hair!
Stenciled Cupcakes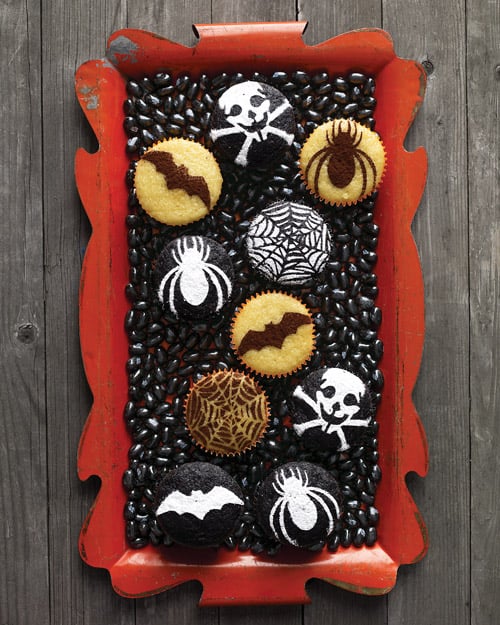 Cupcake stencils [41] with bats, spiders, and more turn Martha Stewart [42]'s chocolate cupcakes [43] into spooky treats for Halloween [44].
Mummy Chocolate Pretzel Rods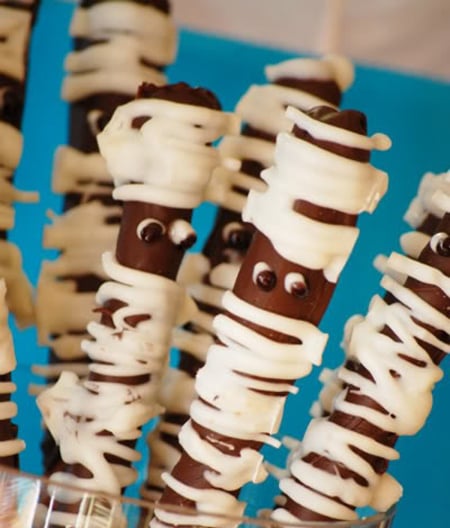 Amy Huntley of The Idea Room threw a mummy-inspired birthday party [45] with tons of creative ideas you can use for Halloween [46], but these mummy pretzel rods — dip pretzel rods in chocolate, add eyes once they harden, then drizzle them with white chocolate — are the perfect sweet-and-salty addition to your Halloween [47] sweet supply.
Creepy Cupcake Cones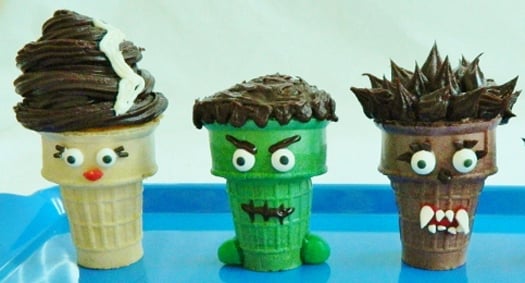 Colored ice cream cones, cake mix, frosting, and assorted candies turn a simple cupcake cone into the Bride of Frankenstein, Frankenstein, and Wolf Man. Get the full instructions here [48].
Owl Cupcakes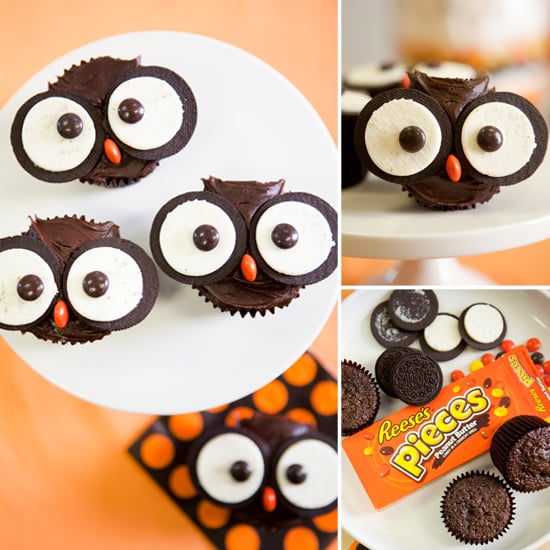 One Charming Party turned simple chocolate cupcakes, Oreo cookies, and Reese's Pieces into the cutest owl cupcakes [49] ever.
Bat Cake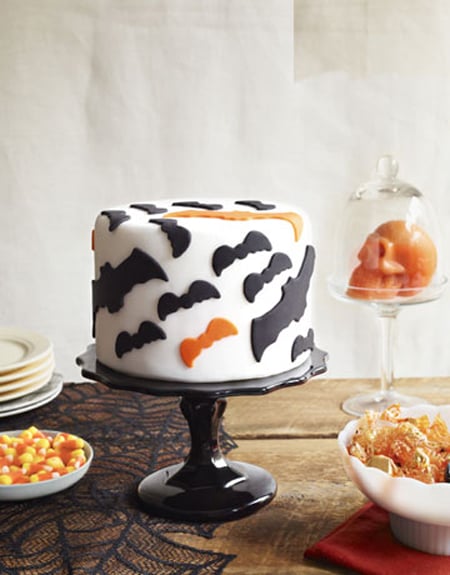 A simple white cake wrapped in fondant and topped with cookie-cutter fondant bats makes a big impact. Get the instructions for this graphic cake here [50].
Spiderweb Cupcakes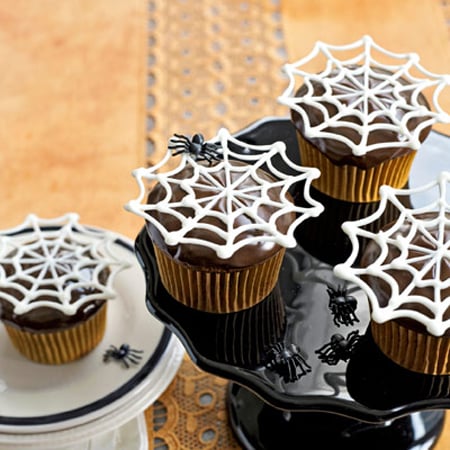 Country Living's chocolate cupcakes [51] have white-chocolate spiderwebs floating on top.
Low-Fat Mummy Cupcakes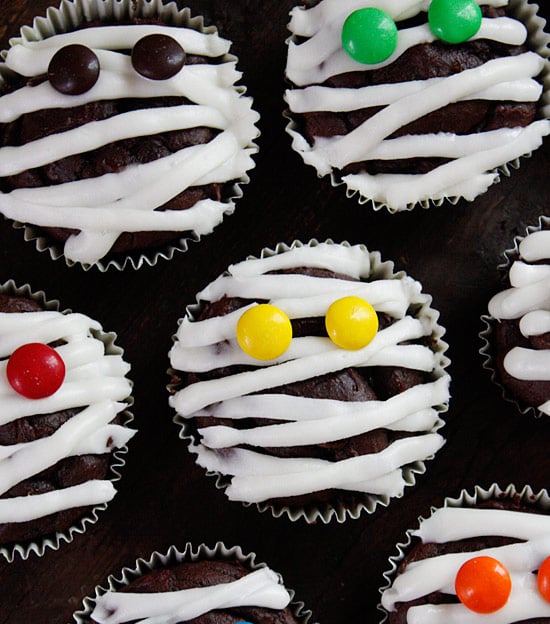 Not only are these chocolate mummy cupcakes [52] from Skinny Taste supercute, but they only have 165 calories and less than four grams of fat each.
Nutter Butter Ghosts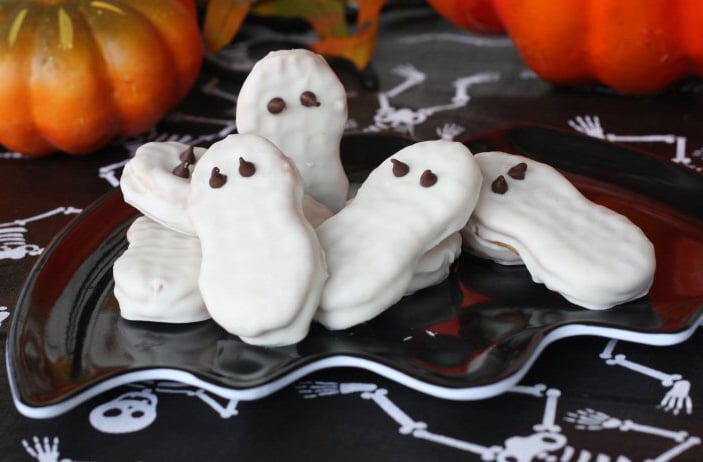 Nutter Butters are naturally ghost-shaped, so dip them in white chocolate, add some mini chocolate chips for eyes, and you're done. The only thing to be scared of: how addictive these can be!
Bat and Spider Pops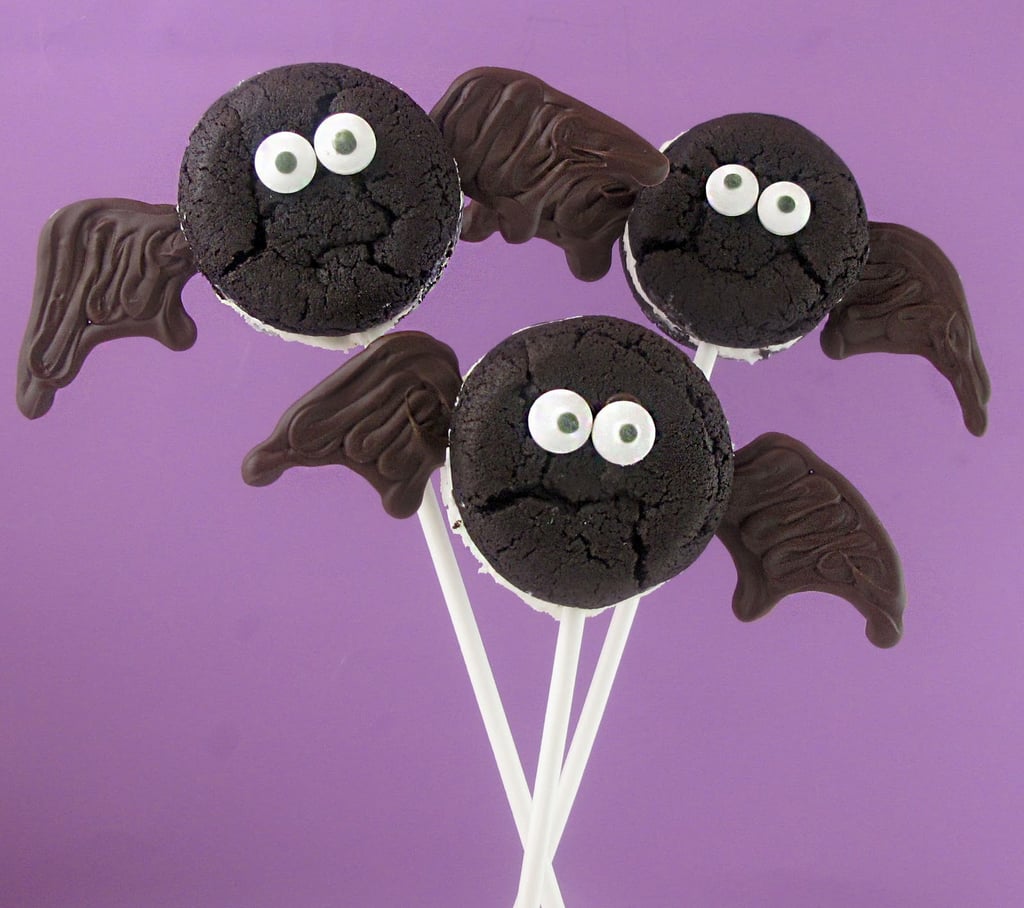 Meaghan Mountford of The Decorated Cookie claims these Oreo Cakester bat and spider pops [53] are way too easy to make. Little work — big payoff? That's the kind of Halloween [54] dessert we like!
Dulce de Leche Bat Cookies
Think of Martha Stewart [55]'s bat cookie — crisp chocolate cookies sandwich a caramel center — as the grown-up, scary version of an Oreo. Get the recipe here [56].