Halloween [1] is creeping right on up on us, and whether you're hosting a bash or just want to surprise your kids with some unexpected tricks and treats, we've got tons of fun ideas for you (111, to be exact). From pumpkin-shaped pancakes to a ghostly pizza pie — and of course, plenty of sweet sensations — click through to see what suits your fancy. We can pretty much guarantee you'll find something perfect for your Halloween style!
Pumpkin Ice Cream
Here's a sweet and creamy treat that is easier to make than you think. With earthy pumpkin and lots of spice, a big bowl of this pumpkin ice cream from POPSUGAR Food [2] is one the whole family will love. Leave out the bourbon when making it for the kiddies.
Bat and Cobweb Cookies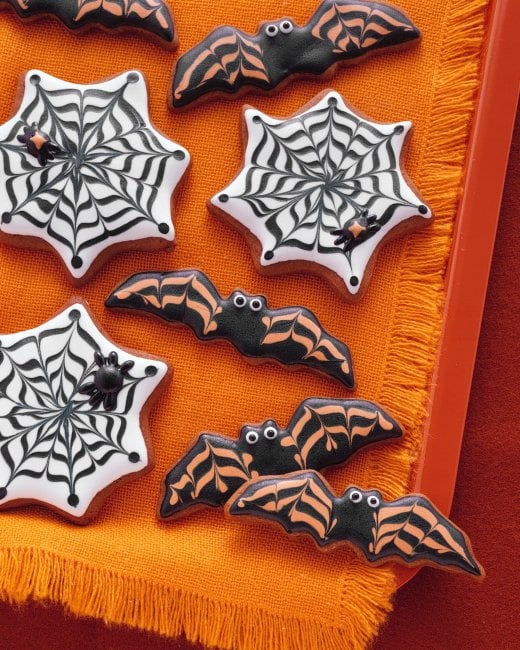 Martha Stewart [3]'s bat and cobweb cookies [4] are made with gingerbread and lemony royal icing. Spooky and sweet!
Source: Martha Stewart [5]
Pumpkin Spice Brownie Bites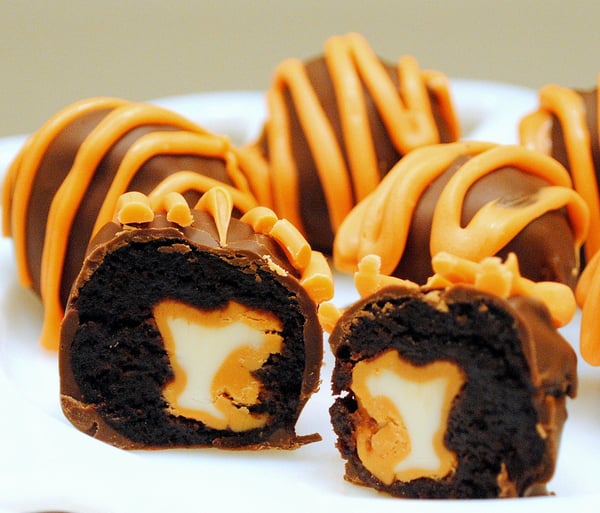 Pick up some pumpkin spice-flavored Hershey's Kisses while they're out, and you have the base for these decadent pumpkin spice brownie bites [6] from Inside BruCrew Life.
Source: Inside BruCrew Life [7]
Owl Cupcake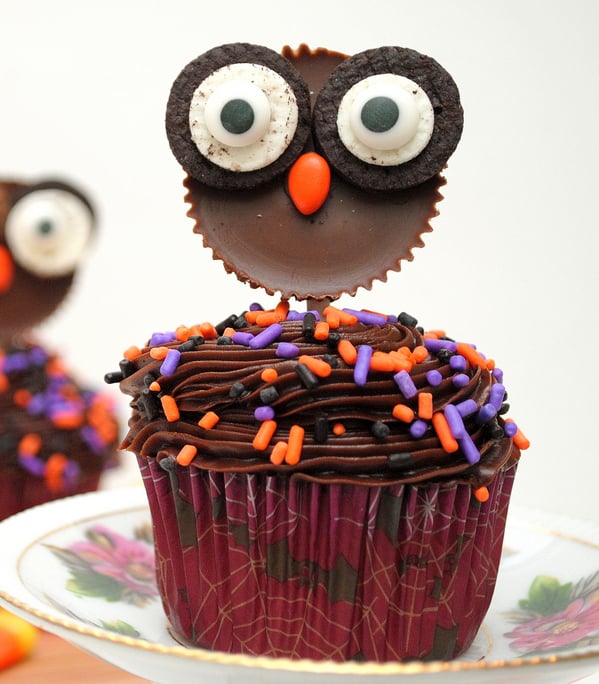 What could be more appropriate for Halloween [8] than an abundance of chocolate!? Inside BruCrew Life's Reese's owl cupcakes [9] combine delicious chocolate cupcakes with Reese's Cups, mini Oreos, and even more candy.
Source: Inside BruCrew Life [10]
Witch Fingers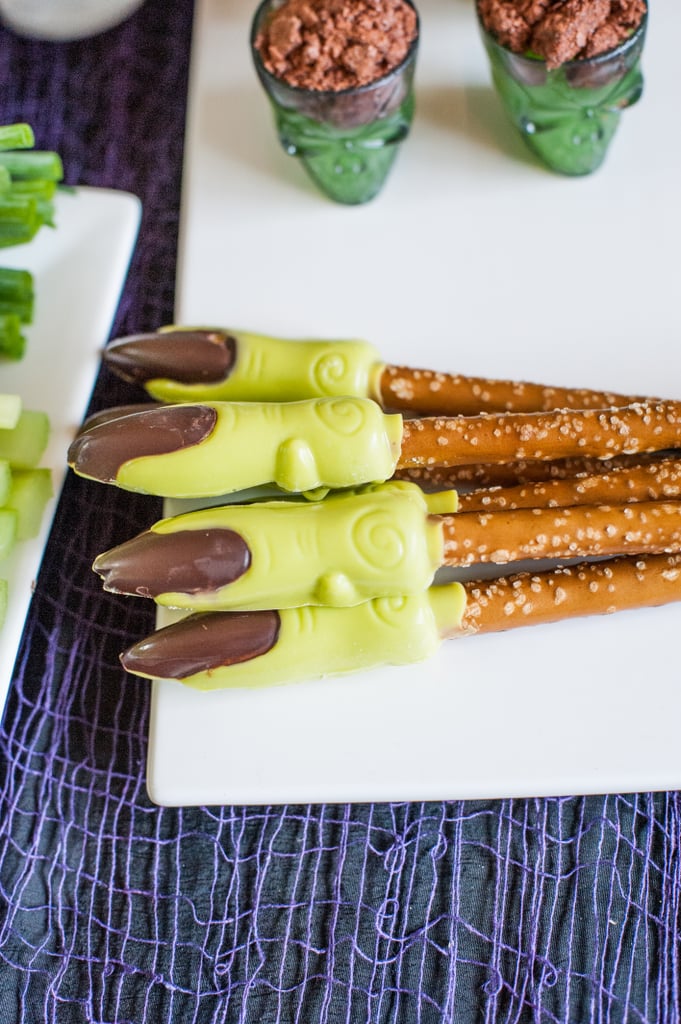 Witch finger pretzel molds [11] make re-creating this scary snack easy!
Source: Jessica Bender Photography [12]
Pumpkin Brownie Pops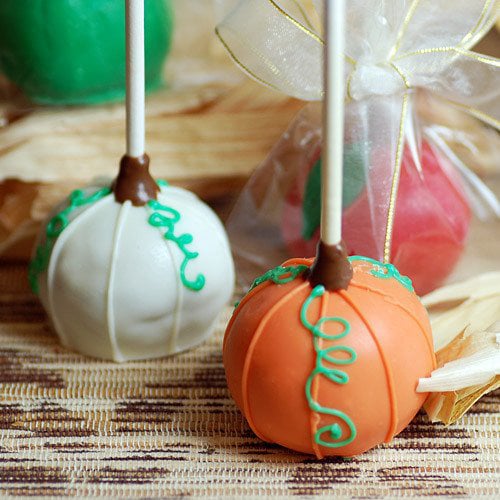 Don't want to make your own pops? Order these adorable brownie pumpkin pops [13] from Beau Coup.
Source: Beau Coup [14]
Lollipops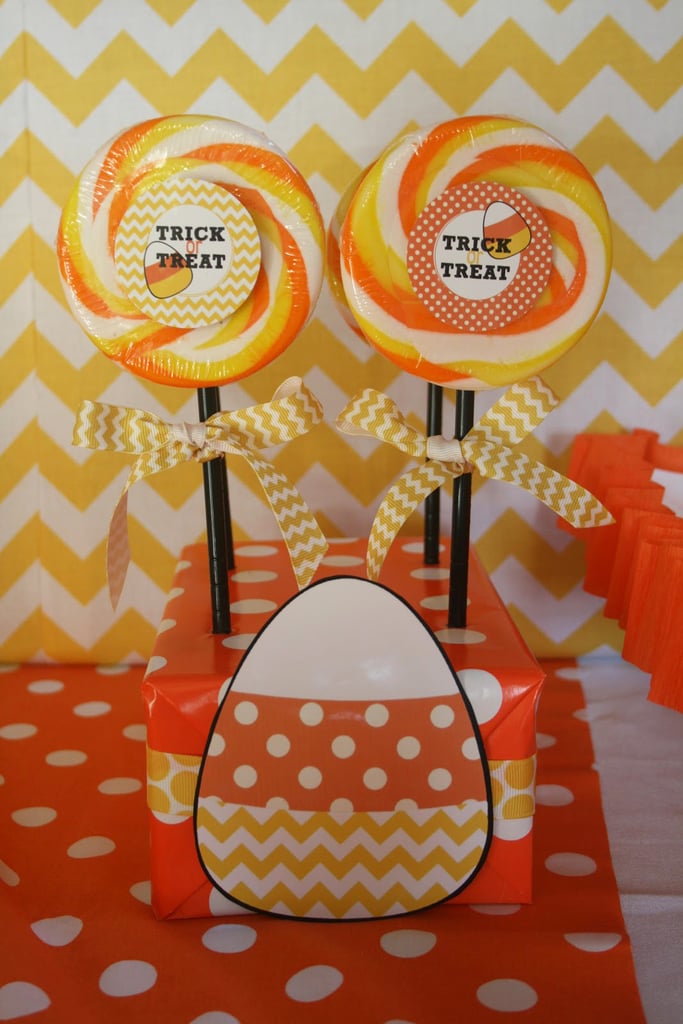 Yellow, orange, and white lollipops went with the theme of a Candy Corn soiree.
Source: And Everything Sweet [15]
Bat Cake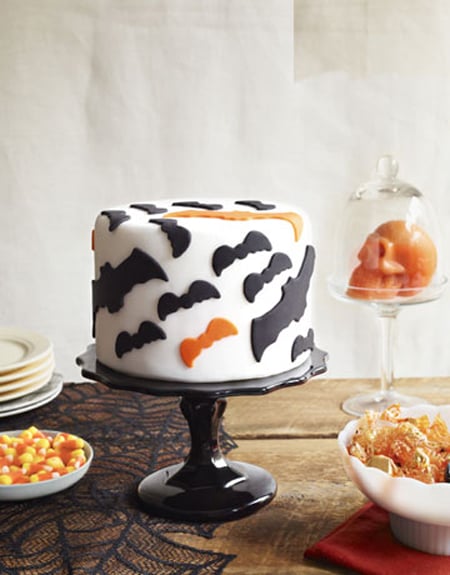 A simple white cake wrapped in fondant and topped with cookie-cutter fondant bats makes a big impact. Get the instructions for this graphic cake here [16].
Source: Country Living [17]
Dracula Dentures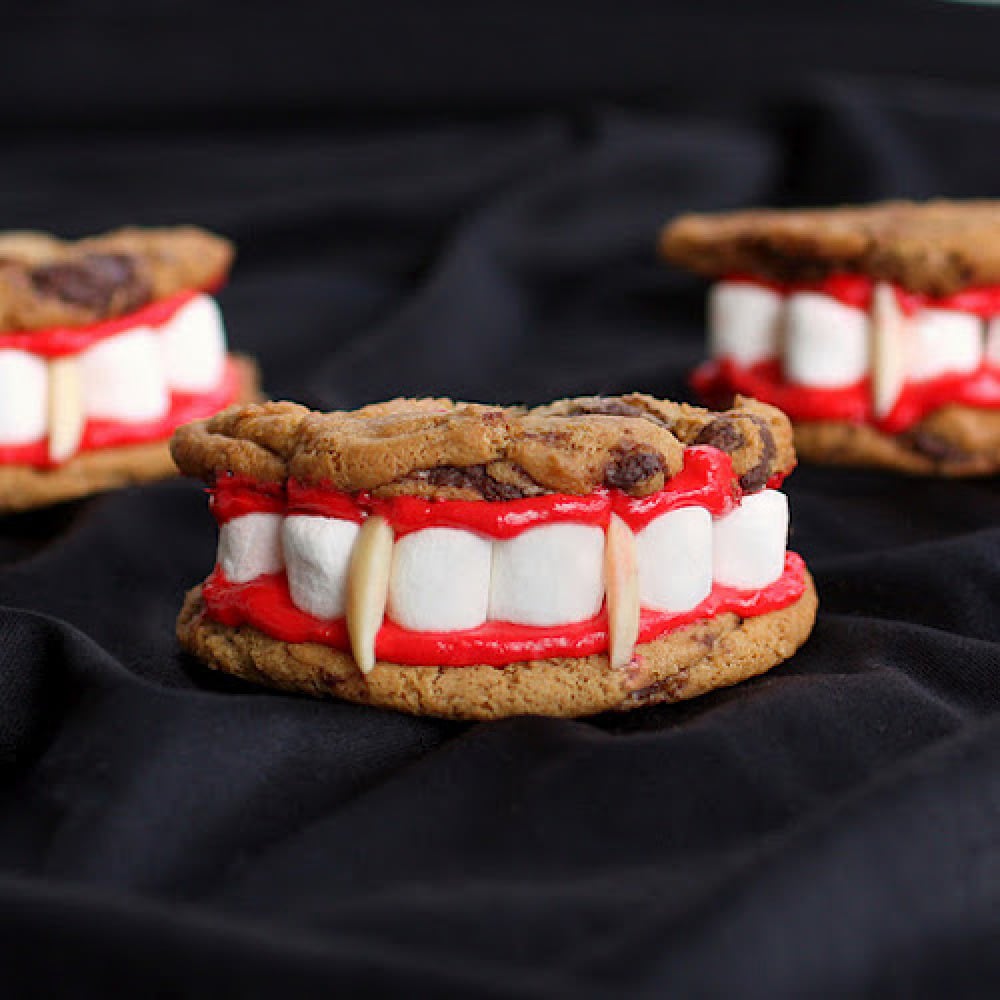 These Dracula dentures look elaborate, but they only take a few ingredients: chocolate chip cookies, tinted vanilla frosting, miniature marshmallows, and slivered almonds for those scary fangs. Get the full instructions here [18].
Source: The Girl Who Ate Everything [19]
Spider Peanut Butter Blossoms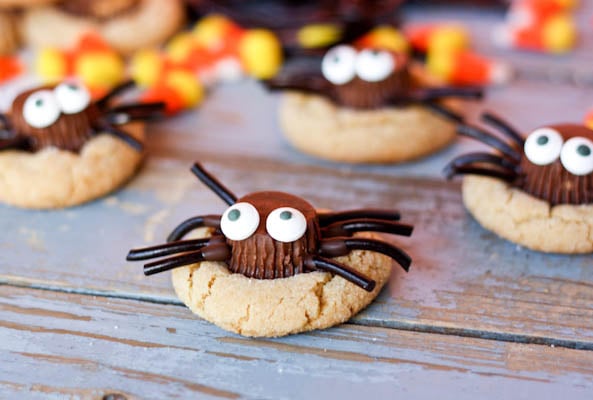 Black liquorice legs and candy eyes turn a peanut butter cup into a cute spider, made even yummier sitting on top of a peanut butter cookie. This creation from Confessions of a Cookbook Queen is guaranteed to impress your kiddos! Get the full recipe here [20].
Source: Confessions of a Cookbook Queen [21]
Jack-o'-Lantern Cake Pops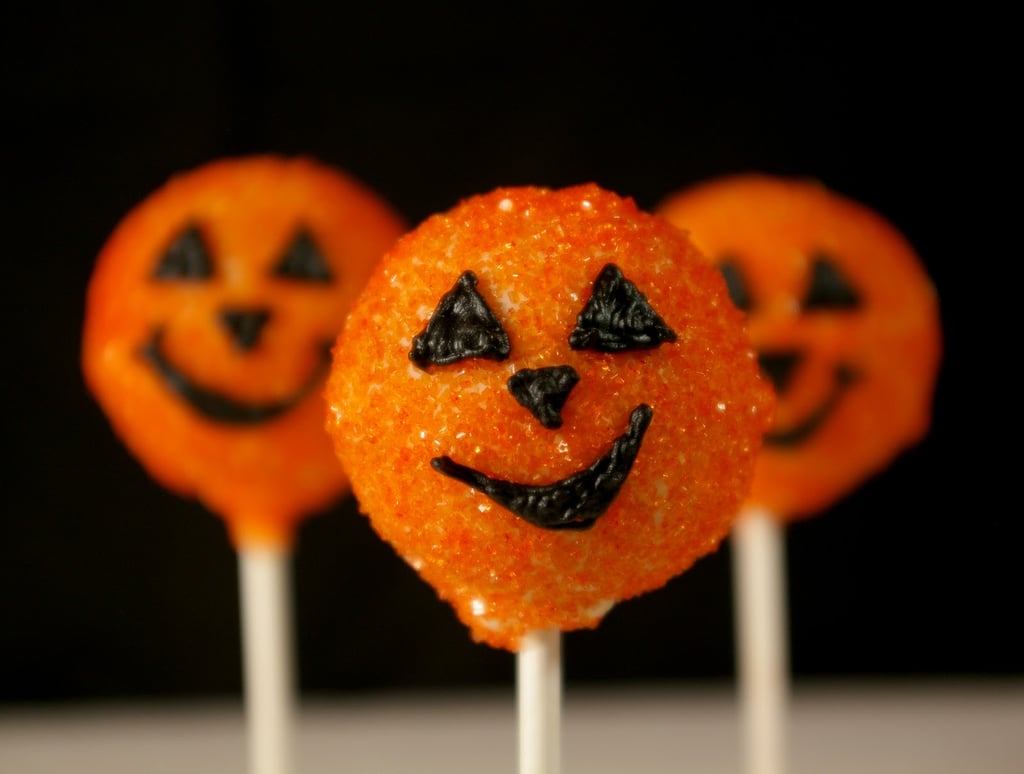 Hi there, pumpkin! Halloween [22] just got a little sweeter with these sugar-coated jack-o'-lantern cake pops.
Source: These Peas Are Hollow [23]
Rice Krispies Treats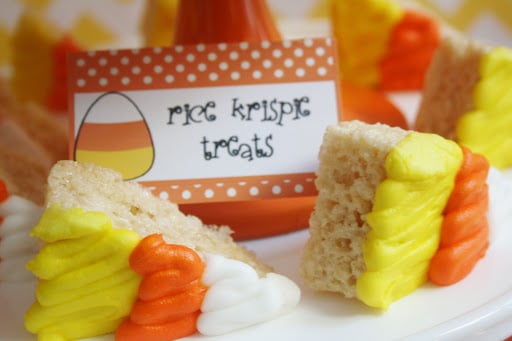 Rice Krispies Treats can be cut and iced to resemble candy corn — so cute!
Source: And Everything Sweet [24]
Low-Fat Mummy Cupcakes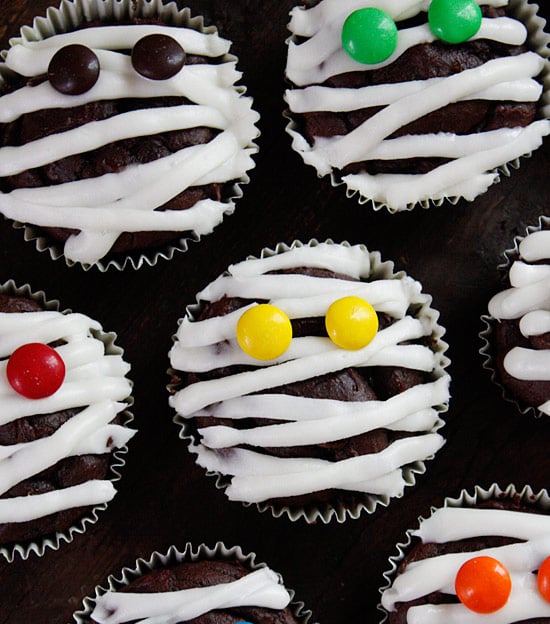 Not only are these chocolate mummy cupcakes [25] from Skinny Taste supercute, but they only have 165 calories and less than four grams of fat each.
Source: Skinny Taste [26]
Easy Pumpkin Brownies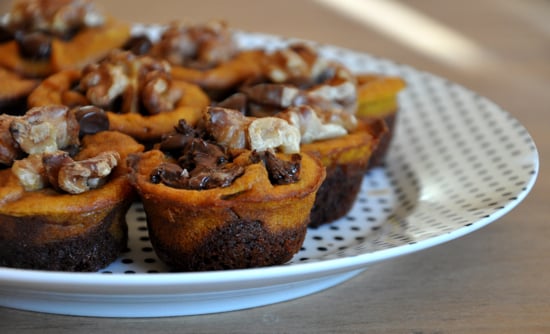 Bake delicious and sweet brownies that are swirled with pumpkin. And your child will love helping to make these mini pumpkin brownie bites [27] from POPSUGAR Food.
Witch Hat Cupcakes
Schur to Please [28] created the witches' hat cupcakes for one Halloween [29] bash, but you could easily make your own!
Source: Jessica Bender Photography [30]
Gluten-Free Vegan Corn Dogs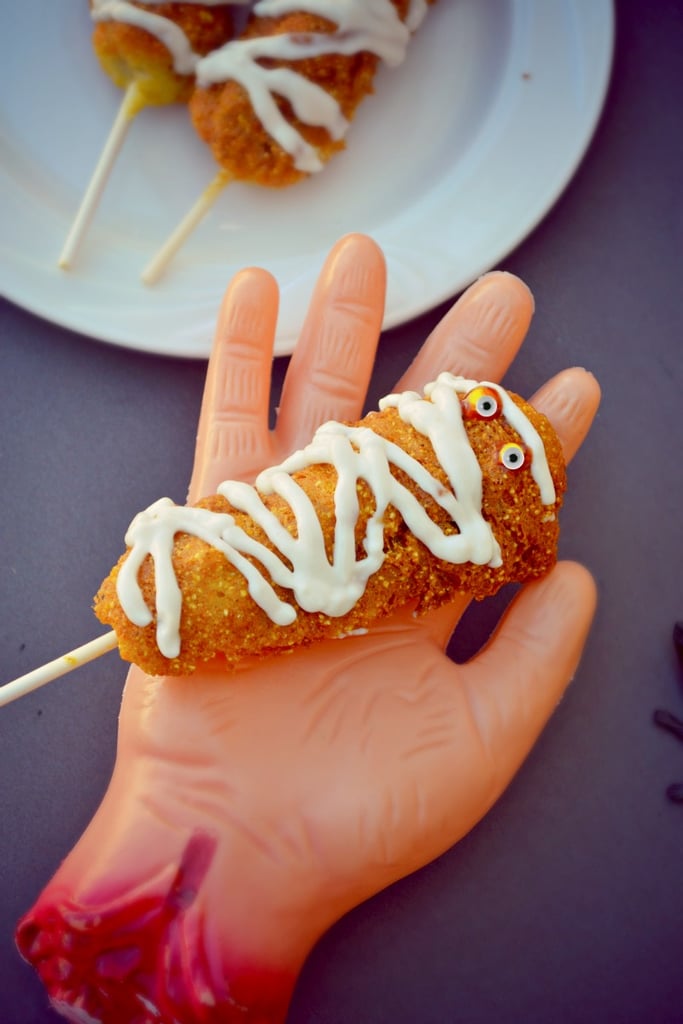 Fork & Beans' gluten-free vegan corn dogs [31] look like little mummies! Severed hand optional.
Source: Fork & Beans [32]
Spooky Chili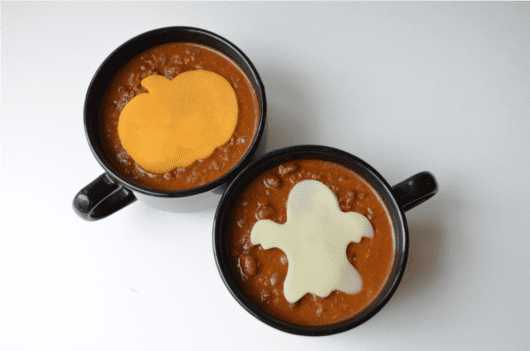 Here's a quick Halloween [33] dish that couldn't get any easier. Simply top your family's favorite chili with cute cut cheese. Check out the recipe from Skinny Twinkie [34].
Source: Skinny Twinkie [35]
Witch Hat Cupcake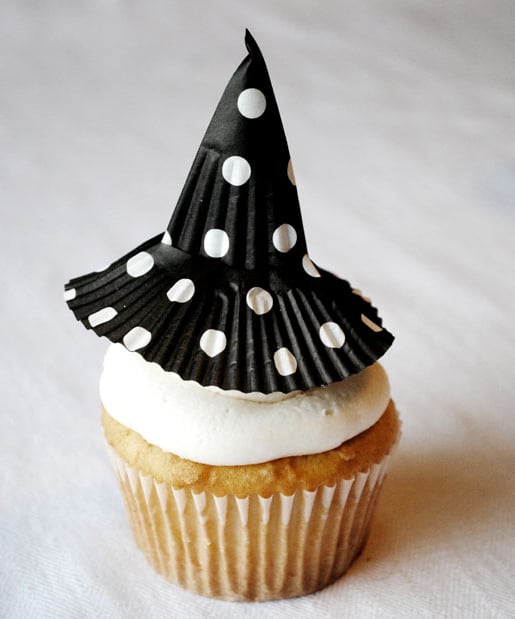 A simple cupcake gets the Halloween [36] treatment with a cupcake liner-turned-witch hat. Get the tutorial here [37].
Source: The Cake Blog [38]
Pumpkin Chocolate Chip Oatmeal Bars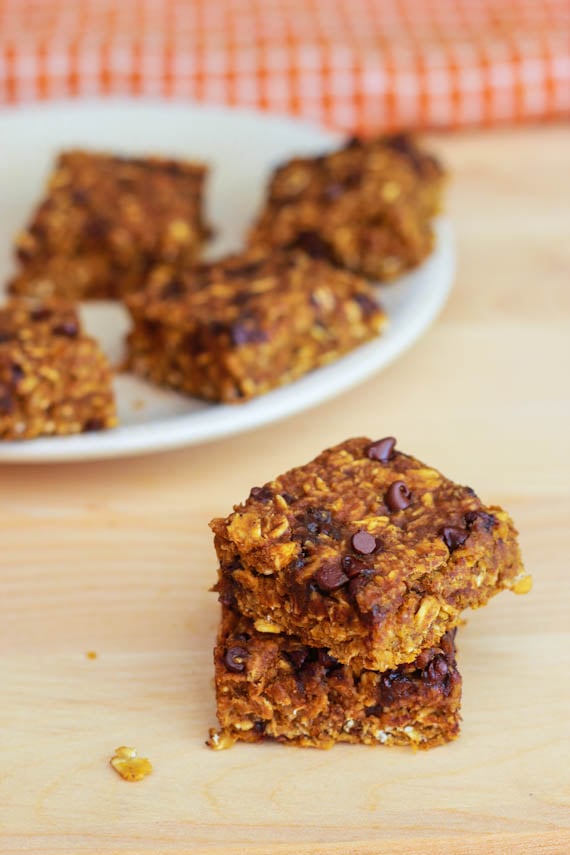 Here's a healthy and Fall-fabulous pumpkin recipe [39] from Sally's Baking Addiction that combines oatmeal and chocolate chips to create flavorful bars.
Source: Sally's Baking Addiction [40]
Skull Dessert Cups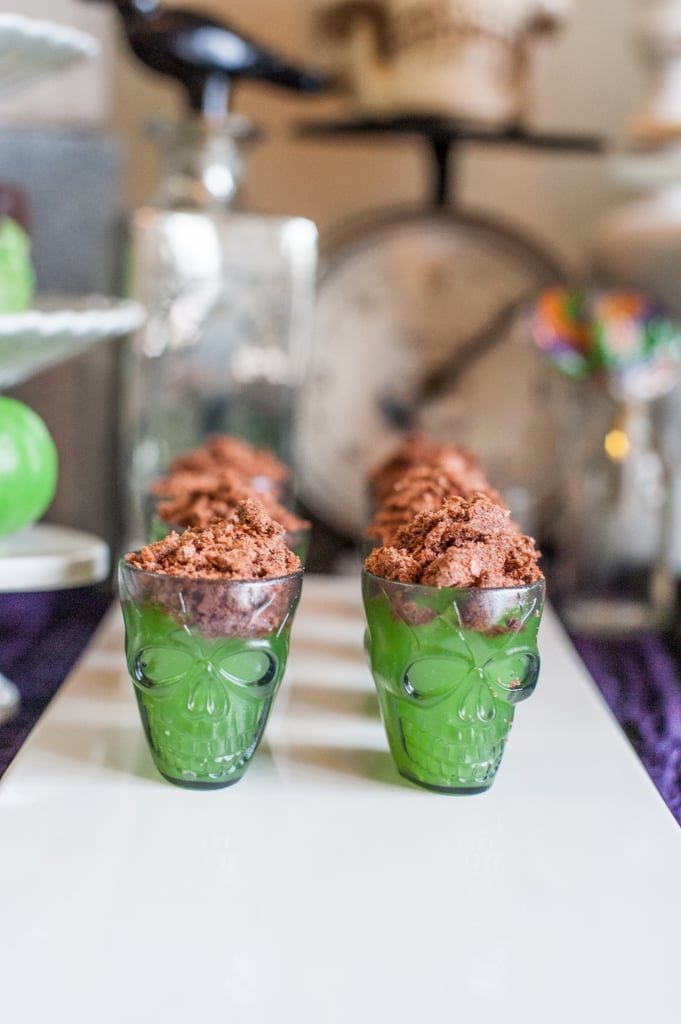 A sweet treat gets spooky when served in skull-shaped cups.
Source: Jessica Bender Photography [41]
Trick-or-Treating Ghost Cake Pops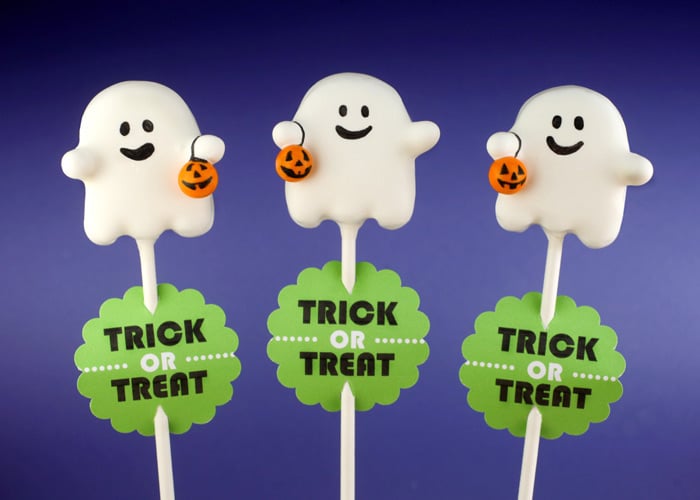 Bakerella's ghost cake pops [42] have their own trick-or-treat bags!
Source: Bakerella [43]
Bat-Topped Cupcake Pops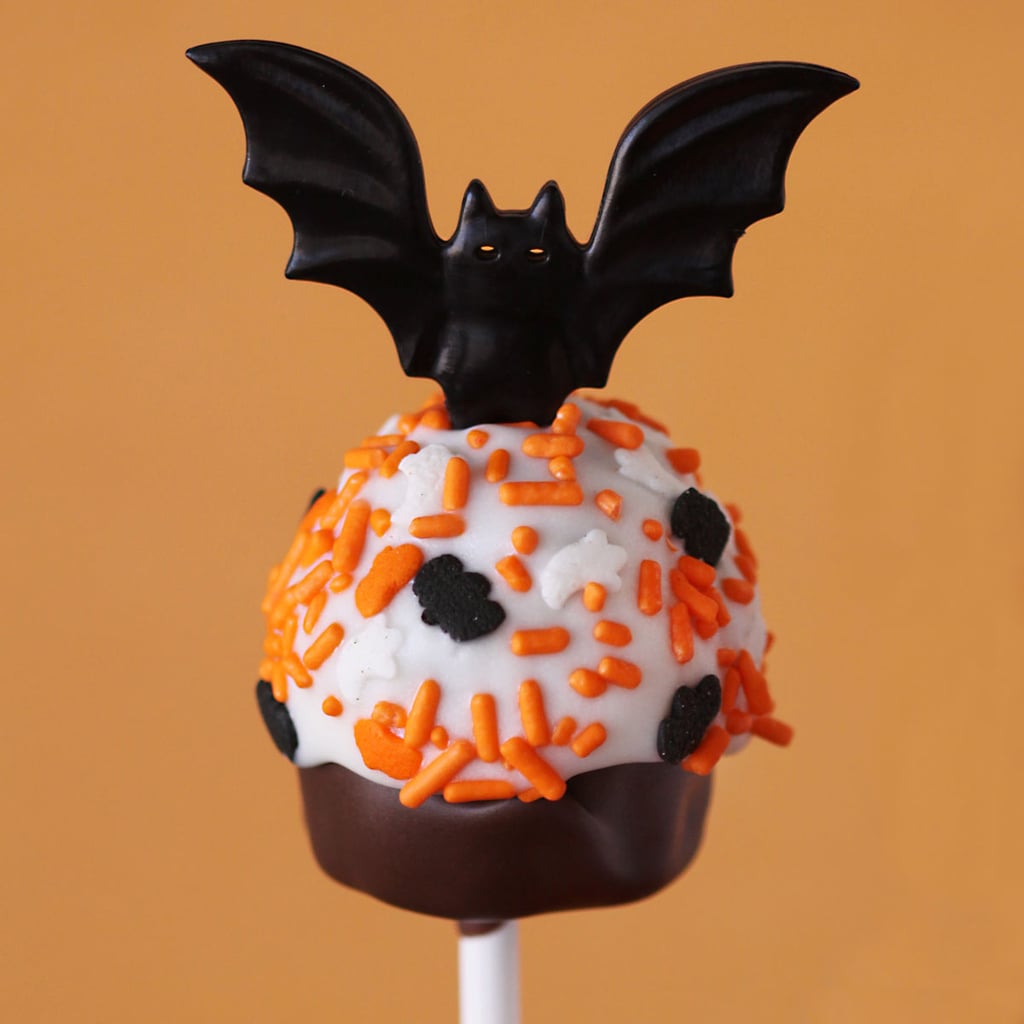 The sweet minds from Love From the Oven created these bat-topped mini cupcake pops [44]. The best part: they require no baking!
Source: Love From the Oven [45]
Ghost Cupcakes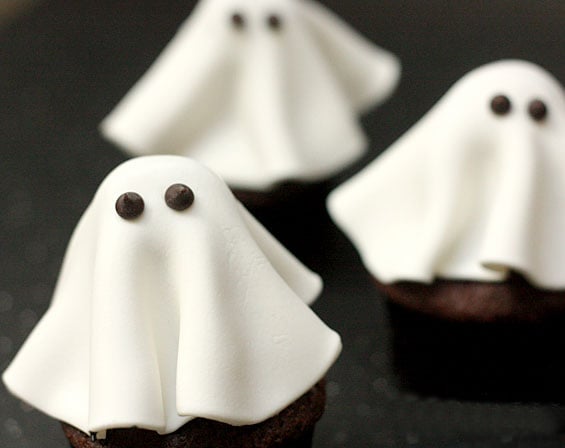 If you're not a fan of frosting, try Ambrosia Baking's ghost cupcakes [46]. Fondant draped over a lollipop makes a scary, floating ghost.
Source: Ambrosia Baking [47]
Witch Hat Cake Pops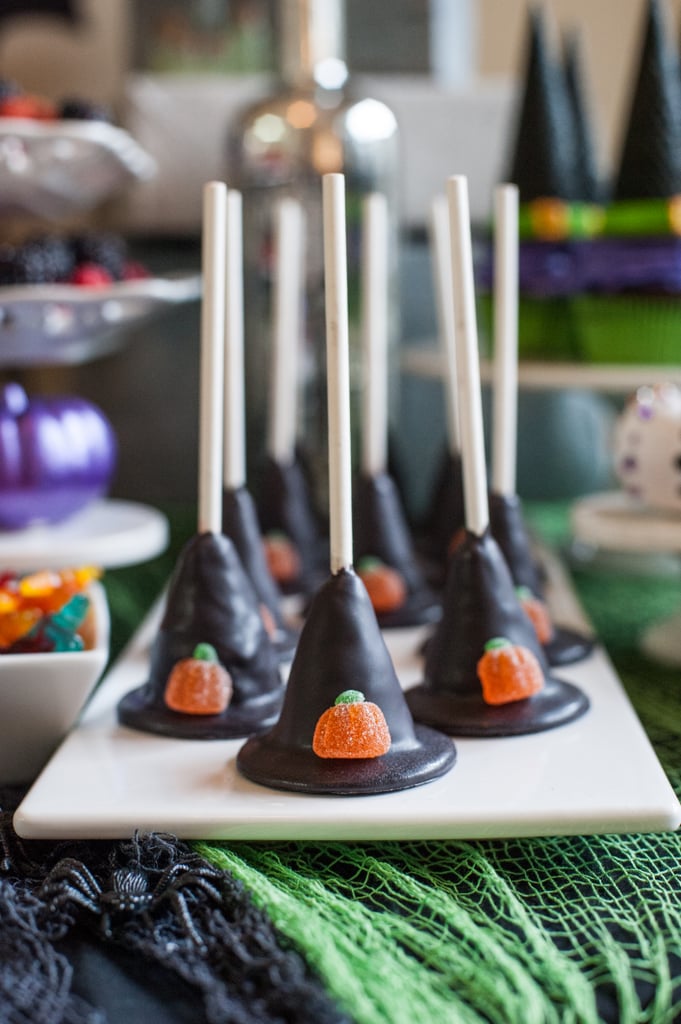 Serena Silchenko created these awesome witch hat cake pops for a Halloween [48] party — steal the idea for your own.
Source: Jessica Bender Photography [49]
Mummy Cake Pops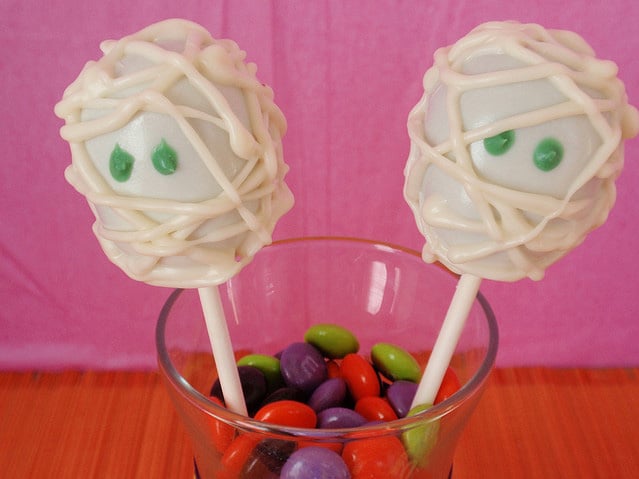 I love my mummy? Yes, you do! Especially when your mummy is made of cake and dipped into white chocolate.
Source: Flickr user cakepoplady [50]
Pumpkin Dessert (or Breakfast) Squares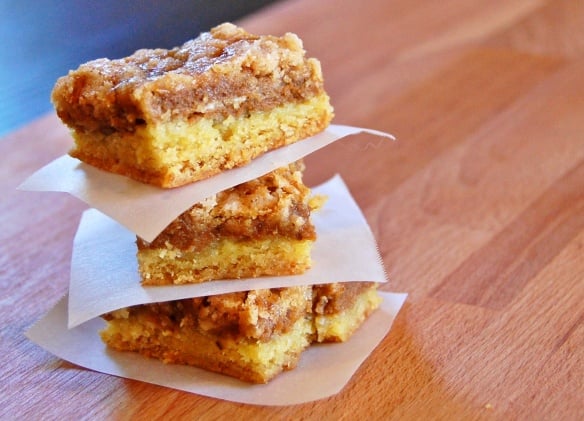 You won't be able to eat only one of these pumpkin dessert squares [51] from Wee Eats. And these treats are seriously easy to make.
Source: Wee Eats [52]
Candy Corn Cake Pops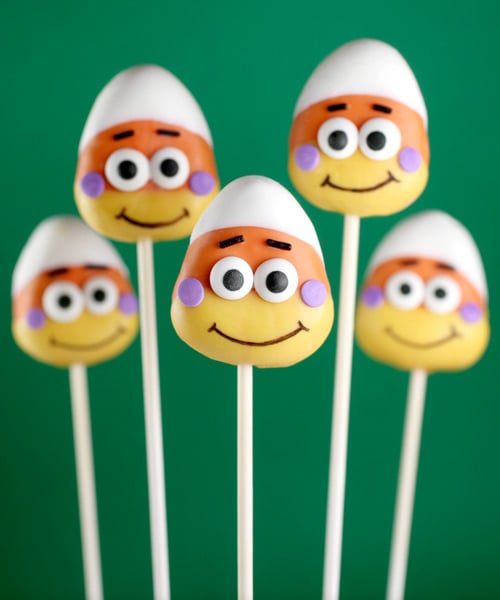 Bakerella's candy corn cake pops [53] pay homage to the holiday's most iconic candy.
Source: Bakerella [54]
Frankenstein Cake Pops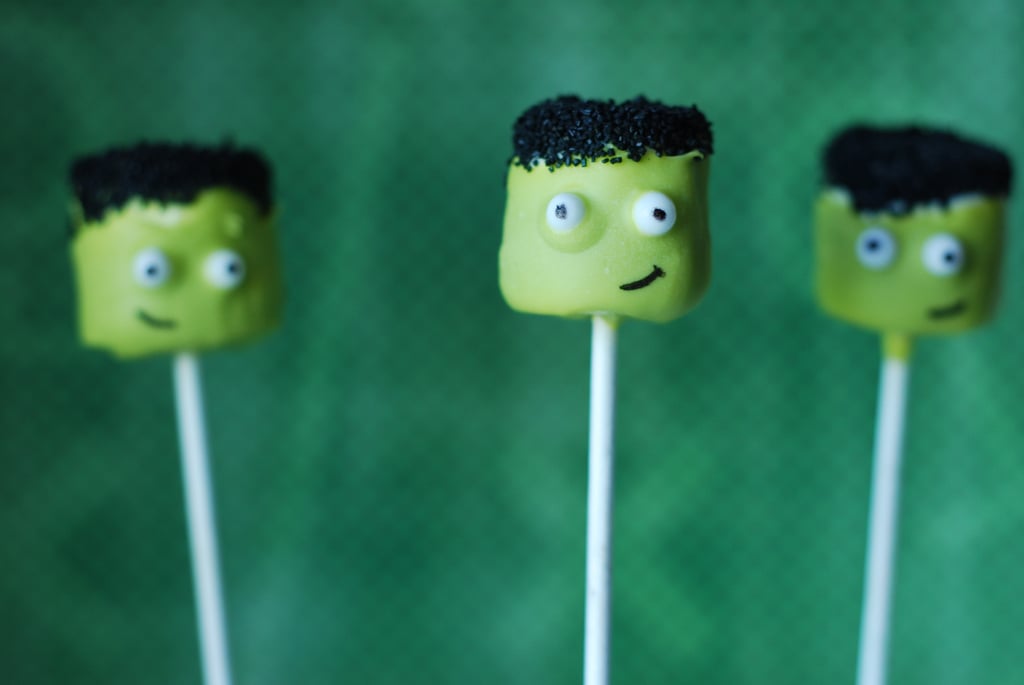 These cake pops make Frankenstein look anything but scary!
Source: Sweet Cheeks Tasty Treats [55]
Meaty Eyeballs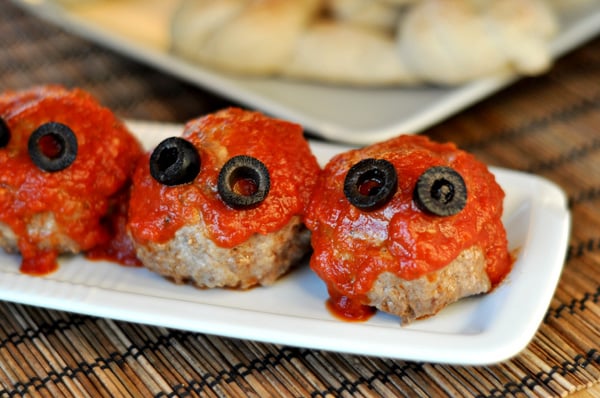 Meaty eyeballs [56] turn delicious meatballs into a perfect Halloween [57] dinner!
Source: Mel's Kitchen Cafe [58]
Frankenstein Fruit Snacks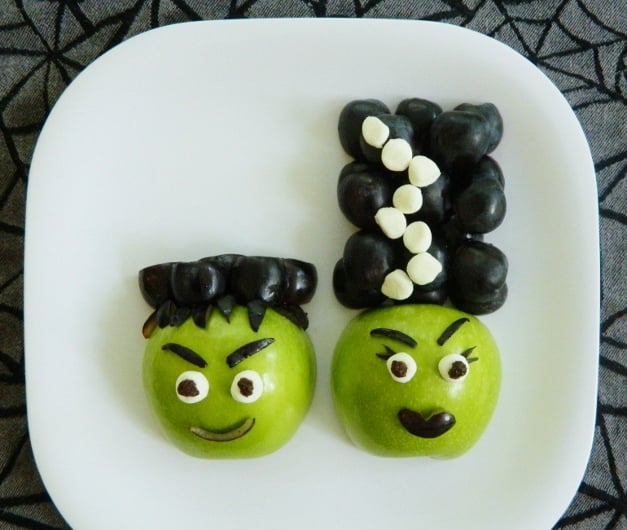 If you prefer to keep your Halloween [59] treats on the healthy side, try this Frankenstein fruit snack [60], created by Jill of Kitchen Fun With My Three Sons with green apples, black grapes, and mini marshmallows.
Source: Kitchen Fun With My Three Sons [61]
Eyeballs Fettuccini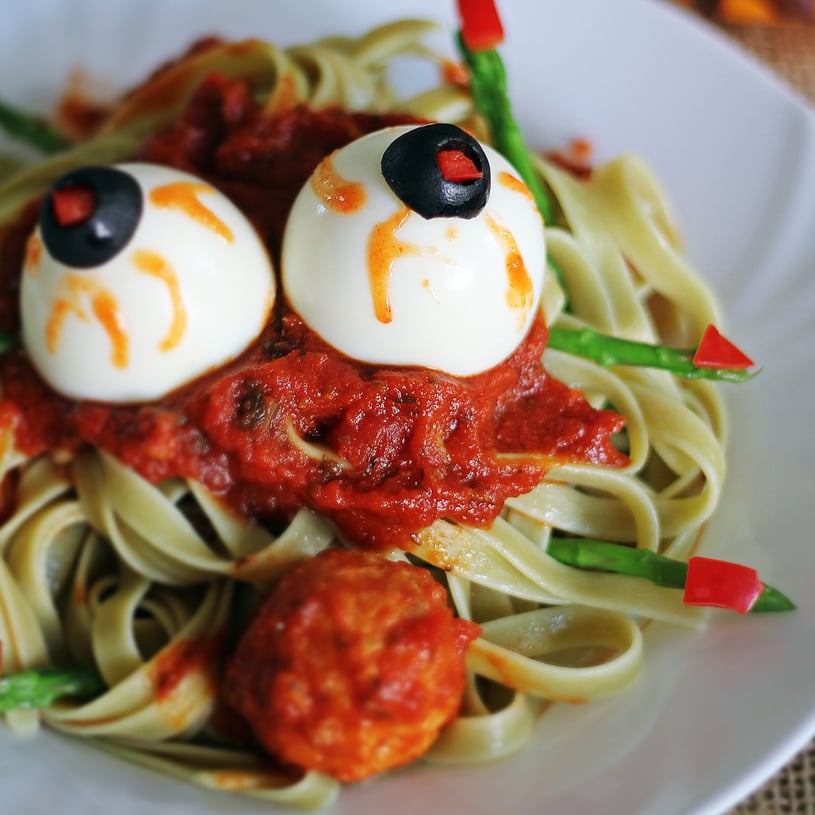 Eyeballs fettuccini [62] with cheesy meatballs (the eyes are made out of hard-boiled eggs and olives) are sure to delight your trick-or-treaters!
Source: Cuisine Paradise [63]
Monsters, Inc. Quesadillas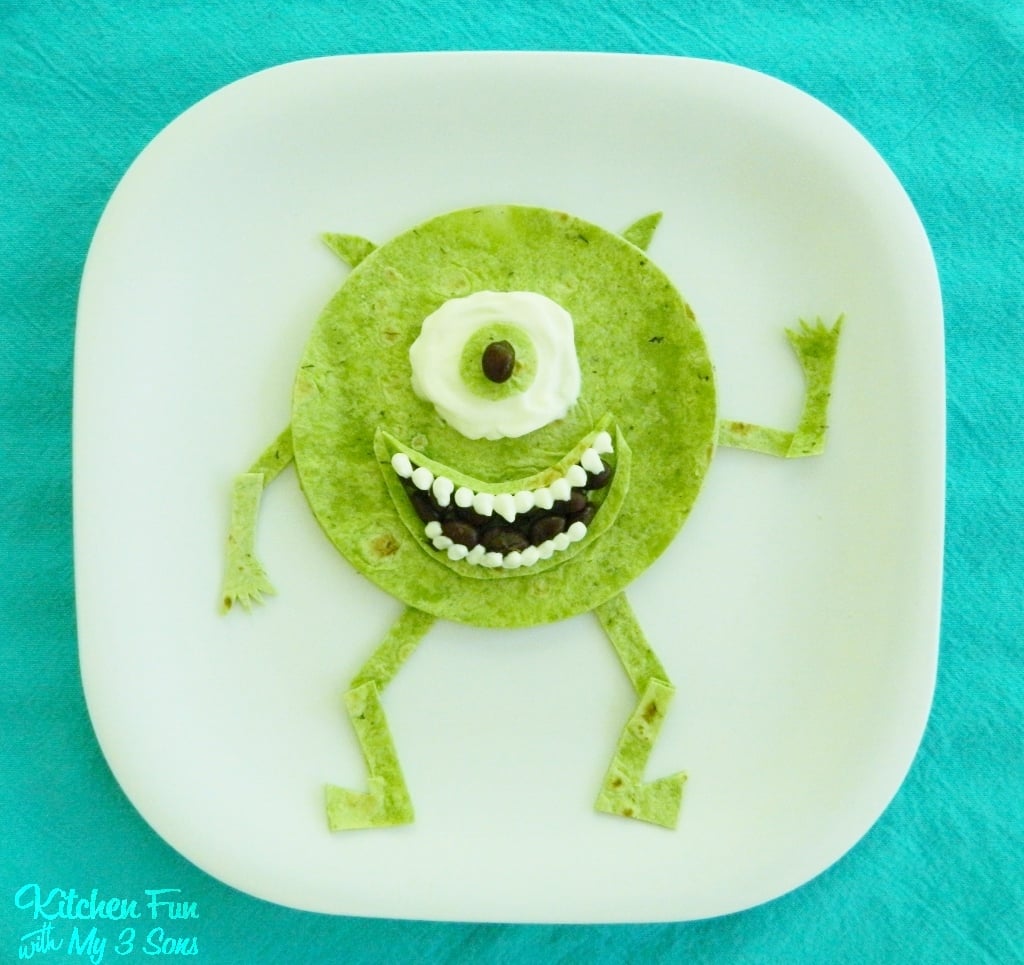 Monsters, Inc. fans will flip for these Mike Wazowski quesadillas [64] made with spinach tortillas, black beans, cheese, and sour cream.
Source: Kitchen Fun With My Three Sons [65]
Dracula Dinner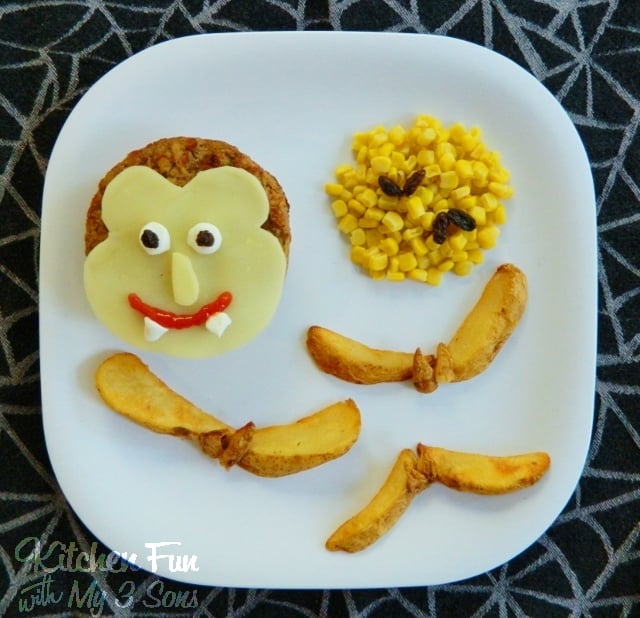 Kitchen Fun With My Three Sons came came up with this clever and easy to make Dracula dinner [66], complete with Dracula burger, a moon of corn, and baked bat potato wedges.
Source: Kitchen Fun With My Three Sons [67]
Cinnamon-Sugar Roasted Pumpkin Seeds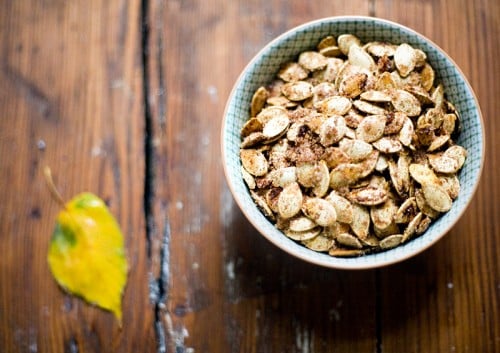 These cinnamon-sugar roasted pumpkin seeds [68] are so easy to make, a toddler could do it (minus the oven part).
Source: Smith & Ratliff [69]
Owl Cupcakes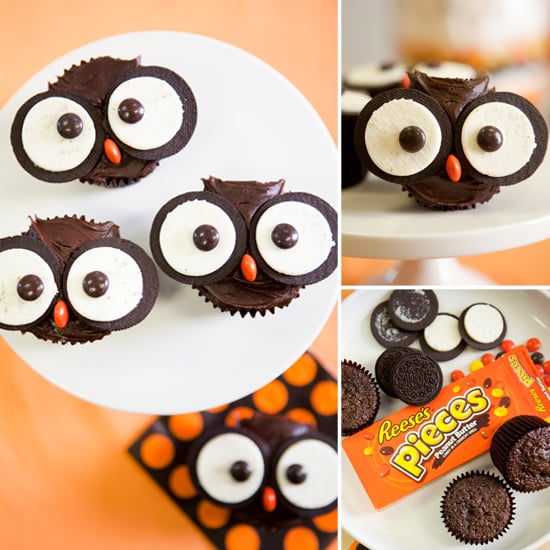 One Charming Party turned simple chocolate cupcakes, Oreo cookies, and Reese's Pieces into the cutest owl cupcakes [70] ever.
Source: One Charming Party [71]
Jack-o'-Lantern Cheeseburgers
An easy Halloween [72] dinner idea, Sandra Lee's jack-o'-lantern cheeseburgers [73] are sure to be a hit with your kids.
Source: Sandra Lee [74]
Spooky Spider Cake Pops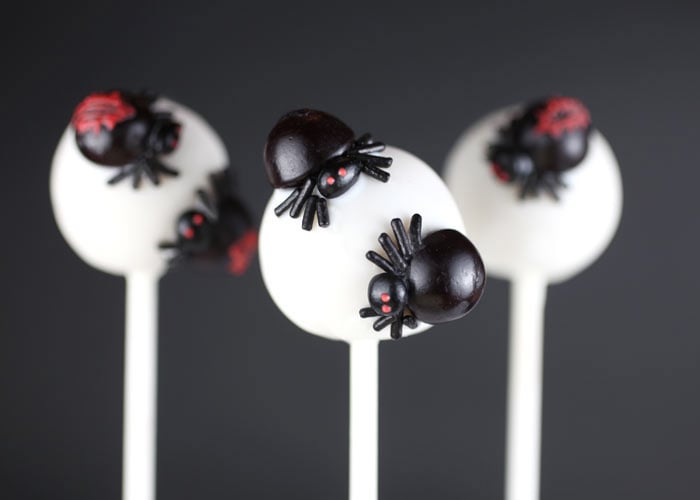 For these spooky spiders [75], the cake pop geniuses at Bakerealla used licorice, black-coated sunflower seeds, and jimmies for the legs.
Source: Bakerella [76]
Stuffed Pizza Skulls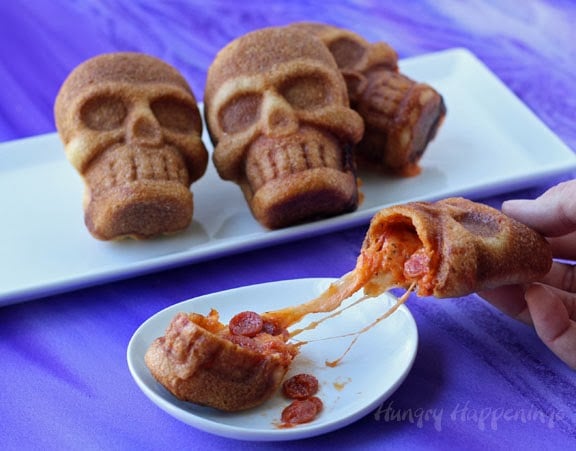 Hungry Happenings' stuffed pizza skulls [77] require a special pan [78], but they're sure to be a favorite Halloween [79] dinner treat for years to come!
Source: Hungry Happenings [80]
Severed Fingers
How creepy are these cut-off candy "fingers?!"
Source: Jessica Bender Photography [81]
Sparky Cake Pops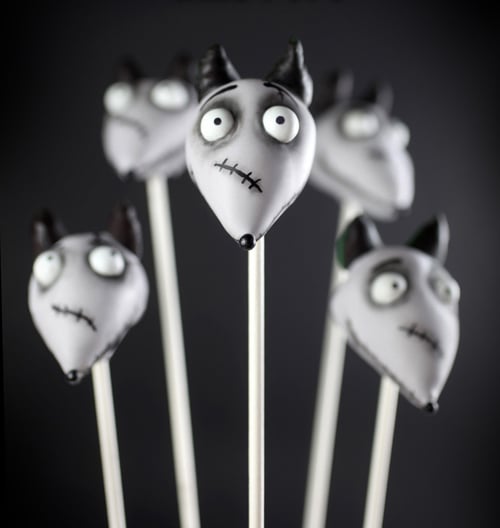 Frankenweenie's Sparky gets his own cake pop with these amazing Bakerella creations [82].
Source: Bakerella [83]
Jack Skellington Cake Pops
All hail the Pumpkin King! Jack Skellington, from Tim Burton's The Nightmare Before Christmas, is the Pumpkin King of Halloween [84] Town — and he'll be the king of your Halloween bash with these boo-tiful Skellington cake pops.
Source: The Sugar Turntable [85]
Pumpkin Witch-Hat Cupcakes
Whisk Kid created these pumpkin cupcakes [86] with cream cheese frosting (yum!), but the Halloween [87] topper (made with Hershey's Kisses, chocolate coins, and red royal icing) is the scary cherry on top of this cake.
Source: Whisk Kid [88]
Brain Cake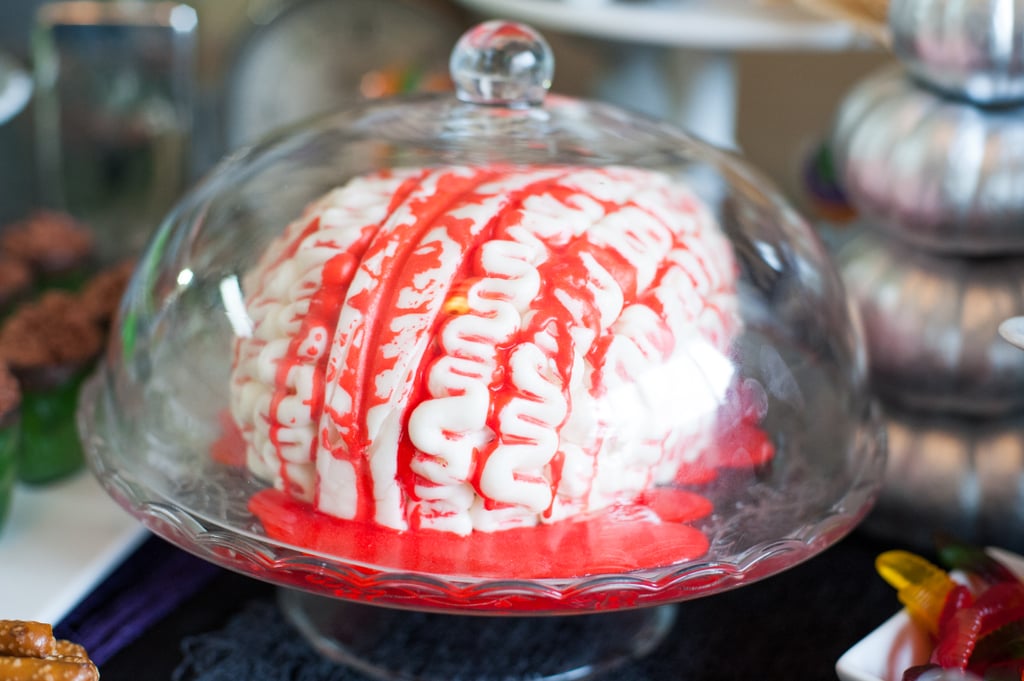 Cakes by Beth-Ann [89] created this scary brain cake — use it as inspiration for your own!
Source: Jessica Bender Photography [90]
Pumpkin Cake Pops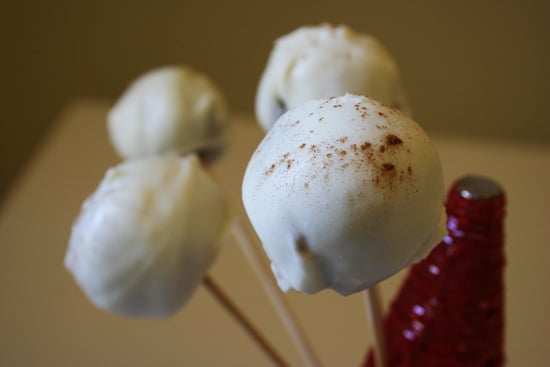 We challenge you to find a kid out there who doesn't love a cake pop. These pumpkin cake pops [91] from our friends at POPSUGAR Food are perfect for a Halloween [92] bash.
Mini Halloween Cookies
Cats, bats, skulls, pumpkins, and witch hats are all a party of Old Time Favorites' mini Halloween cookies [93] ($25 for three dozen).
Gooey Monster Eye Cookies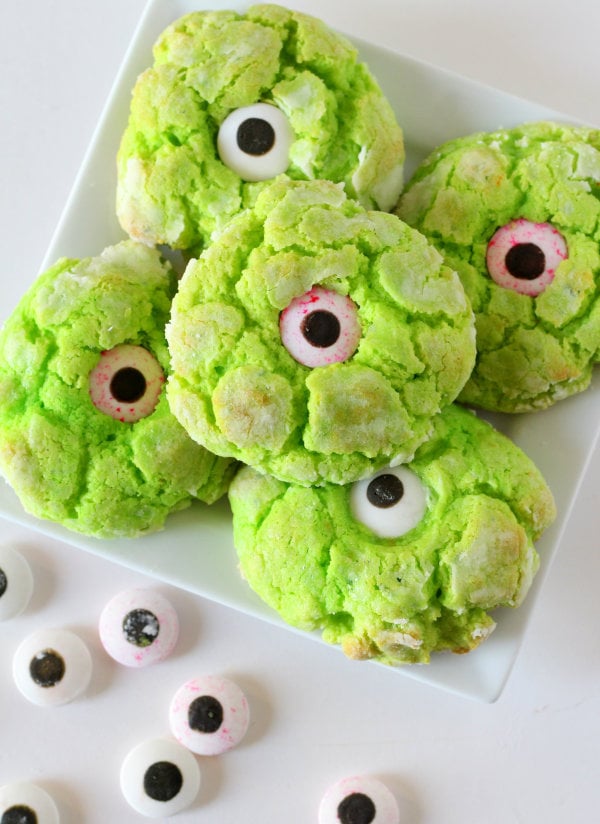 Lil' Luna's gooey monster eye cookies [94] are delicious butter cookies laced with green food coloring and candy eyes. Creepy, but delicious!
Source: Lil' Luna [95]
Trick-or-Treat Cookies
Not Martha's trick-or-treat cookies [96] are twice the fun. Outside, they look like simple Halloween [97] cookies shaped like pumpkins, coffins, gravestones, and ghosts, but inside they're stuffed with treats (mini chocolate candies) or tricks (small sugar ants).
Source: Not Martha [98]
Spiderweb Cupcakes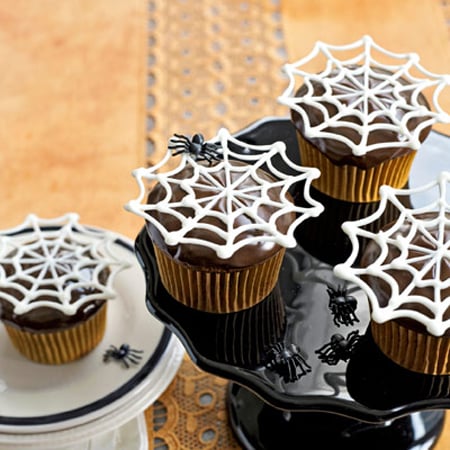 Country Living's chocolate cupcakes [99] have white chocolate spiderwebs floating on top.
Source: Country Living [100]
Monster Munch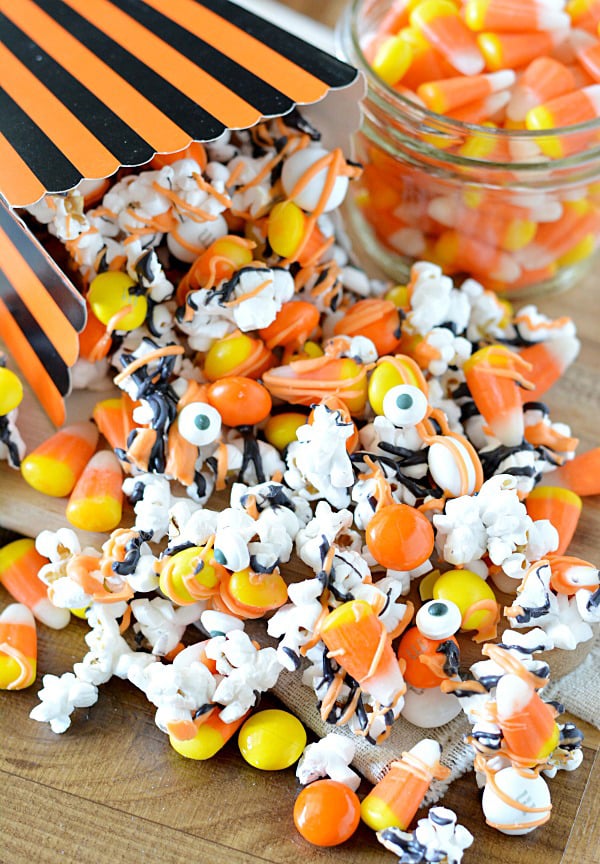 Eighteen 25's monster munch [101] mixes popcorn, orange and black candy melts, candy corn M&M's, candy corn, and edible monster eyes to create an addictive Halloween [102] treat.
Source: Eighteen 25 [103]
Cheese Puffs
"I added a little salty snack to the dessert table: cheese puffs," party planning mama Kate says. "Don't give me a hard time! What is the point of adding anything healthy to the table at this point? One day of junk won't hurt!"
Source: And Everything Sweet [104]
Gluten-Free Pumpkin Cupcakes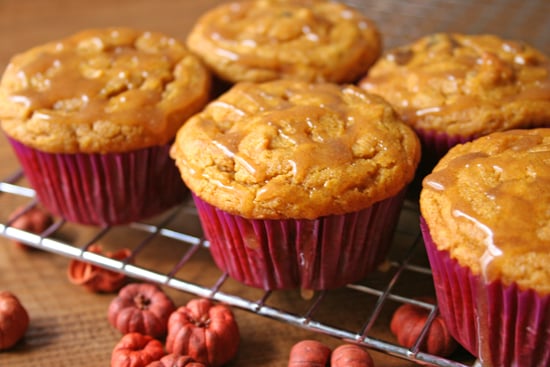 Have a child who's gluten-free? She won't miss out this season with our recipe for pumpkin cupcakes [105]. Since they're full of sweet spice and just enough sugar, no one will know they are gluten-free. Oh, and they are vegan, too.
Poison!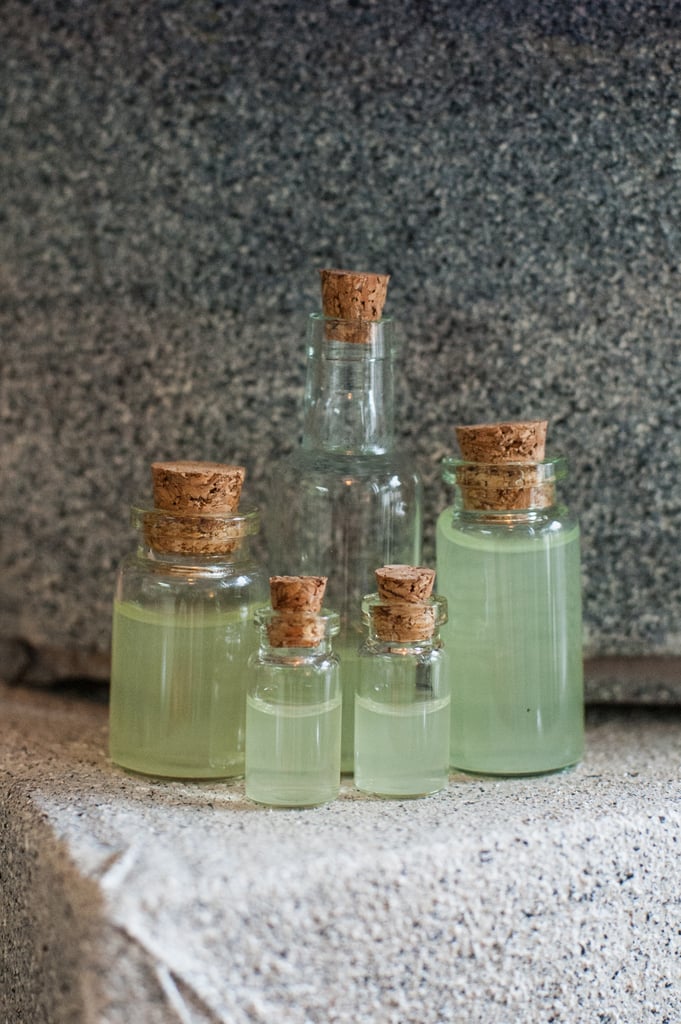 Little bottles filled with lemonade look like something far spookier!
Source: Jessica Bender Photography [106]
Candy Corn Jell-O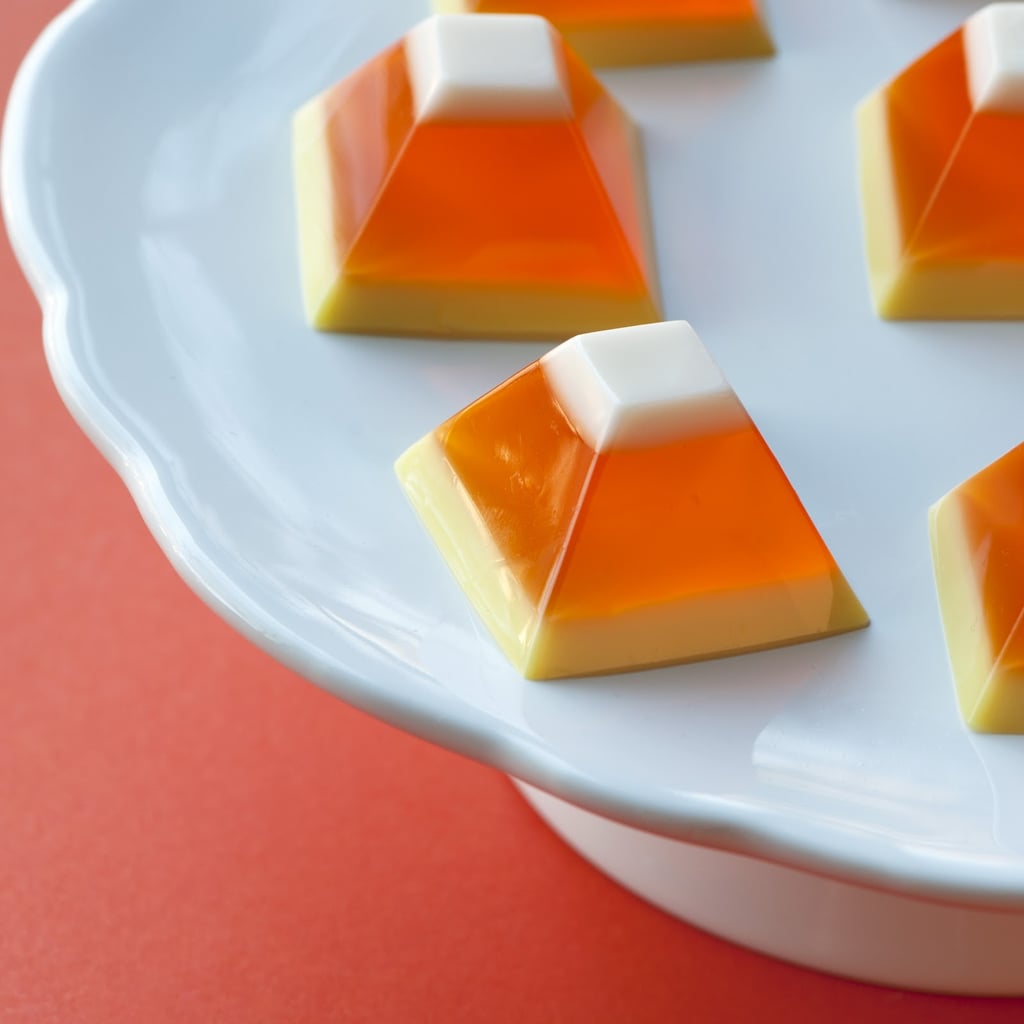 We recently discovered Jelly Shot Test Kitchen, and while there are quite a few grown-up recipes on the site we'd like to try, these candy corn Jell-O bites [107] are nonalcoholic and perfect for a pre-trick-or-treating snack.
Source: Jelly Shot Test Kitchen [108]
Creepy Corn Dog Centipedes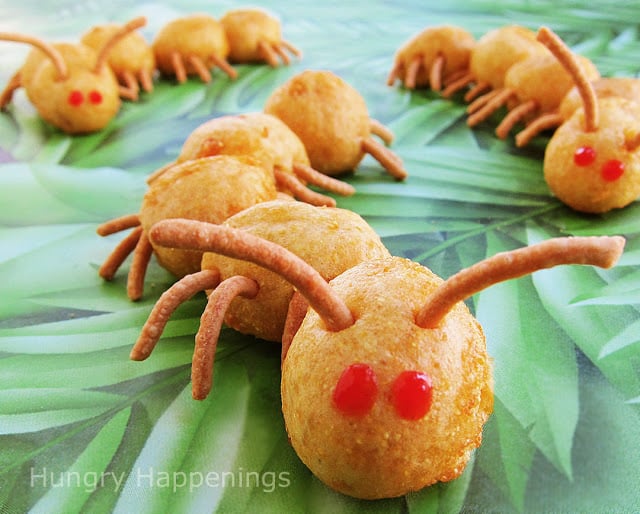 Look out! There's a creepy crawling centipede coming to get you! Here's a kid-friendly Halloween [109] dish that will have the whole family excited to eat dinner. Get the easy recipe from Hungry Happenings [110] for a spook-tacular meal.
Source: Hungry Happenings [111]
Mummy Chocolate Pretzel Rods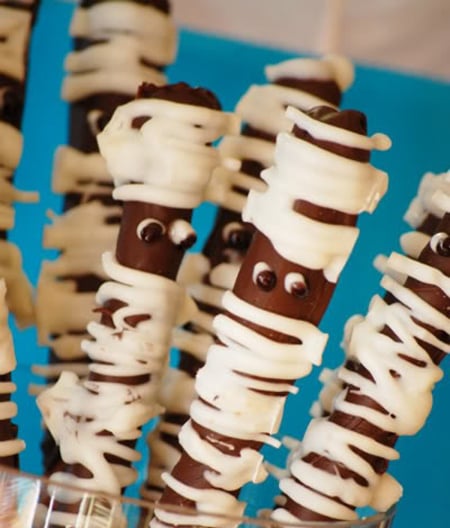 Amy Huntley of The Idea Room threw a mummy-inspired birthday party [112] with tons of creative ideas you can use for Halloween [113], but these mummy pretzel rods — dip pretzel rods in chocolate, add eyes once they harden, then drizzle them with white chocolate — are the perfect sweet-and-salty addition to your Halloween [114] treat supply.
Source: The Idea Room [115]
Scaredy-Cat Brownies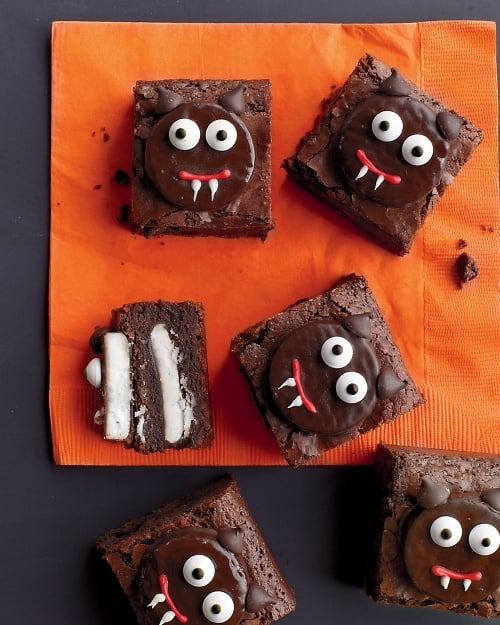 More cute than creepy, Martha Stewart [116]'s scaredy-cat brownies [117] have a peppermint surprise!
Source: Martha Stewart [118]
Mini Blood Cakes
Blood cupcakes (OK, actually red velvet, but feel free to freak your kids out for a minute) and cream cheese frosting make for a yummy combo on these mini blood cakes [119] from Craftaholics Anonymous.
Source: Craftaholics Anonymous [120]
Toothy Skull Cupcakes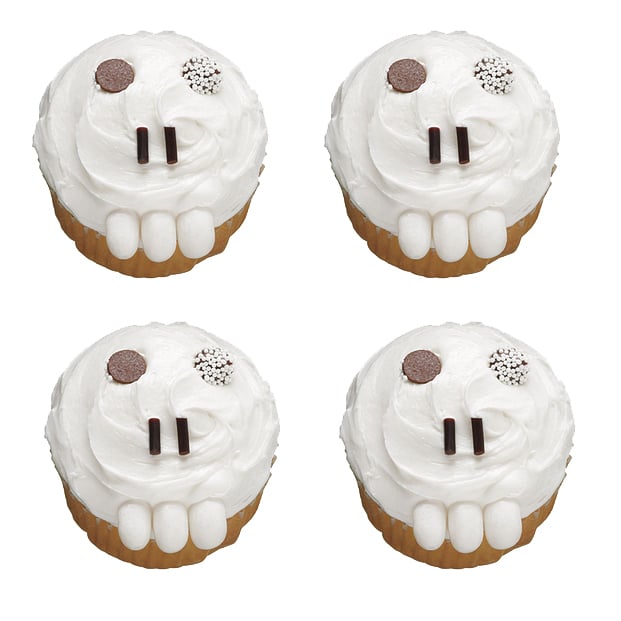 A vanilla cupcake with vanilla frosting gets scary with the help of chocolate nonpareils, black shoestring licorice, and white jelly beans for these skull cupcakes [121].
Source: Real Simple [122]
Candy Corn Cake Pops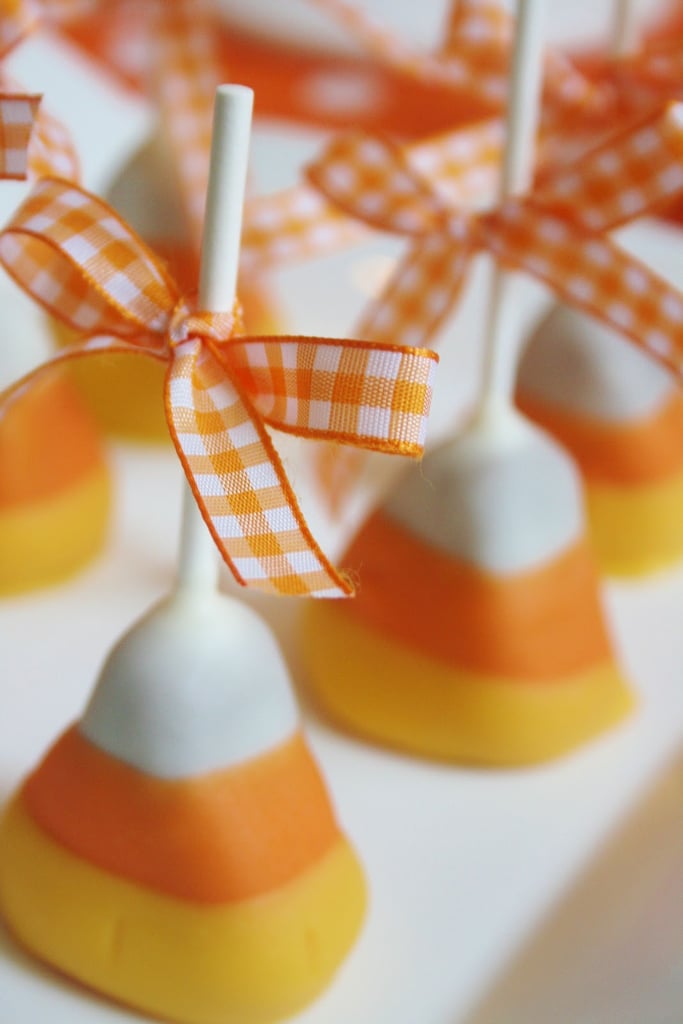 Three colors of chocolate coating made these cake pops look like candy corn.
Source: And Everything Sweet [123]
Neon Skeleton Pops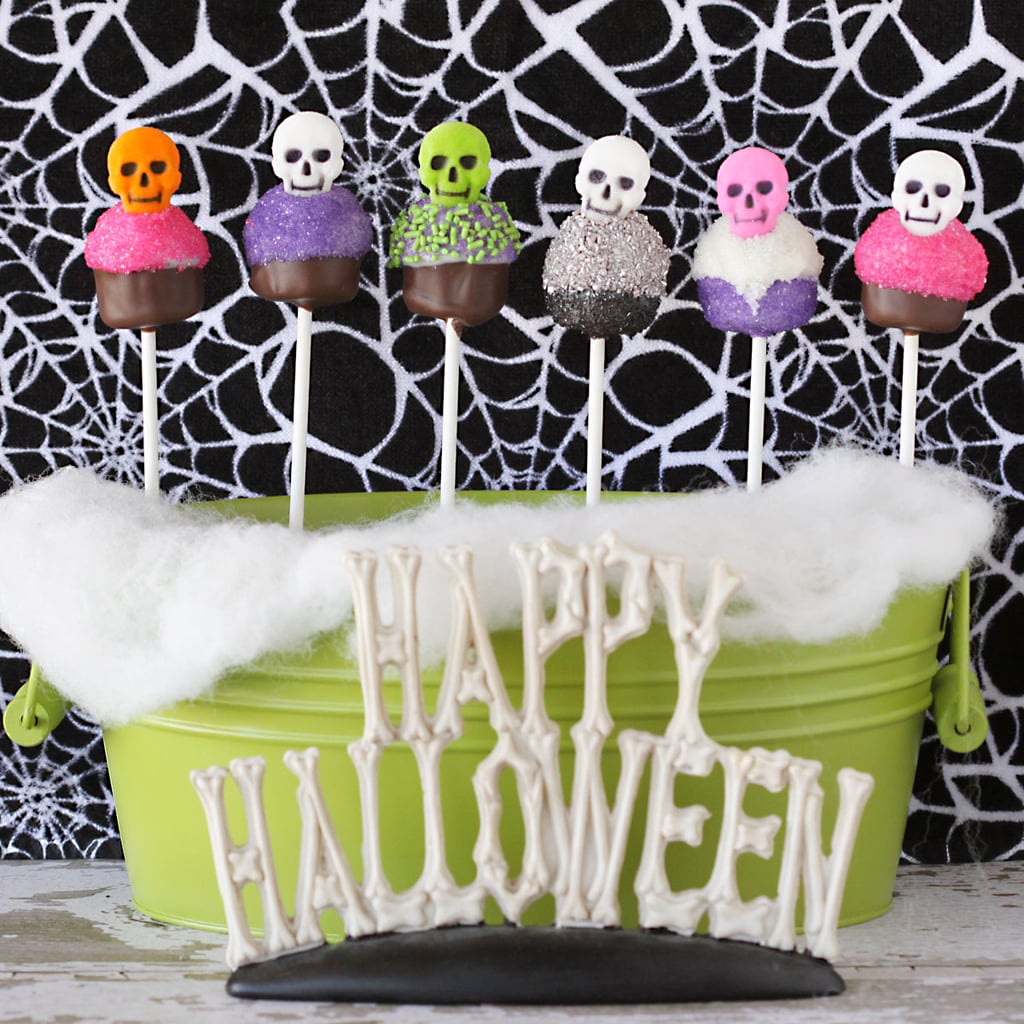 On trend and perfect for the Halloween [124] holiday, Love From the Oven created these amazing sugar skull-topped cake pops [125] in a variety of colors.
Source: Love From the Oven [126]
Soft Glazed Pumpkin Sugar Cookies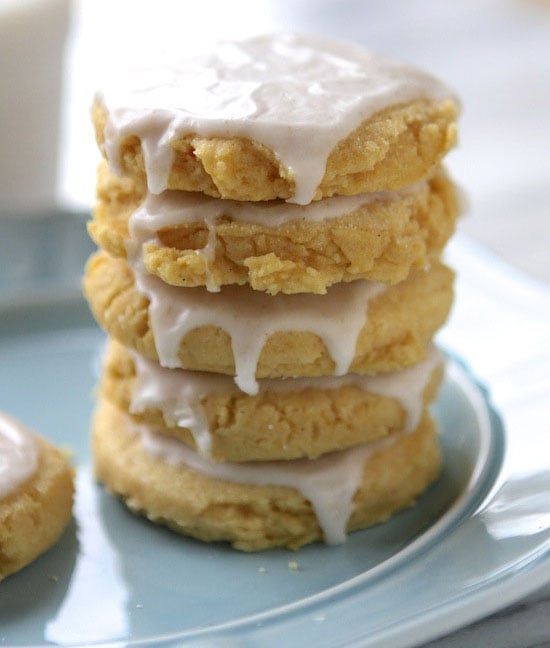 We can't wait to make a batch of Lauren's Latest's soft glazed pumpkin sugar cookies [127], which are easy to make, stay soft for days, and are just the right amount of spicy and sweet.
Source: Lauren's Latest [128]
Green Eye Cake Pop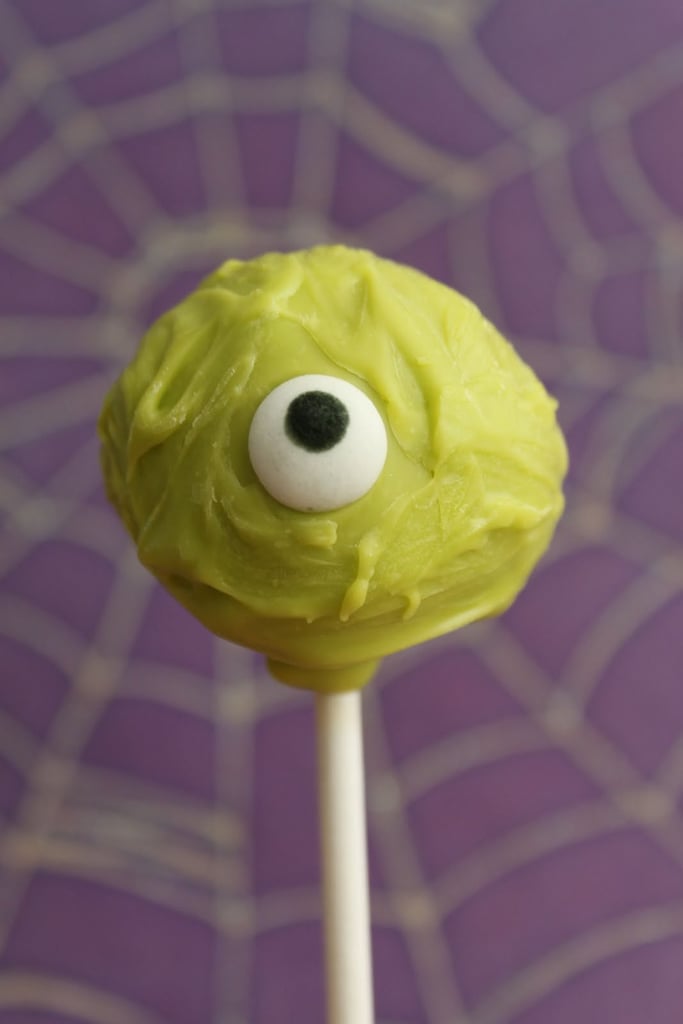 Eyeballs are delicious! Serve up a tray of monster eyeball cake pops that kiddos — both big and small — will think are spook-tacular.
Source: Baked Perfection [129]
Candy Corn Pudding Pops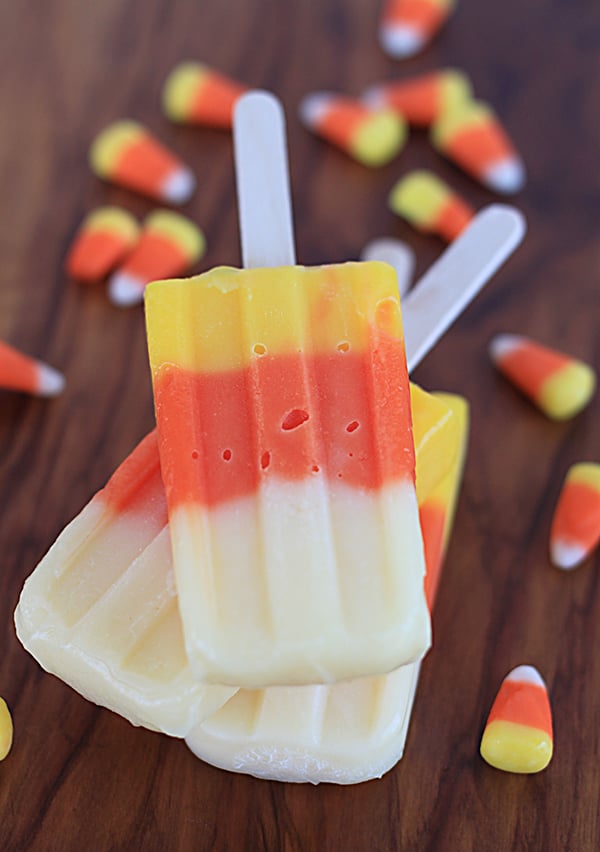 If Fall weather hasn't hit your area, these candy corn pudding pops [130] from Eighteen 25 will cool your little trick-or-treaters right off.
Source: Eighteen 25 [131]
Frankenstein Marshmallows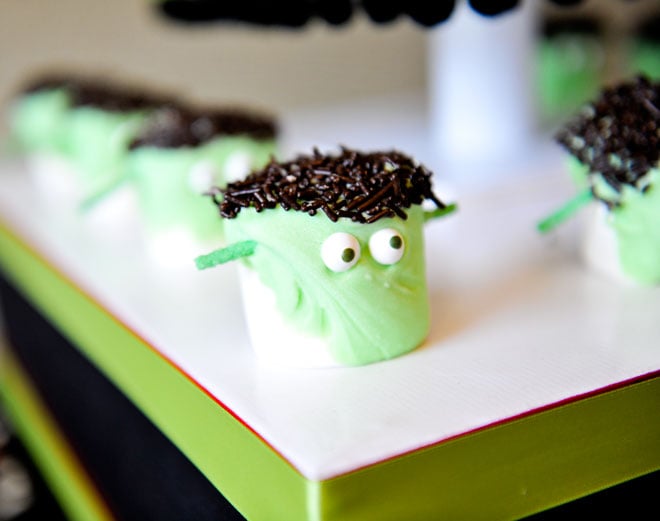 Love the Day's spooktacular Halloween party [132] has lots of cute treats, but we are especially partial to these adorable (and easy-to-re-create) Frankenstein marshmallows. Love the sprinkle hair!
Source: Love the Day [133]
Jack-o'-Lantern and Ghost Pops
Celebrations at Home [134] created a Halloween [135] treats table using adorable Halloween [136] cake balls that look like jack-o'-lanterns and ghosts made by Candy Valley Cake Company [137].
Source: Celebrations at Home [138]
Eyeball Cake Pops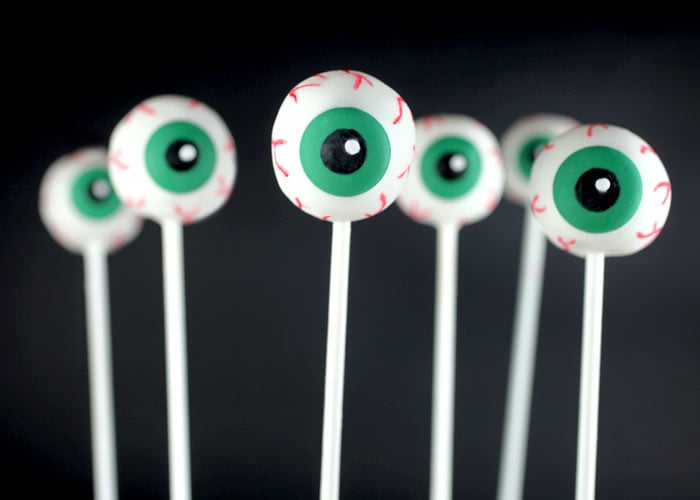 A simple white cake pop [139] gets the Halloween [140] treatment with some candy coating and edible pen. The eyes have it!
Source: Bakerella [141]
Vegan Halloween Pizzas
These vegan Halloween pizzas [142] are totally homemade from dough to cheese, but you can use the concept for dairy- and gluten-filled pizzas, too!
Source: Vegan Richa [143]
Monster Cupcakes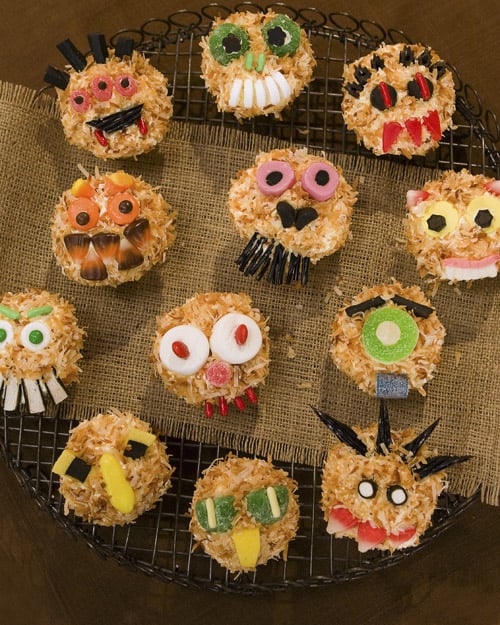 Martha Stewart [144]'s monster cupcakes [145] would make for a fun and delicious project for your kids to help with.
Source: Martha Stewart [146]
Pumpkin Swirl Cheesecake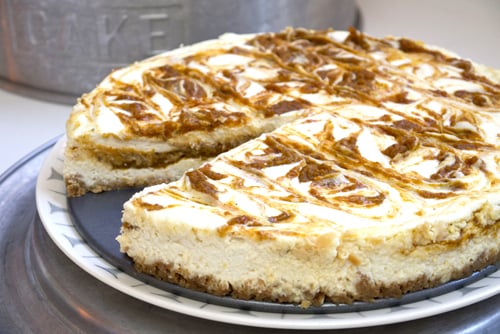 The combo of soft cream cheese and not-too-sweet pumpkin puree makes this pumpkin swirl cheesecake [147] irresistible. Drizzle with maple syrup to kick up the wonderful Fall flavor.
Source: So Says Sarah . . . [148]
Stenciled Cupcakes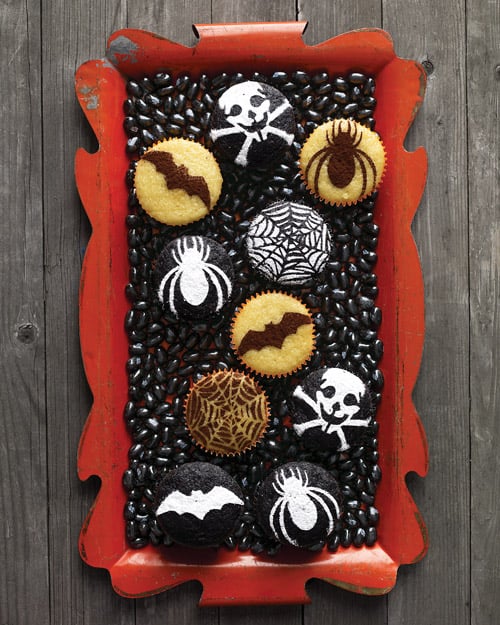 Cupcake stencils [149] with bats, spiders, and more turn Martha Stewart [150]'s chocolate cupcakes [151] into spooky treats for Halloween [152].
Source: Martha Stewart [153]
Monster Cake Pops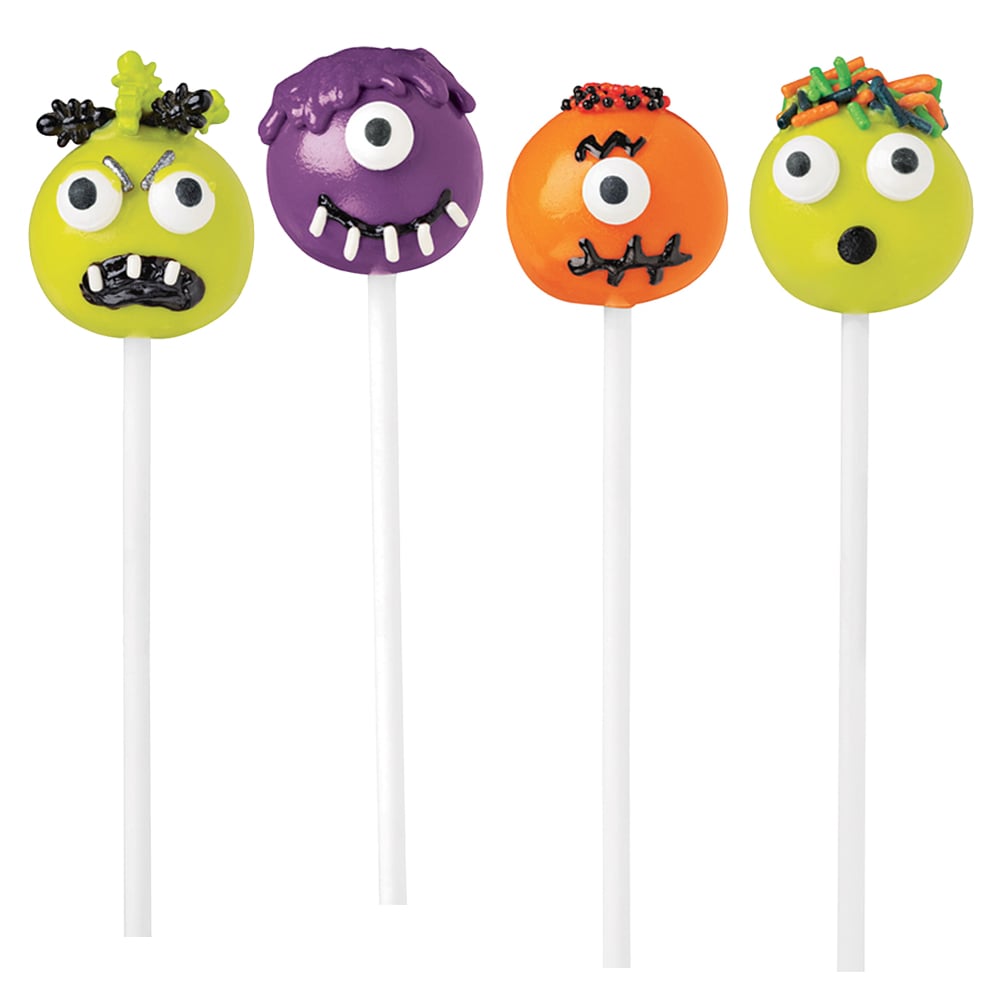 Get the simple instructions for these not-too-scary monster cake pops [154] at Michaels.
Source: Michaels [155]
Candy Corn Cupcakes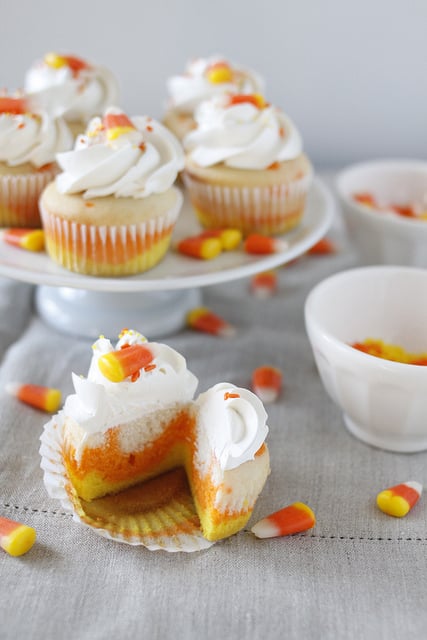 Treats SF added a little food coloring to a white cake mix to make a cupcake [156] reminiscent of the classic Halloween [157] candy.
Source: Treats SF [158]
Creepy Cupcake Cones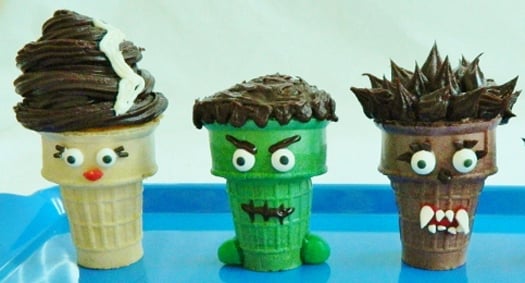 Colored ice cream cones, cake mix, frosting, and assorted candies turn simple cupcake cones into the Bride of Frankenstein, Frankenstein's monster, and the Wolfman. Get the full instructions here [159].
Source: Kitchen Fun With My Three Sons [160]
No-Bake Mini Pumpkin Cheesecakes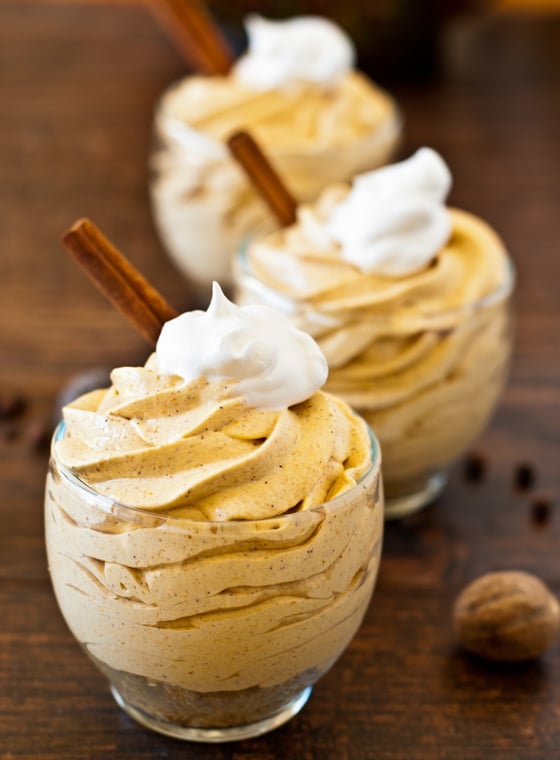 A Family Feast's no-bake mini pumpkin cheesecakes [161] are easy and fairly quick to make, but that creamy, spicy filling makes them feel like something superspecial.
Source: A Family Feast [162]
Pumpkin Twinkies With Cream Cheese Marshmallow Filling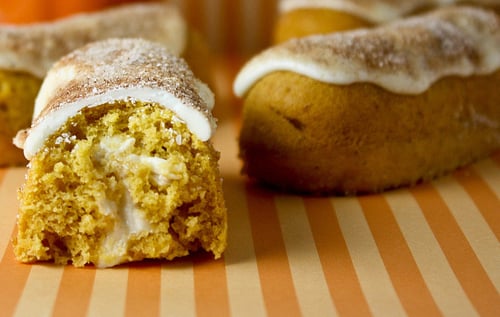 Forget those reintroduced store-bought dessert snacks. These pumpkin Twinkies with cream cheese marshmallow filling [163] from Confessions of a Cookbook Queen are so much better.
Source: Confessions of a Cookbook Queen [164]
Top Hat Cupcakes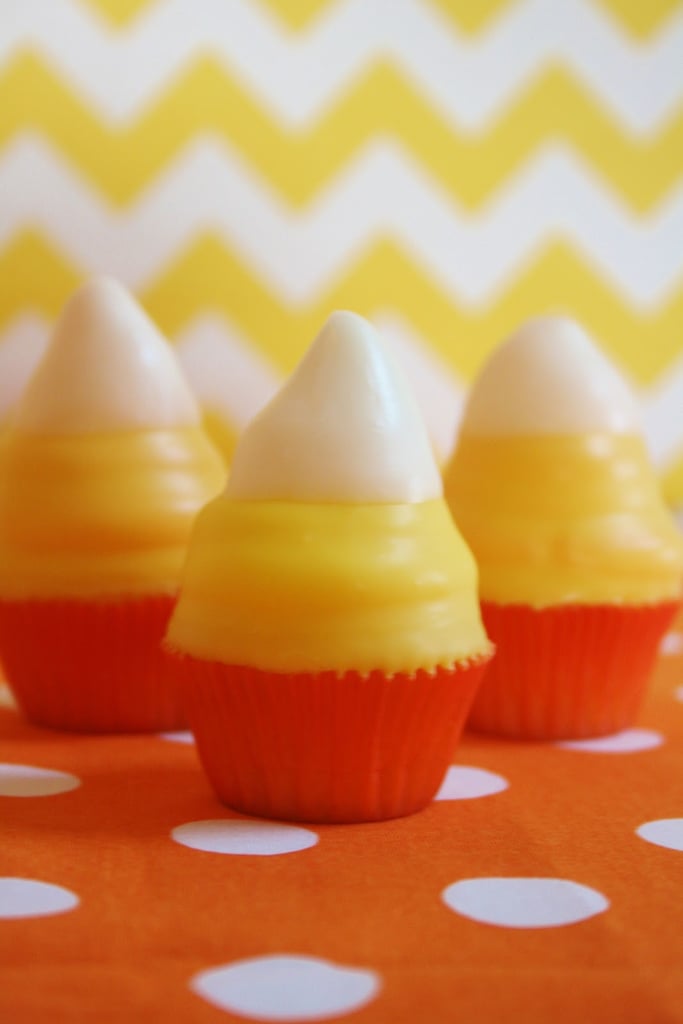 "How yummy do these top hat cupcakes look?" candy corn-party planner Kate asked. "Swirls of butter cream icing, dipped in candy melts." Yum!
Source: And Everything Sweet [165]
Frankenstein Rice Krispies Treats
Rice Krispies Treats look like heads of Frankenstein when dyed green and dipped in chocolate.
Source: Jessica Bender Photography [166]
Breadstick Bones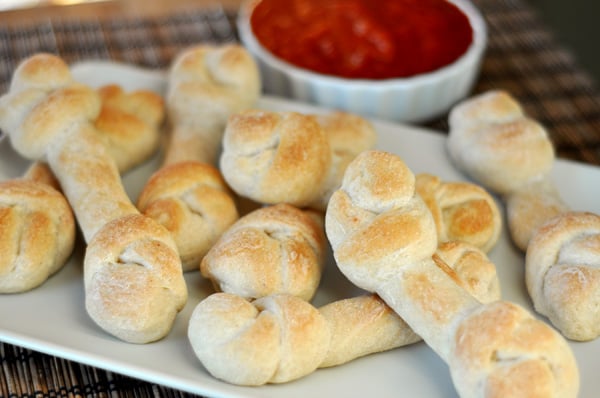 Mel's Kitchen Cafe's breadstick bones [167] are easy to make and so cute!
Source: Mel's Kitchen Cafe [168]
Pumpkin Pie Bites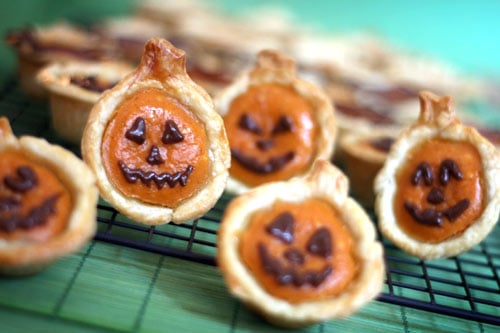 What could be cuter than a mini pumpkin pie with a jack-o'-lantern face? Bakerella's pumpkin pie bites [169] are a unique, bite-size Halloween [170] treat.
Source: Bakerella [171]
Candy Corn Rice Krispies Treats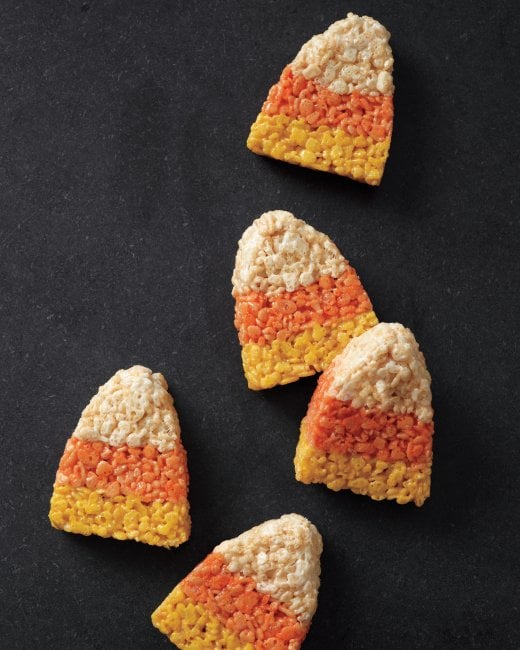 Martha Stewart [172]'s candy corn Rice Krispies Treats [173] are spiked with citrus zest to add some bright, unexpected flavor.
Source: Martha Stewart [174]
Easy Halloween Pizza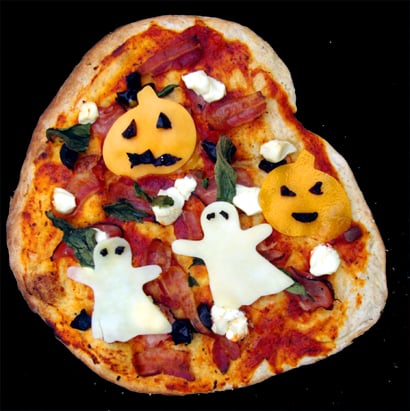 Make homemade pizza that turns Halloween [175] into a fun eating adventure with this ghoulish recipe from Within the Kitchen [176]. You can add whatever toppings your family loves, making it a seriously family-friendly dish.
Source: Within the Kitchen [177]
Mini Triple Treat Cupcakes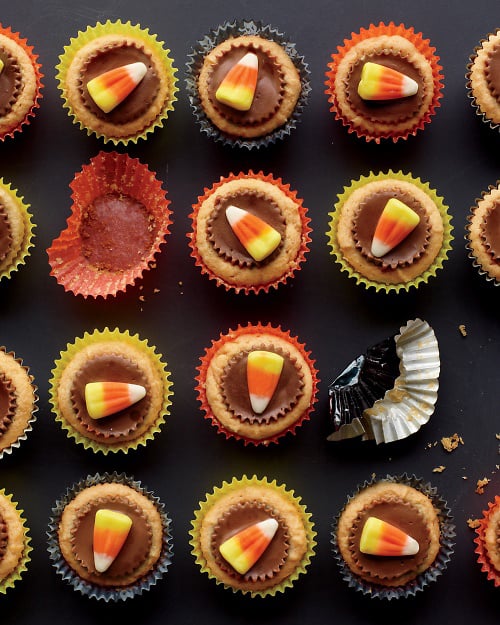 Martha Stewart [178]'s bite-size mini triple-treat cupcakes [179] have two types of candy on top of a peanut butter-laced cupcake. If candy corn isn't your thing, we think pumpkin Peeps [180] would be equally awesome.
Source: Martha Stewart [181]
Brown Butter Pumpkin Cupcakes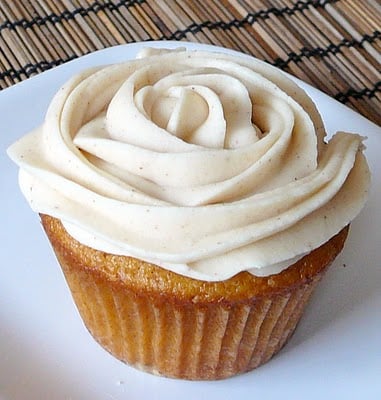 You won't be able to eat just one of these decadent pumpkin cupcakes [182] from Baked Perfection. Topped with a seriously creamy cinnamon cream cheese frosting, these cupcakes are moist and full of flavor.
Source: Baked Perfection [183]
Candy Corn and Ghost Nibbles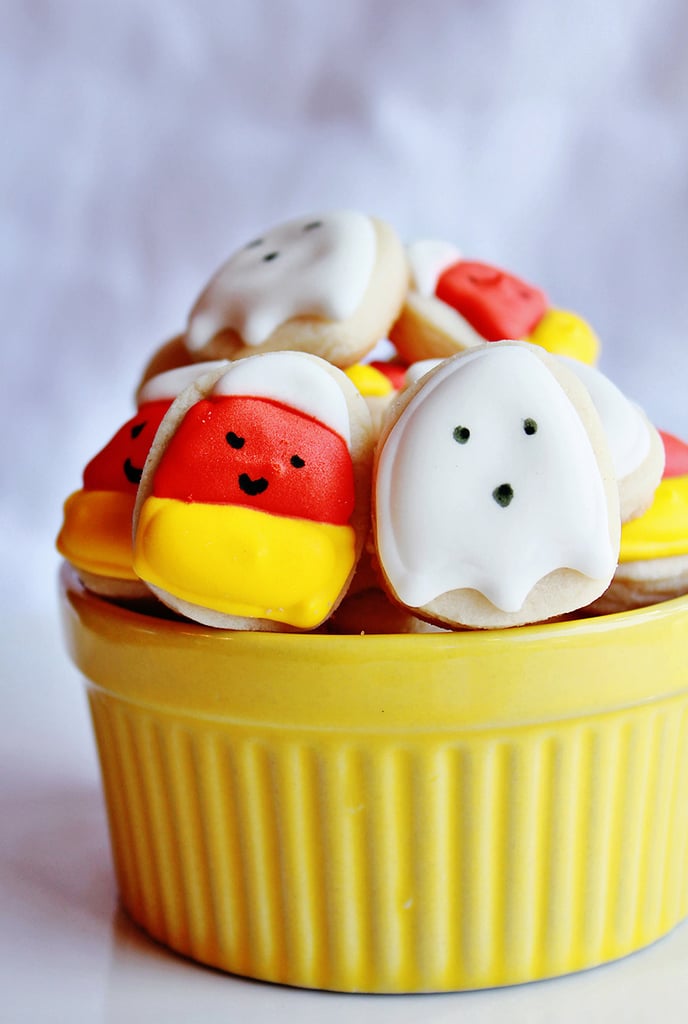 Use one cookie cutter to create two distinct Halloween-y shapes. These mini ghosts and candy corn cookies are just the right size for a quick party bite!
Source: Etsy seller Crafted Cookies [184]
Maple-Glazed Pumpkin Cookies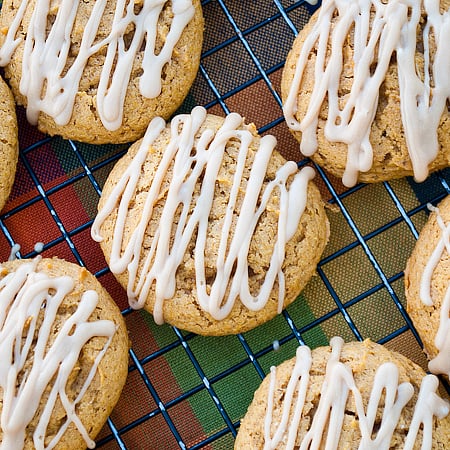 Drizzled with maple glaze, these pumpkin cookies [185] from Real Mom Kitchen are the perfect Fall treat for the family. And this recipe is so easy, your child can help make them with you.
Source: Real Mom Kitchen [186]
Nutter Butter Ghosts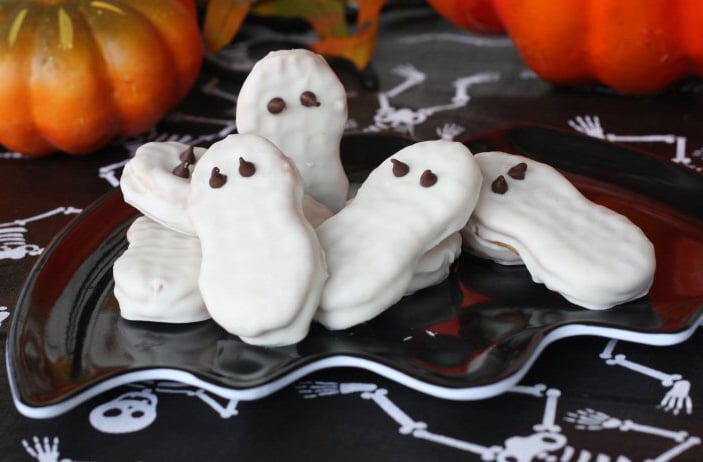 Nutter Butters are naturally ghost-shaped, so dip them in white chocolate, add some mini chocolate chips for eyes, and you're done. The only thing to be scared of: how addictive these can be!
Source: Our Best Bites [187]
Eyeball Meatballs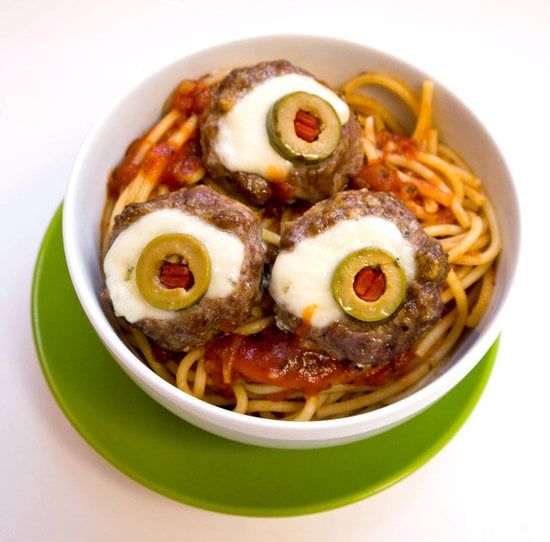 Don't forget to eat your eyeballs! Here's a ghoulish meatball recipe [188] that your kids will love. Use your family's favorite pasta sauce for tossing the spaghetti, and Halloween [189] dinner is served in under 30 minutes.
Cream Cheese Rippled Pumpkin Bread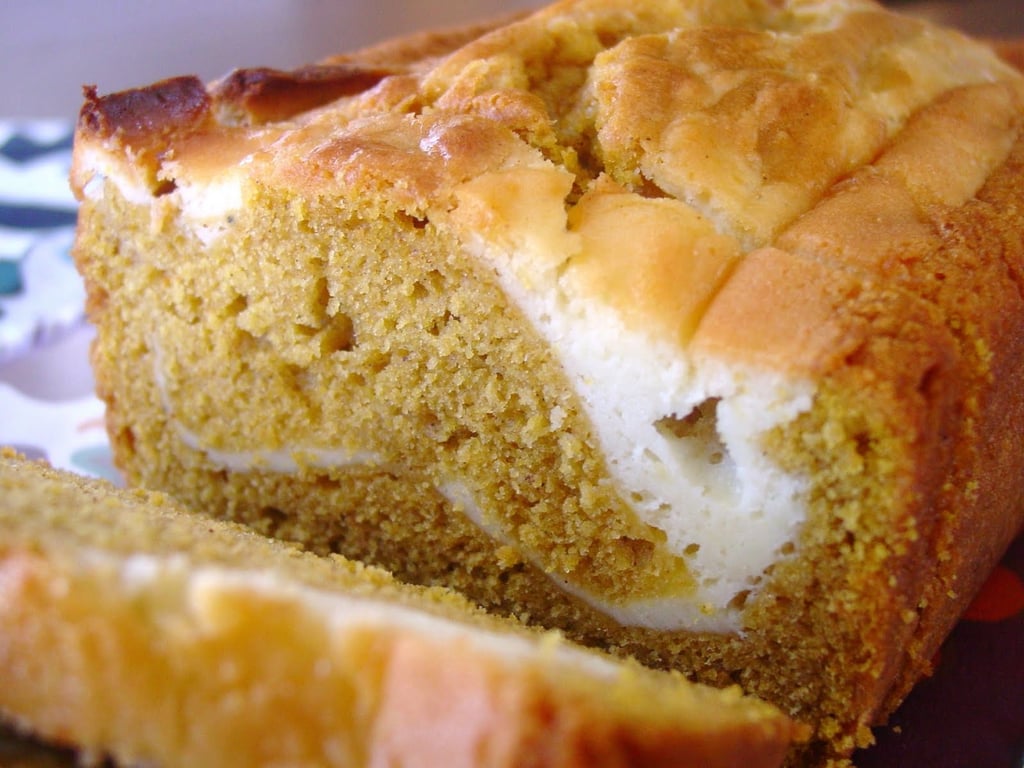 Full of creamy cheese filling and Fall pumpkin spice, here is a recipe for pumpkin bread [190] from Lick the Bowl Good that is easy and perfect for snacking any time of day.
Source: Lick the Bowl Good [191]
Haunted Owl Pretzels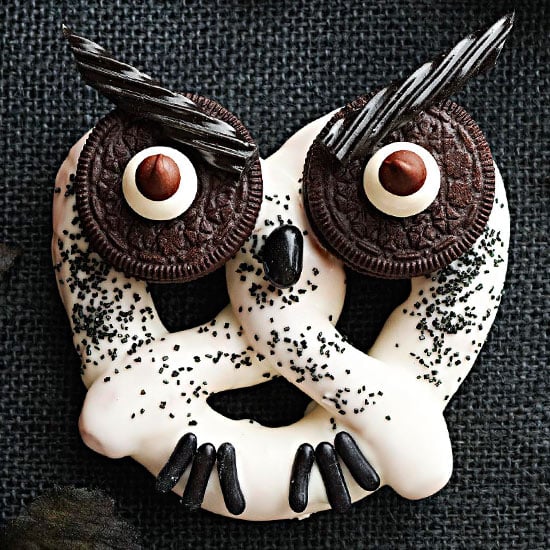 Better Homes and Gardens' haunted hooting owl pretzels [192] aren't that hard to make (they do require quite a few ingredients), but the results are utterly owl-tastic!
Source: Better Homes and Gardens [193]
Giant Boo Cookies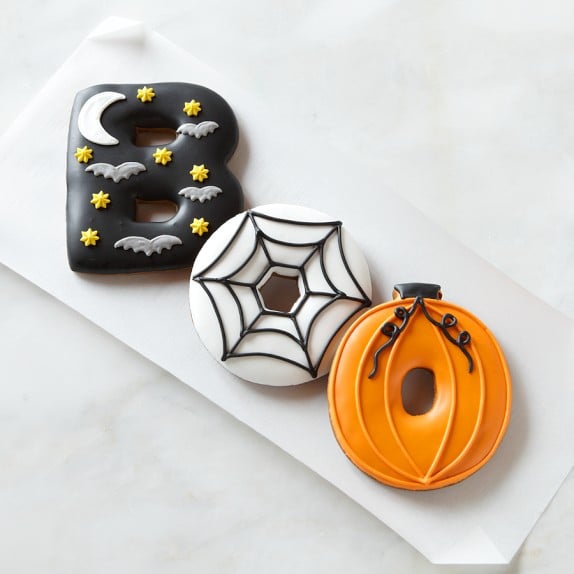 Put your frosting skills to the test with these big "BOO!" cookies as your inspiration. A pumpkin, spiderweb, and moonlit sky filled with bats make for spooky sweet treats.
Source: Williams-Sonoma [194]
Witches Brew Cupcake Toppers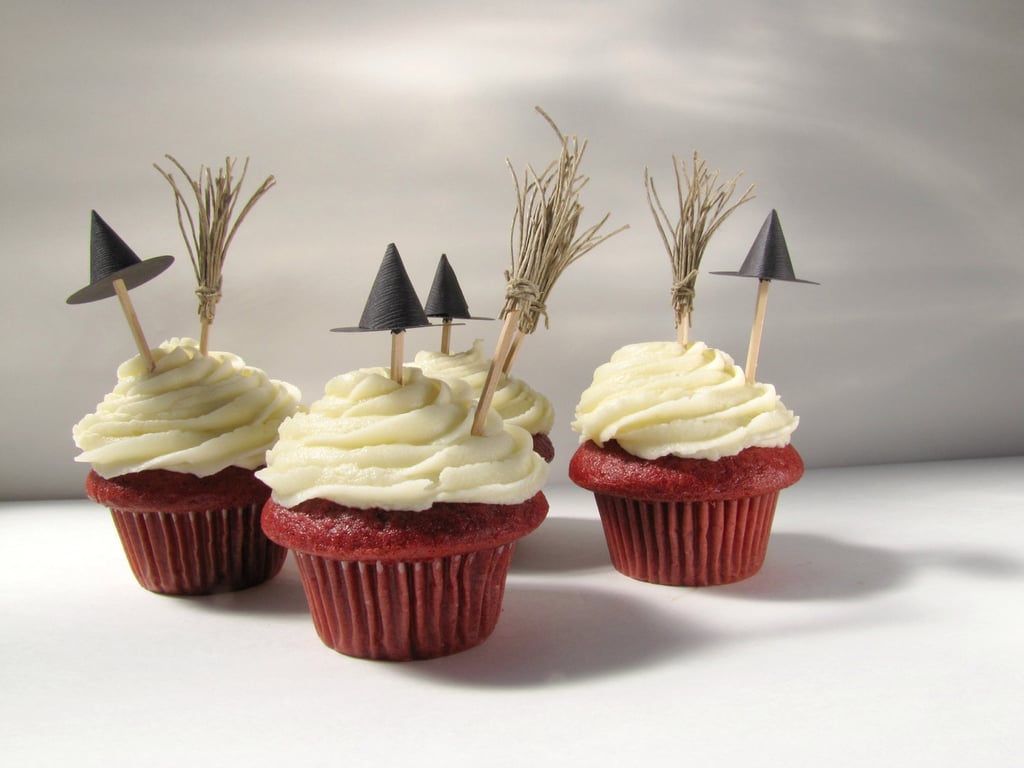 Store-bought cupcakes turn into Halloween [195] treats with hat and broom cupcake toppers [196] ($14 for 12) from Etsy's Kiwi Tini Creations.
Pumpkin Cinnamon Chip Cookies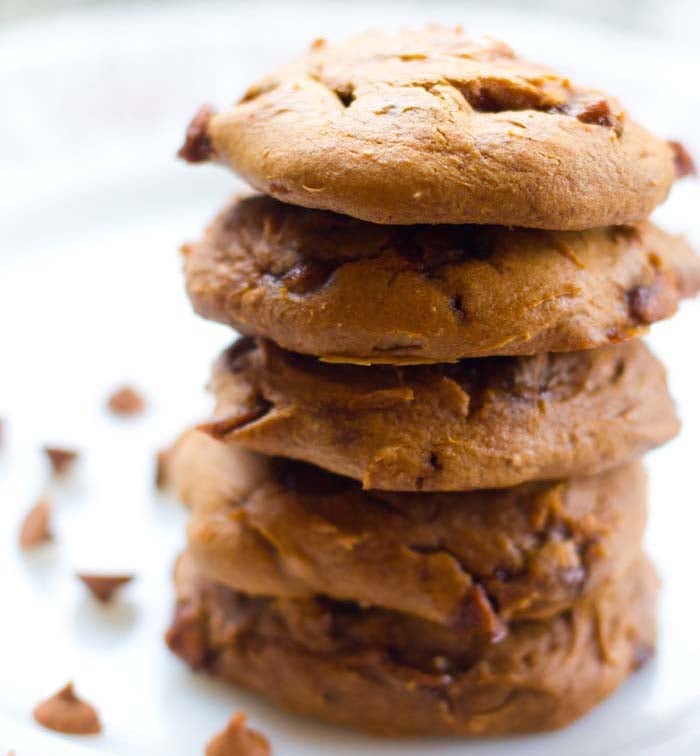 I Heart Nap Time's pumpkin cinnamon chip cookies [197] are the perfect Fall cookie. Plus, they are quick to make and use only five ingredients: spice cake mix, pumpkin spice pudding mix, canned pumpkin, water, and cinnamon chips!
Source: I Heart Nap Time [198]
Dulce de Leche Bat Cookies
Think of Martha Stewart [199]'s bat cookie — crisp chocolate cookies sandwich a caramel center — as the grown-up, scary version of an Oreo. Get the recipe here [200].
Source: Martha Stewart [201]
Pumpkin Spice Cheesecake Brownies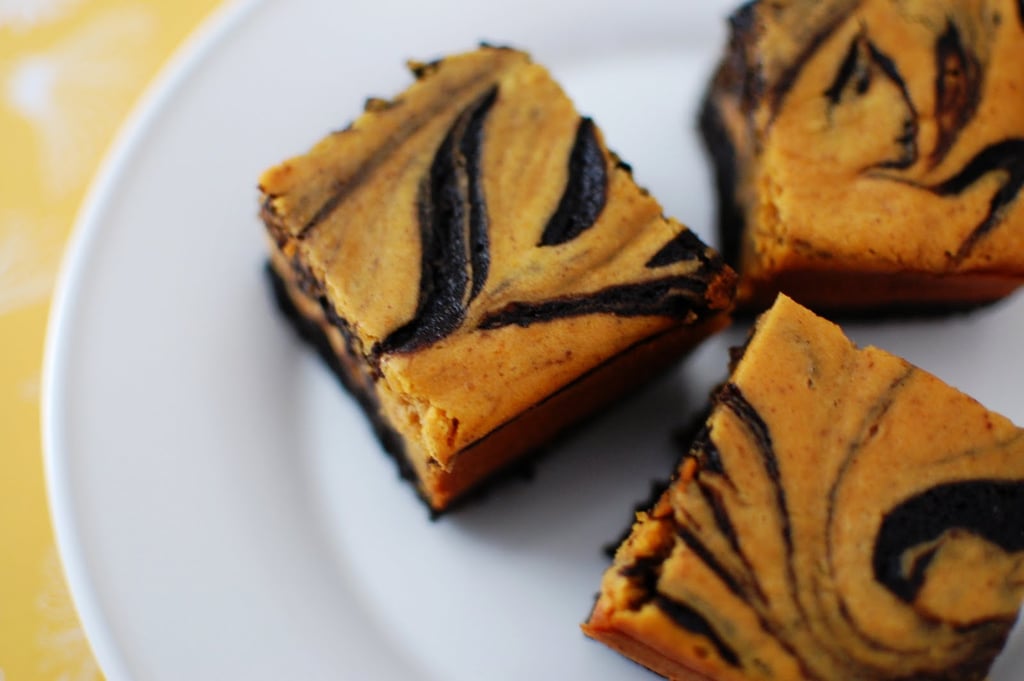 From Beantown Baker, this recipe for chocolatey pumpkin cheesecake brownies [202] showcases all the flavors of Fall. And these brownies are seriously moist and delicious when topped with a big scoop of ice cream.
Source: Beantown Baker [203]
Painted Pumpkin Cookies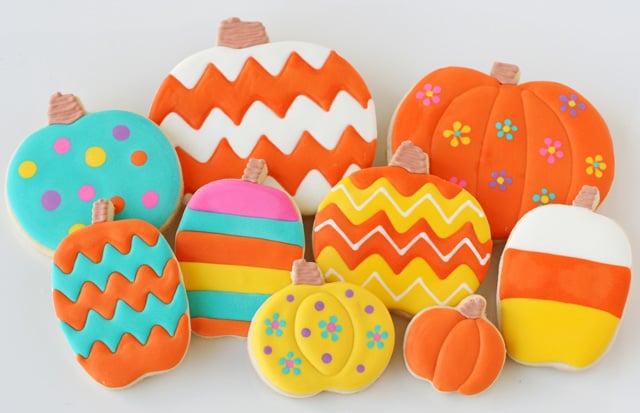 Glory from Glorious Treats created these almost-too-pretty-to-eat pumpkin cookies using sugar cookies, royal icing, and a lot of creativity. Get the instructions here [204].
Source: Glorious Treats [205]
Black Velvet Halloween Trifle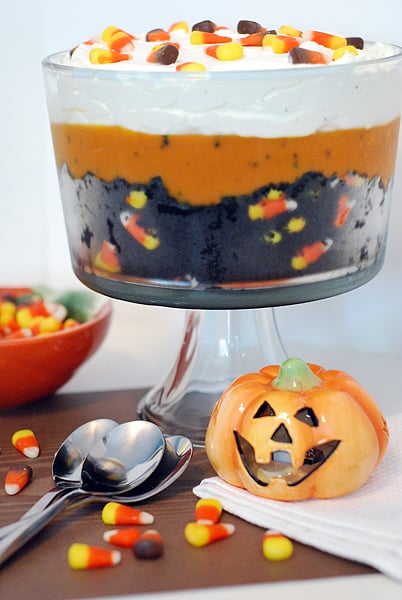 Bluebonnets + Brownies's black velvet Halloween trifle [206] uses red velvet cake turned black, candy corn, butterscotch pudding turned orange, and whipped cream. Delicious!
Source: Bluebonnets + Brownies [207]
Spiderweb Cake Pops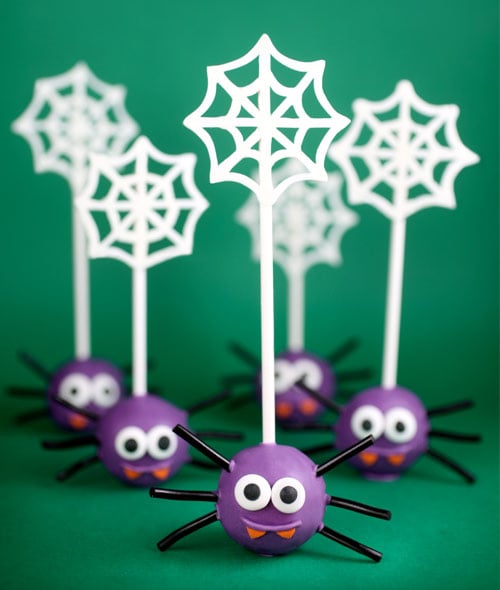 These spiderweb cake pops [208] from Bakerella have candy-coated webs, making these pops sweet from top to bottom.
Source: Bakerella [209]
Pumpkin Praline Soft Pretzels
Pumpkin praline soft pretzels [210] will be a big hit as an after-school snack! Yummy soft pretzels covered in a brown sugar-pumpkin praline glaze? Yes, please!
Source: Sally's Baking Addiction [211]
Mashed Potato Ghosts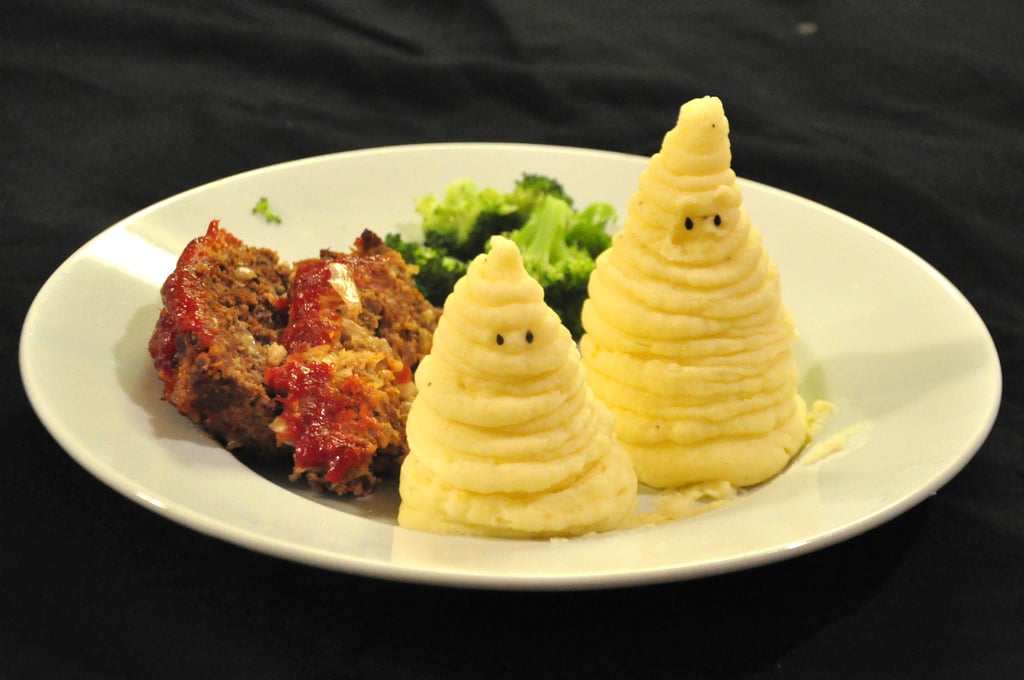 Easily make spooky Halloween [212] mashed potato ghosts by piping creamed potatoes onto your tot's plate. You can make a quick homemade piping bag by placing your mashed potatoes in a plastic bag, pressing them to one corner, and then giving that corner a snip with scissors. Slowly squeeze out the potatoes working in a circular motion. Finish with two small black sesame seeds for eyes.
Source: Flickr user nicolemcguire [213]
Werewolf Cake Pops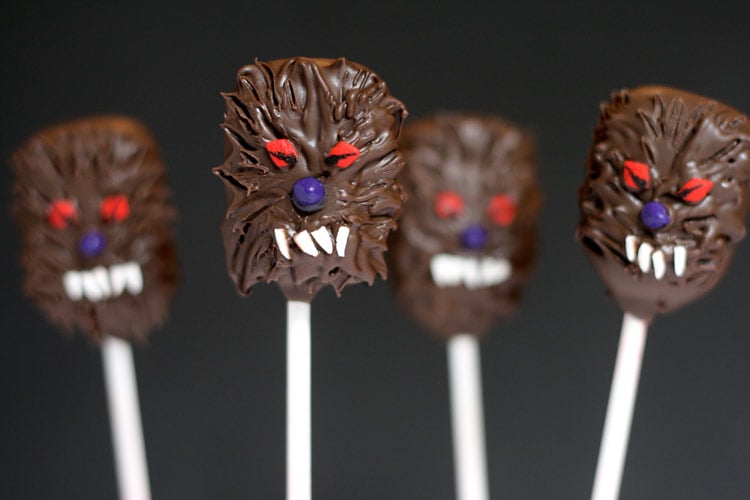 Teen wolf, is that you? If the thought of werewolves makes you shake in your boots, don't sweat it. Your little ones will make these werewolf cake pops disappear in the blink of an eye with a single bite!
Source: Bakerella [214]
Spiced Sugar Pumpkin Doughnuts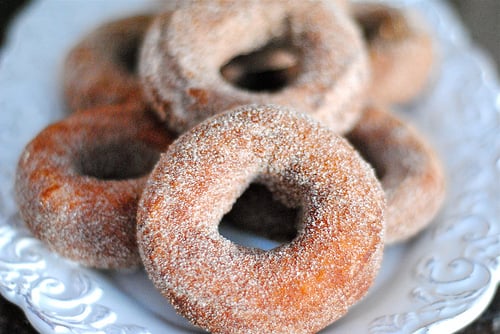 There's nothing like a soft and sweet doughnut, and this recipe for pumpkin doughnuts [215] from The Red Spoon totally delivers.
Source: The Red Spoon [216]
Pumpkin Pie Whoopie Pies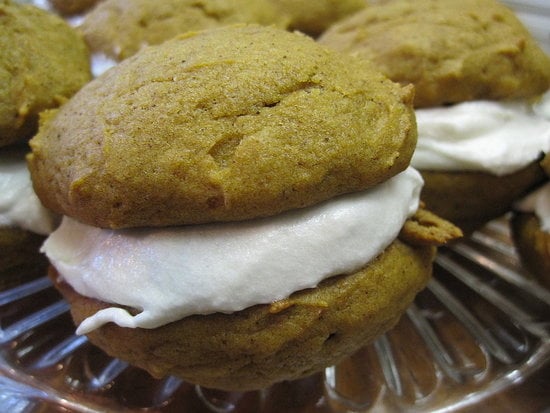 A new twist on a retro classic, whoppie pies [217] get a Fall makeover with the addition of canned pumpkin.
Candy Corn Cake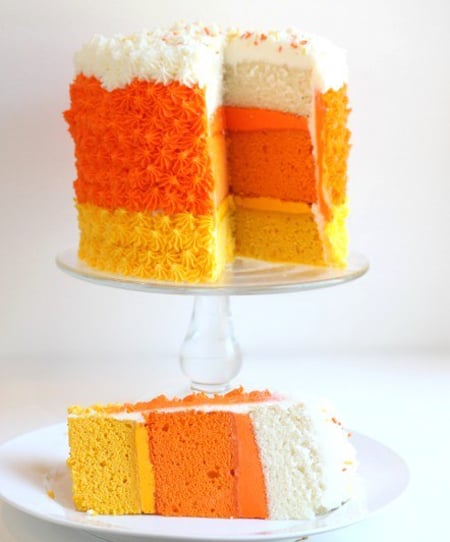 Created by Diane's candy corn cake is an homage to Halloween [218]'s most classic candy. Get the recipe here [219].
Source: Created by Diane [220]
Pumpkin Spice Minimuffins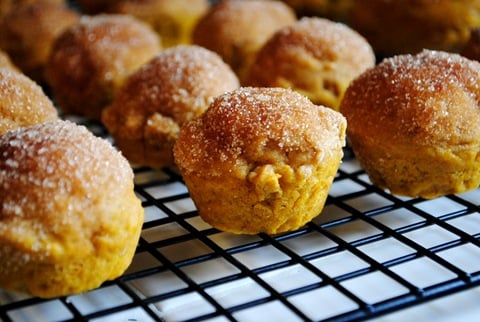 Celebrate the Fall season with these pumpkin minimuffins [221] from Iowa Girl Eats that are sprinkled with a dusting of sugary sweet cinnamon. And these muffins have a secret ingredient: bananas!
Source: Iowa Girl Eats [222]
Mummy Hot Dogs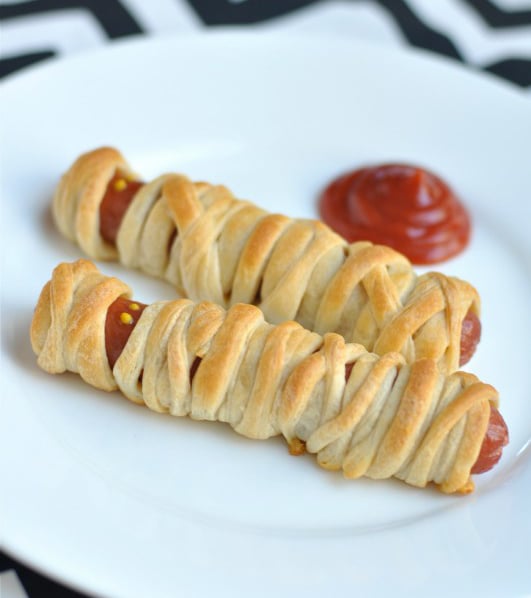 Store-bought dough and hot dogs quickly become edible mummies [223] in this clever recipe from Get Creative Juice.
Source: Get Creative Juice [224]
Eyeball Soup With Bugs . . . Anyone?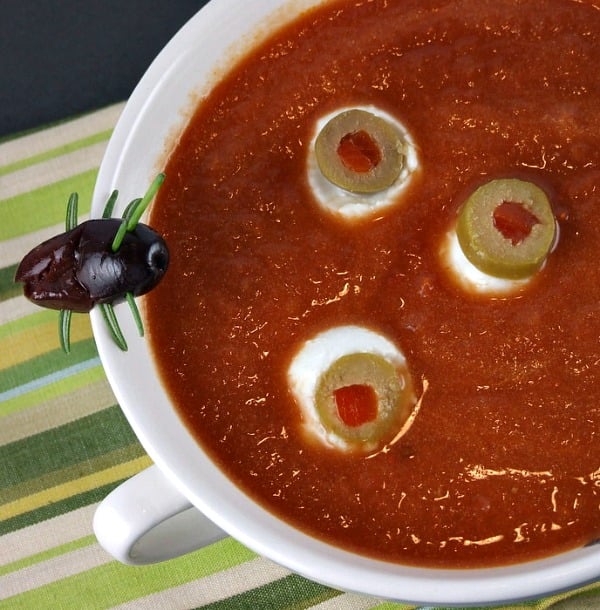 Here's a fun and healthy soup that will have your tot screaming that there's a bug in her soup! Follow the easy directions from The Recipe Girl [225] for a seriously entertaining Halloween [226] dinner.
Source: The Recipe Girl [227]
Spider Cake Pops
Eek, a spider! Creepy-eyed spider cake pops are a must have for any Halloween [228] dessert table.
Source: Simply Posh [229]
Black Cat Cake Pops
Meow! Superstition and prejudice against black cats, believed to be bearers of misfortune, reaches its peak on All Hallows' Eve — but you can't go wrong with black cat cake pops!
Source: Bakerella [230]
Witchin' Cake Pop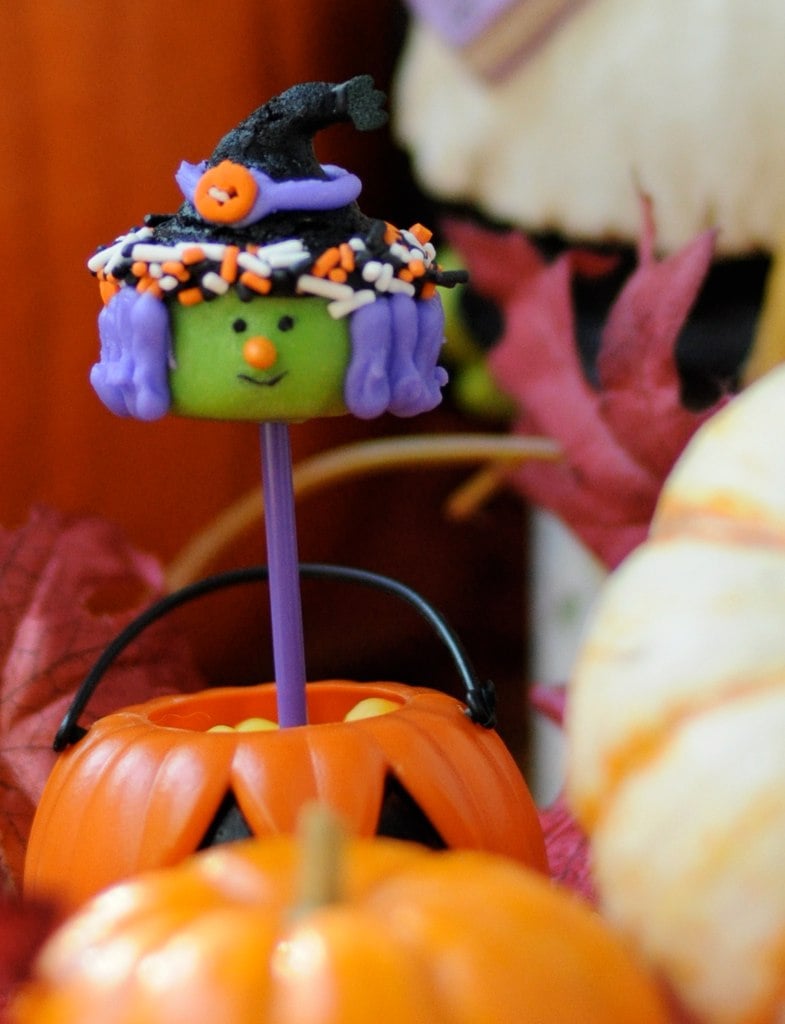 I'll eat you, my pretty! There's nothing wicked about a mini witch cupcake pop.
Source: My Little Cupcake [231]
Halloween Pancakes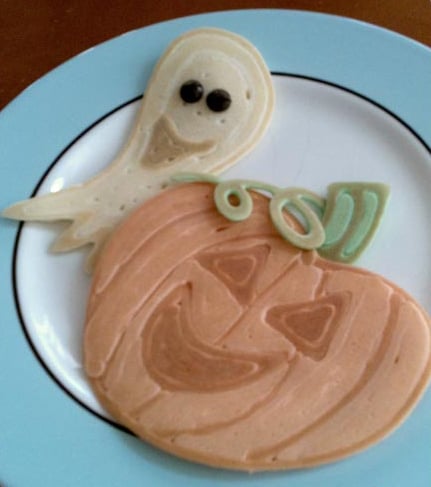 Start the day off right with a festive breakfast treat! A little food coloring and some batter bravery makes pancakes extra special.
Source: Jim's Pancakes [232]
Monster High/Chef Dominique Ansel Shocklette Monsters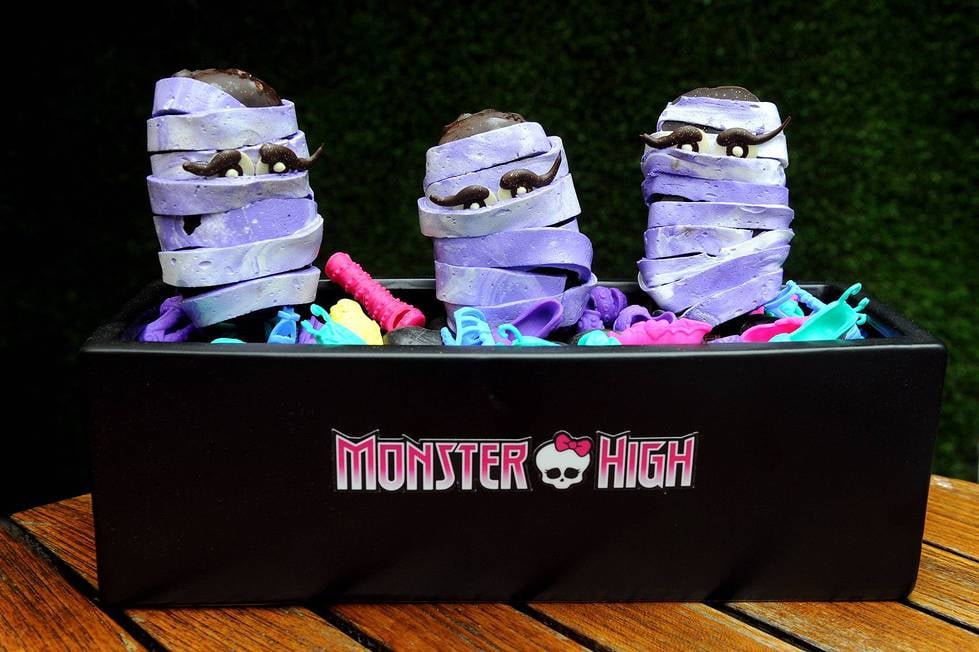 Created by cronut master Chef Dominique Ansel exclusively for Monster High, these Shocklette Monster treats are a fun way to turn up the fun on Halloween [233]. Though not available for purchase, Chef Dominique is sharing his one-of-a-kind recipe for creating these cool chocolate mousse coated in dark chocolate and covered with vanilla masharmallow characters.
Bloom gelatin sheets in ice water for 5-10 minutes. Wring sheets out to drain off excess water. Place sheets on top of chocolate chips.
Bring milk to a boil, then pour over chocolate and gelatin.
Stir mixture together until homogeneous using a wisk, to create a nicely emulsified chocolate ganache.
Cool chocolate mixture to just about room temperature (around 37C).
While chocolate ganache cools, whip your heavy cream to medium peaks.
Once the chocolate is at the proper temperature, fold into whipped cream. Add the ganache a little at a time to avoid deflating the aerated cream.
Once the mousse is combined and smooth, pipe into Popsicle molds and place the stick inside.
Freeze until set firmly enough to unmold.