Hands Off Parenting Approach
Helicopter Parents Have Met Their Match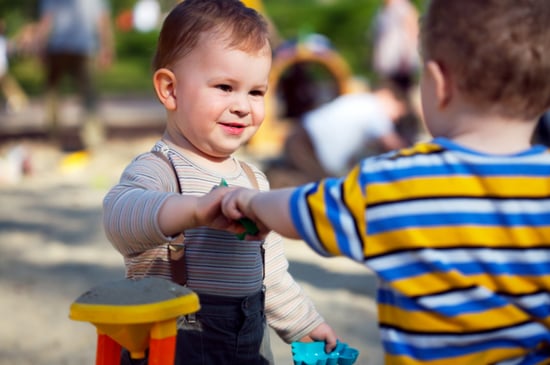 Hot parenting styles are all the rage, with parents trying their hand at everything from Tiger Mom style to the French parenting approach. For those who find themselves becoming helicopter moms and yearning to be more free-range, Resources For Infant Educarers, or RIE, offers deprogramming-like classes to teach parents how to take a more hands-off approach to parenting.
In this week's New York magazine, Dwyer Gunn writes about her experiences during one such "underparenting course." During the class, parents sit and observe as a group of toddlers play before them. When parents try to intervene or direct their children, instructors step in to guide the parents in the movement's philosophy. Gunn found the exercise to be both scary and rewarding. She notes:
Not having to explain the concept of sharing to a toddler is a relief. "RIE calls for letting kids resolve their own disputes (barring physical violence). 'If every time adults jump in and bring in their version of what is right, the children learn either to depend on them or defy them.'"
Immediate hugs and kisses after an injury prevents tots from experiencing pain. "RIE advises parents to give their kids a moment to recover on their own before swooping in with kisses and cuddles."
Children don't have to be happy all the time. "The RIE approach to discipline is simple: set reasonable, consistent rules and stick to them even if they're unpopular with those expected to abide by them."
There's a sense of accomplishment that comes with doing things themselves. "RIE teaches that giving children the chance to solve their own problems makes them feel confident and competent."
The movement — which counts celeb parents like Tobey Maguire, Helen Hunt, Jamie Lee Curtis, Jason Alexander, and Felicity Huffman as followers — most certainly isn't for the faint of heart. Do you think you could follow it?