Happy Parenting Stories
9 True Stories That'll Make You Thankful to Be a Parent
With the chaos of the holiday season in full swing, it's easy to lose track of what's important. With that in mind, we've rounded up some of the most heartwarming and sweet parenting news of the past few months. Take a well-deserved break from your down-to-the-minute agenda for the day, kick back, and soak in the pure joy of these nine stories that made the news — simply for their ability to make people smile. Parenthood's an amazing journey — be thankful for it!
1. The Twins Who Can't Stop Hugging
It's no surprise that twins share a unique bond, but this video of a hugging duo of newborns is truly special. Filmed by a French nurse to demonstrate a new bathing technique, the pair can't keep their hands off each other and stay intertwined throughout the entire process.
2. Batkid Saves Gotham City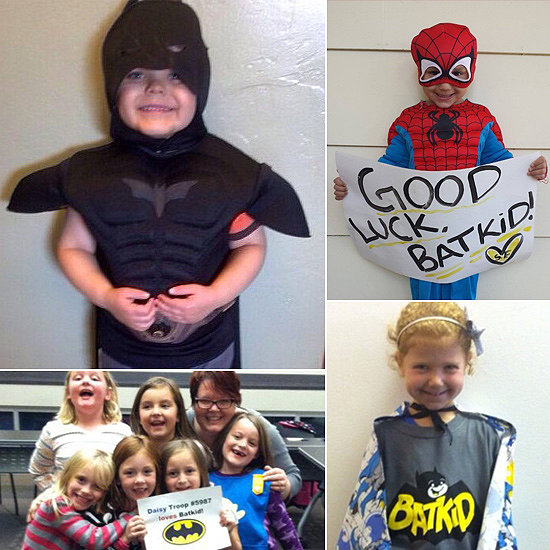 By now, you've most likely heard about Miles Scott, the 5-year-old leukemia patient whose Make-a-Wish dream was to become Batkid for a day. The Make-a-Wish Foundation and city of San Francisco joined forces to transform SF to Gotham City and sent Miles on a day's worth of incredible adventures. Peruse our gallery of Batkid's heroic deeds and a nation's worth of supporters for a guaranteed ear-to-ear grin.
Click here to see more of the happiest parenting stories on the web!
3. Children's Hospital Patients Cover Katy Perry's "Roar"
The YouTube video that made the world smile, this cover of Katy Perry's "Roar" by patients and staff at Children's Hospital at Dartmouth-Hitchcock, showed the incredible resilience and positivity of kids, even in the toughest of circumstances.
4. Honest 8-Year-Old Returns $1,450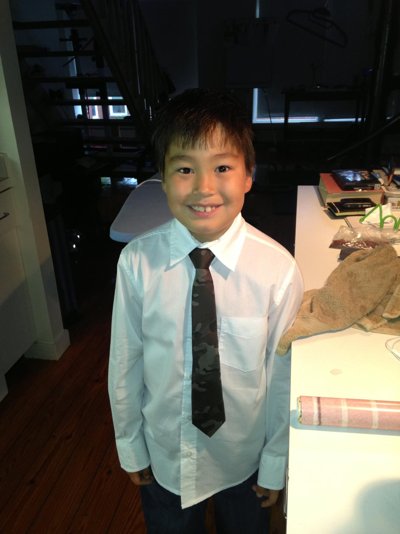 When 8-year-old Max Parenti discovered a bag of $1,450 in cash on a walk with the family dog, his first instinct was to return it. He and his dad went to the local police station in the Parentis' New Hampshire hometown and were able to track down the rightful owner. Max was rewarded with a note of appreciation and $100 in cash. It's never too early to be a good Samaritan!
5. Little Girl's Letter to Obama Brings Her Military Mom Home
One mom's serenade of the '80s ballad "My Heart Can't Tell You No" by Rod Stewart was just too much for her infant daughter to handle. From the moment she starts singing, the 10-month-old can't help but smile, burst into tears, then do it all over again — as she goes through an emotional roller coaster. Either this little lady has the soul of a grown-up or she knows how to give a really good performance. Either way, she's probably the most precious crybaby you'll ever see.
7. Girl Donates Piggy Bank Contents to Family in Need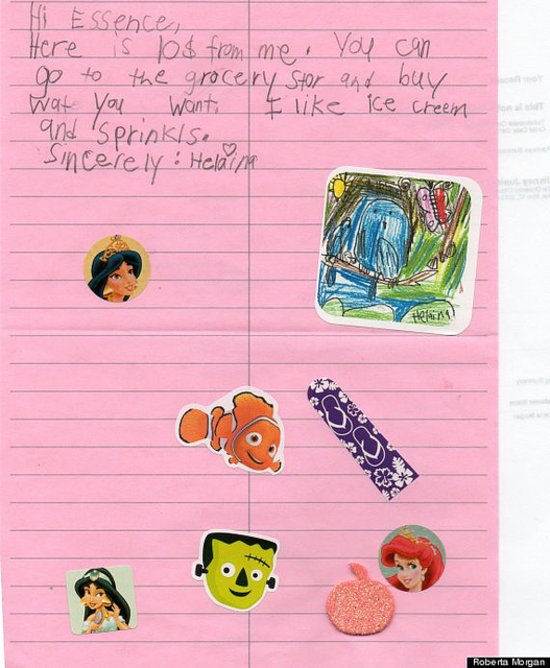 Talk about being wise beyond her years . . . when 10-year-old Helaina Morgan learned that a local family was reliant on food stamps, she donated $10 from her piggy bank so that they could splurge on a few treats. Her sticker-covered note is sure to make you smile!
8. Deployed Superhero Dad' Reunites With His Daughter
While some parents handed out candy this Halloween, one father had an extraspecial treat up his sleeve for his daughter. Sgt. First Class Dave Wirtz, who had been deployed in Afghanistan, showed up to his daughter's class wearing a Spider-Man costume complete with a mask to disguise his true identity. Make sure to have the tissues nearby before watching this reunion — it's one even comic books couldn't do better.
9. Special Needs Teen Scores Modeling Gig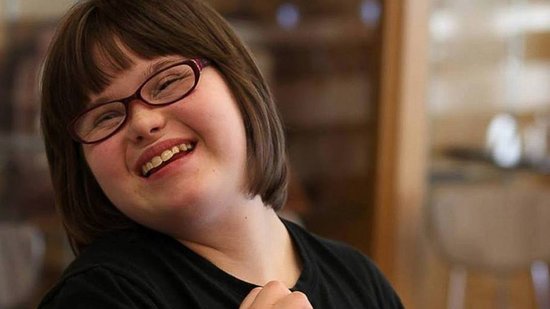 Hiring Illinois teen Karrie Brown for a modeling stint was a statement that gained retailer Wet Seal lots of positive press. After seeing a photo that her mom posted on Facebook, the company flew Karrie and her family to their California headquarters and treated her to a photo shoot and shopping spree. It's no wonder — Karrie's smile is nothing short of infectious!