Healthy On-the-Go Kid Snacks
10 Easy and Healthy Grab-and-Go Snacks For Kids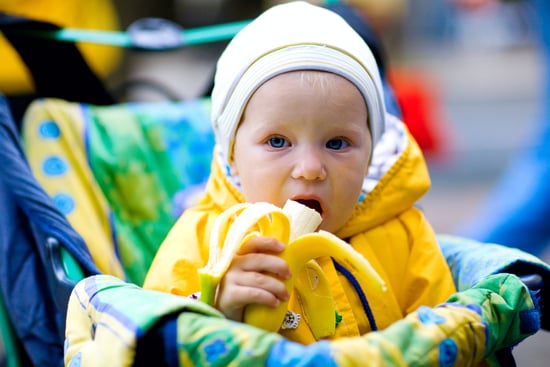 You know how it is, you're running out the door on to the next fun thing and you remember you need to grab a snack for your little one. This seems easy, but sometimes it can be hard to come up with something on the fly. You may even resort to, "I'll just get him something at our destination," but then that destination only offers junk and you've got a hungry kid on your hands. To help solve that problem here are my top 10 favorite healthy snacks to grab on the go.
PB&J. You really can't go wrong with this one. No need for refrigeration and it takes two minutes to make. It also provides your child a healthy snack, but tastes like a treat.
Hummus. Put it with pita, put it with crackers, put it with veggies, put it with apples. Put it with anything and it's a go. Spoon a little into a mini Tupperware, stick your side in a baggie, and you're all set.
Banana, Apple, Orange. Seriously, the banana is the most ingenious snack ever devised; it even has its own container. Throw it in your purse and take off (apples and oranges hold up well in a purse too!).
Clif Bar. Thank you Clif, for your bar. They make kid-sized Clifs, but we usually just share a regular-sized one with our munchkin. A granola bar is handy, too.
Yogurt. OK, this one may be a bit more difficult, but if you get yourself a little insulated lunch bag, yogurt becomes a quick and easy snack to grab. Don't forget a spoon!
Annie's Organic Cheddar Snack Mix. Actually, Annie has a bunch of different snack mixes, but this is my favorite . . . oops, I meant my child's favorite! You can buy them in bulk at Costco and they are super-easy to grab on the run.
Celery Sticks With Peanut Butter. This is a new favorite of ours. They take a bit longer to throw together but they sure are tasty!
GORP. That's right, good ole' raisins and peanuts! Trail mix is a super-handy snack and easy to throw in a baggie for your little ones.
String Cheese/Mini Babybel Cheese. Yay, cheese! This is another one that you'll need your insulated lunch bag for, but you really can't go wrong with cheese; most kids really love it.
Applesauce. Those individual applesauce packs are really handy and don't always need to be kept cool. It's also another snack that tastes like a treat.
So there you have it: 10 easy, healthy, grab-on-the-go snacks!  Now go have some fun!