To Heck With the House, Baby Proof Your Marriage!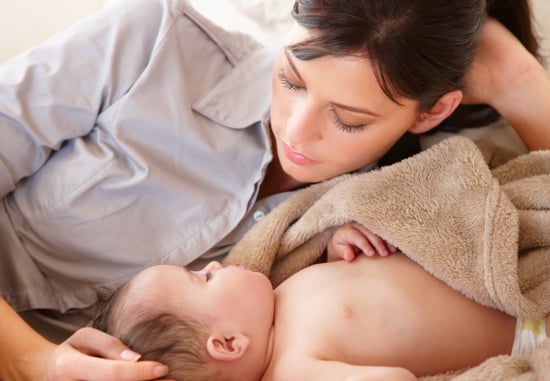 Having a baby is stressful, especially if it's your first child. It changes the way you look at yourself, your house and, as Circle of Moms members are discovering, your marriage. We baby proof the house, but can we baby proof our marriages, too? Moms share five tips for changing your outlook on your marriage now that you have a baby.
Keep reading To Heck With the House, Baby Proof Your Marriage!
1. Know You're Not Alone
When you look at all the potential dangers as you baby proof, it can suddenly feel like your home is the most dangerous one on the block. Similarly, when your marriage changes after a baby, it can feel like you're the only couple in the world this happens to. That's what motivated Circle of Moms member Kacee D. to ask other moms if anyone else's marriage changed after their babies were born.
She's definitely not alone. New mom Crystal O. says she and her husband got along perfectly before their son was born and now they fight and yell all the time. Stephanie W. also shares that when her 9-month-old was born she didn't known what to do because she and her husband were falling apart.
2. Don't Think He Doesn't Care About the Baby
Many moms complain that their partners don't spend as much time taking care of the baby as they do, and that it makes them resentful and angry. But Circle of Moms member Tanis A. cautions new moms not to underestimate their spouse. "It takes dad a lot longer than mom to warm to baby," she reminds members. Experienced mother Carole C. agrees, sharing that her husband admitted that he didn't really bond with their son until he was about a year old and started becoming more like a little person.
3. Accept That Moms and Dads are Different
One reason marriages change is because men and women deal with responsibilities differently. Denise M. suggests that some marriages don't survive the baby phase because couples don't think things will change much and nothing could be further from the truth.
She also notes that it's mostly the man who feels that way, but Candace T. thinks men just don't get how much work is involved. New mom Lacey K. sums it up nicely: "We have different feelings about when and how things should be done."
4. Communicate
Despite men and women approaching having a new baby so differently, it's possible for your marriage to survive that baby! Mom Michelle W. suggests that when tensions are rising it's time to have a parenting summit to hash through your views on parenting. She cautions, "It will be a bit of give and take on both sides to come to an agreement."

Having a baby is a messy, emotional business. You're both overwhelmed and sleep-deprived. It's a prime set-up for either or both of you to say something you don't really mean. Alicia I. believes moms do have some insight into this phenomenon: "Sometimes we go off the deep end and our husbands don't even get the chance to begin to understand the issue." She suggests writing things down and making sure something is worth bringing up before possibly starting an argument.
Talk about how you need time to yourself and he needs time to himself, and the two of you need time together. It's a matter of finding the right balance, so that neither of you feels like you're doing all the work.
5. Above All, Keep Your Perspective
It may feel like your marriage is crumbling, but don't make any rash decisions yet. Remember that for nine months you and your husband were united in your focus on having a baby. The focus has changed, but it doesn't mean you aren't still united.
Listen to Chelsea R., whose marriage calmed down after four months of fighting about the littlest things. Her advice? "Hang in there and remember why you are so in love with the father of your child. It takes some time, but it's all worth it."
The views expressed in this article are those of the author and do not necessarily represent the views of, and should not be attributed to, POPSUGAR.