Heidi Klum Talks About Motherhood
Heidi Klum on Her Artsy Kids, Justin Bieber, and More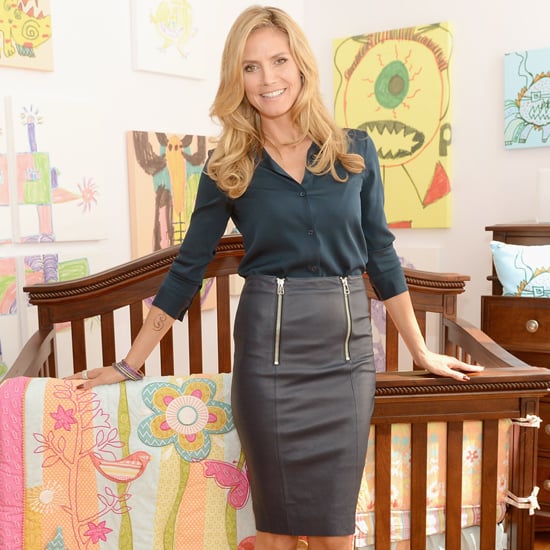 Earlier this week, we were lucky enough to spend the morning exploring a gorgeous, light-filled NYC loft designed by Shutterfly with the help of some celebrity guest decorators. Naturally, our first stop was the kids' room, where supermodel and supermom-of-four Heidi Klum had created the most cozy, inviting nursery featuring her Truly Scrumptious collection for Babies"R"Us, and her kids' own artwork. See what Heidi had to say about the challenges of motherhood, what her kids think of America's Got Talent, and more!
Heidi on cultivating little artists: "I think that it's important for kids to see their own art on the wall — it makes them feel important. To be honest, I just hold onto the best things. A lot of times, I open the drawers, and when they're not looking, I get rid of a few things. . . . You have to do it; otherwise it would take up the whole house! I have one art wall that is upstairs. It's a really long hallway, and that entire hallway is just their art.
"Right now, they're into painting on canvases. When my boys had their hair cut, they had these big afros. We kept the hair, painted their faces, and glued the hair onto the canvas!"
On the biggest lesson she's learned as a mom: "To kind of just roll with it. You know, there is no book that tells you exactly how it [motherhood] is. You have to just be free, roll with it, and learn as you go. You always have to do what your gut tells you. It's about doing what you think is the right thing to do in all situations, and I think as moms, we're always trying to just do our best."
On her own parents' influence: "Both of my parents were there when I gave birth, which I loved. I just loved having them there. I hope that my kids will be open enough to let me be there when they're at that point. Some people may think it's strange, but I'm very close with my mom and dad. They taught me to always be honest in front of them. They always knew exactly who I was."
Keep reading for more on how Heidi tackles being a working mom of four, what she thought of the Justin Bieber concert, and what her kids think of her role on America's Got Talent.
On embarrassing her kids: "We went to the Justin Bieber concert, and my daughter Leni was like, 'Oh, no! We got a photograph, and now all of my friends are going to know that I went.' She was so embarrassed! I'm like, 'Really? I think he's cool; you don't think he's cool?' So there's this debate happening now [laughs]. I think that the secret is they really do like him, but they don't want to admit it. It's this weird phase they're in now."
On what her kids think of America's Got Talent: "[Gestures to a canvas piece of artwork featuring a large X.] Because I do America's Got Talent now, everything is about the X. Everything is an audition. Every outfit is either good or bad. They've never seen me on Project Runway — they're not really into that, but on America's Got Talent, every act is different, so they really like it. Just this morning, I picked my kids up from the airport, they had just gotten to New York, and my youngest, who is 3 1/2, was having me sing songs to her. Then she'd judge me on whether they were good or bad!"