Help For New Moms
Your New Mom Entourage: Who They Are and How They Can Help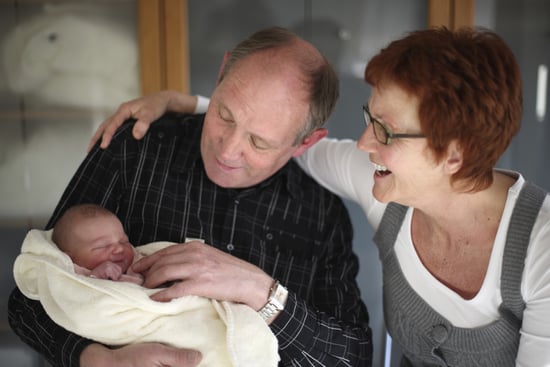 Lucky you — not only do you have a new baby, but you also have a slew of people saying, "What can I do to help?!" These well-intentioned friends and family can be a tremendous asset during your first few weeks of motherhood, but it's important to manage their offers, and what you ask of them, with tact and appreciation. Here, we offer our guide to the integral members of your new "momtourage" and how to accept help from each of them.
The BFF: While everyone talks about the first few weeks of motherhood being exhausting and overwhelming, the less spoken-about issue that many new mamas face is a feeling of confinement and isolation. There may be nothing more appealing during those first few weeks than having a familiar friend — one who doesn't mind if your house is a mess and your conversation is interrupted by the baby's erratic feeding schedule — around to make you laugh and to update you on your group's gossip (and other current affairs).
Your Mom: She's been there before, and if you're lucky, then she's the person you can go to for anything and everything. Whether you want a nap, are craving a favorite food, or need an hour or two away from the baby, go ahead: be honest with your mom . . . she gets it.
Your Dad (or Father-in-Law): If he's like most dads, then he's best put to use with a specific task or project. If there are still any pieces of baby gear or furniture to be put together, art to be hung in the nursery, or prescriptions to be picked up, then this is where dear old Dad can come in handy.
Keep reading for more tips on doling out jobs to family and friends.
Your Mother-in-Law: These early days of motherhood are likely to set the tone of the dynamic between you, your mother-in-law, and your child. It's a great opportunity to earn some brownie points, as chances are that all she wants is to bond with her new grandbaby. Offer up some alone time, whether you use it to take a shower, a nap, or a walk around the neighborhood. Make her feel good by asking her for advice or for anecdotes about your husband's early childhood.
Your Casual Friend, Acquaintance, or Neighbor: If they're offering, then they most likely really do want to help. But since this person isn't necessarily your nearest and dearest, be judicious in what you ask for. If they offer up a meal or grocery store run, then take them up on it, and if they ask if you have any special requests, then don't be shy (but do stay within reason). It's actually easier to select or make a meal with some direction as opposed to taking a shot in the dark.
Your Sibling (or Sibling-in-law): You can be direct with them and ask for specific favors, but don't overwhelm. If they already have a family of their own, then they're likely busy (even busier than they let on). And if they're childless (and/or single), then be cognizant of their own lives and the fact that, while exciting, their new little niece or nephew isn't the only thing on their minds.
The Long-Distance Friend or Family Member: This one falls more on you than on them. If your own family, in-laws, or close friends are at a distance, then there's probably not much that they can do to actually help with the new baby. While you'll be hard-pressed to find time for lengthy phone calls or email updates, Skype and iChat are valuable tools in making them feel like an involved part of baby's early days.