Helping Siblings Get Along
5 Tips to Help Teens and Younger Siblings Get Along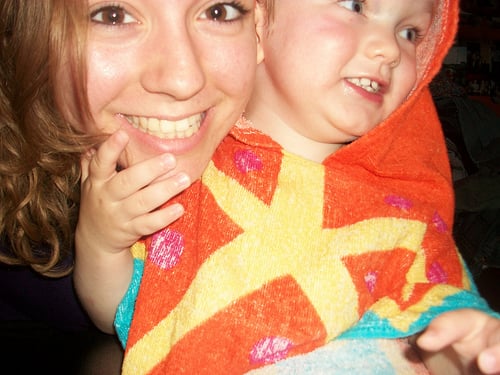 It's not always easy maintaining household harmony whether you have one — or more — children. When there's a teen and younger sibling around, it's especially difficult to tell what rivalry issues will arise. Older children also may resent having to take on extra household responsibilities or look after their younger brothers and sisters. For instance, "a baby is scary for a 14-year-old, and definitely not cool," says mom Karen S.  
On the other hand, younger children might resent not being able to do as much as bigger kids. Brandie P., for instance, says her 6-year-old daughter doesn't always understand that her older brother doesn't want to play all the time, and "she has a problem realizing that he is older and he knows more." 
To try to keep harmony at home, we turned to Circle of Moms members for some tips.
1. Give Your Teen Responsibilities
When you want your teen to help his younger sister or brother, Circle of Moms members say it helps to assign specific responsibilities so your teen knows how to assist but doesn't feel like someone's taking advantage of him. For instance, Melanie T. said her three kids were fighting all the time until she assigned the oldest some tasks. "I was at my wits end when I tried giving the oldest some responsibility for the youngest. Like at snack time, the oldest will serve the youngest, after bath he'll help dry off and dress the younger. Any responsibility he can do to aid in the younger I let him do. It has helped cut down the fighting and taught them to look at each other differently."  
"In [large] families, mine included, the older sib[lings] are expected to help with the younger ones," Tara K. agrees. While her older children are not expected to change diapers, enforce nap times, or help with feedings, they are expected to pick someone up who is hurt or upset, help with reading, and help around the house.  
This helps build the bond between siblings, Meagen P. agrees. Her 13-year-old son loves helping his 6-month-old sister. "He talks to her and holds her and is very involved," she says.  
Keep reading for more tips.
2. Give Each Their Own Space
While you expect your teen to help out, it's important to give each child their own time and space. After all, even adults want space to themselves sometimes, Julie A. says. "My boys share a room, [and] they also share same interests and hobbies," she says. But "if one says he wants to be alone, (usually my oldest), I reinforce to the younger that his older brother wants to be alone and we must respect that." 
When moms "reinforce some alone time for each of them spent in separate rooms, doing their own things. After some time apart they might get along better when together," Bernadette O. adds.  
3. Identify Triggers
To further help keep the peace, moms like Suzanne S. suggest you identify the "triggers" that cause arguments. Do your children want more of their own space, for instance? Is the younger child getting into your teen's things? "You need to see the problem before it gets to that point [of becoming a power struggle]," she says.  
4. Don't Intervene
Of course, sometimes fights will be unavoidable. When that happens, several moms advise letting your children work problems out on their own. "Siblings teach each other how to relate to the world and other people most of the time," Jennifer P. explains. "I point out to my older one how the younger one listens to him and I point out to the younger boy the things that his big brother does to help him. And when they start fighting, I don't rush in to solve the problem unless it escalates to hurting each other. Often if they don't get a reaction from me or my husband, they figure out a way to get along — or one moves somewhere else."  
Michelle C. agrees with the notion of letting kids work out arguments on their own. She says during their last argument, she let her 10-year-old and 6-year-old sons "argue and fight (verbally) until they said all they had to say." After a few minutes, they were "giggling and playing as if nothing had happened," she says. "It's not easy, but I find that the more we intervene, the worse it could get. I also found that if I get really angry with them both, they become allies and they get along really well!"  
5. Offer Praise
Finally, when things are going well, reinforce that behavior with praise, Circle of Moms members say. Bonnie R. says when her younger child needs more support, she always explains to her eldest why she is doing something extra for her little sister. "Secondly I always try and give them plenty of praise when they play nicely together. I try and make a point of giving them lots of praise when they share . . . you need to use positive reinforcement," she says. Bonnie suggests parents even create opportunities in which they will be able to offer praise. "Try and do something really different like a day out somewhere special so they can hopefully forget about fighting and give you an opportunity to praise them for getting on well. You could promise to take them on more special days out as a reward for being nice," she says.  
After all, Traci Z. concludes, sometimes siblings just "have to be reminded that they are family and they do love each other."