Henry Hugglemonster on Disney Junior Starting April 15
Henry Hugglemonster Debuts on Disney Junior April 15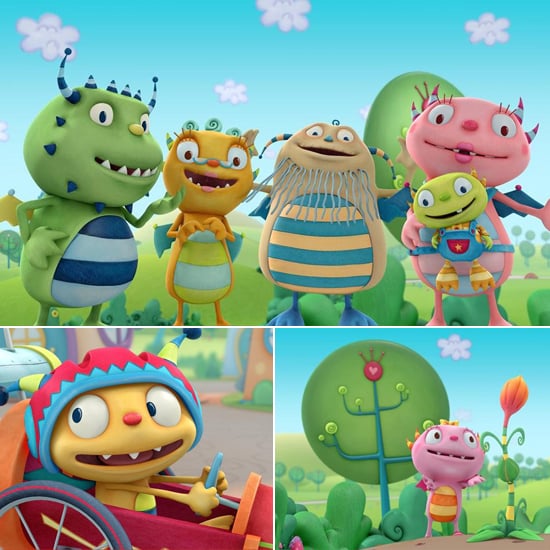 Disney Junior introduced hit new series Sofia the First earlier this year, and it quickly became the channel's highest-rated show (sorry, Mickey). But Sofia might be getting some competition starting Monday, April 15, when Henry Hugglemonster makes its debut at 5 p.m. At least one toddler (my daughter) thinks Henry is the coolest monster to ever hit the small screen, and just to prove her allegiance, she watched my 22-minute preview episode a record 15 times over the course of three days (mostly during a road trip; I'm not that crazy of a mother!).
So what makes fun-loving, 5-year-old Henry so addictive? I'm guessing the combination of bold-colored, silly-looking monster characters, fun sayings (everything in Henry's world is "Hugglerific" and "Roarsome"), and sweet story lines that focus on the close bond between the Hugglemonster family, which consists of Henry, Momma, Daddo, big sister Summer, older brother Cobby, and baby Ivor. Grandparents Nan-oh and Grando also make guest appearances. Family dynamics and support are a huge focus of the show, but we also see the Hugglemonsters interacting with their neighbors and friends in the town of Roarsville, a friendly community that's home to a variety of species of monsters.
Look for Isabella Roarson (voiced by Spice Girls' Geri Halliwell), a spirited and popular monster pop star; the Enormomonsters, a family of very large monsters including Ernest, Ernestine (voiced by Atonement's Brenda Blethyn), and their daughter Estelle; and Denzel Dugglemonster, Henry's best friend who has scoop-shaped hands that are perfect for digging.
Whether Henry is trying to help his baby brother, Ivor, get to sleep or asking his sister, Summer, for help, the show is all about optimism, persistence, and teamwork, great lessons for toddlers — and their parents, now that I think about it. Add in the upbeat songs found in each episode (Momma Hugglemonster often plays the piano and Summer is a budding singer and dancer), and you have a recipe for kid success. Check out Henry Hugglemonster on Monday, and let us know if your kids are as obsessed as ours are!
Source: Disney Junior