Hi-Tech Toy For Kids
Will Toymail Change the Way Our Kids Play?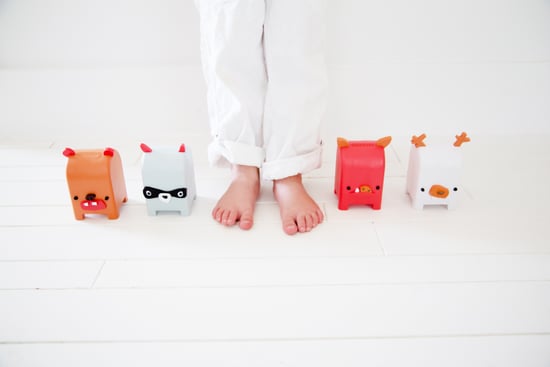 Being apart from our kids from time to time is an inevitable part of modern parenting. And while smartphones, tablets, and laptops do a great job at keeping us connected (even toddlers have become scarily adept at using them), we're still firm believers in kids playing with toys. That's why the introduction of something as straightforward, simple, and still exceptionally creative as Toymail to the hi-tech play market makes so much sense.
"We didn't want to create another toy that puts a kid in front of a screen. We believe there's a better way to approaching technology for kids, and that's by making toys social," says founder Gauri Nanda.
So just what is Toymail? Once you've purchased the Toymail "Mailman" that best suits your child's personality (six options retail for $59 each and include a raccoon named Rochester, a skunk called Bushwick, and Fairfax, a sneaky bunny, amongst others), connect it to your home WiFi using the Toymail app. Once the connection's been established, parents, grandparents, and other friends and loved ones can use the app to record and send your kids messages at any time and from anywhere. Each mailman lets out his own signature alert (forget rings and beeps — we're talking snorts and wheezes) to alert your child when a new message awaits, and they can then reply through two-way talk. The Daily Toymailer greets kids by name each morning with the addition of a fun song, fact, or even an inspirational quote.
Keep reading for more about Toymail.
The brainchild of Nanda and cofounder (and "resident mom") Audry Hill said Toymail was designed for the simple purpose of keeping kids and their loved ones connected. With the belief that "technology for kids should be designed with more soul," the team set off to create the most charming little WiFi-enabled mailboxes imaginable.
While the concept behind Toymail mimics the rapidly evolving world of social media, what we love about this product is that it's not about bells, whistles, and excessive stimulation. It's about pairing simple, quirky design with the easier-said-than-done concept of staying connected in the digital age. Would you buy one for your kids?