Hilary Duff Talks About Motherhood
Hilary Duff Opens Up About Postpartum Exercise, Postbaby Date Nights, and What Fills Her Phone Now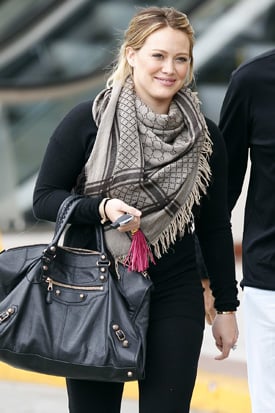 Hilary Duff's been one busy mama since welcoming son Luca Cruz to the world 5 weeks ago. The new mama's been sharing family photos with her fans, trying to return to her prepregnancy workouts, and getting back into her daily routine. Now Hilary's about to become even busier as she joins Johnson's Baby and Save the Children for the launch of Johnson's Baby CARES, a new initiative to support the basic needs of families during natural disasters. The actress and recording star took some time to answer our questions about the campaign, as well as her initial thoughts on new motherhood.
LilSugar: What's been the most surprising thing about motherhood so far?
Hilary Duff: How much I fell in love with Luca from the moment I saw him; it's so cool to see your child changing every day.
LilSugar: And the most challenging?
HD: Getting Luca on a schedule that works for both of us, it was tough at first, but he is getting better every day.
LilSugar: Who does lil Luca look like?
HD: A lot like me when I was a baby, but he has his daddy's nose!
LilSugar: How did you come up with Luca's name?
HD: Mike [Comrie, Hilary's husband of a year and a half] and I were just bouncing names off each other and Luca just stuck. We both knew when we heard it — it was unique, but not crazy.
LilSugar: Have you and Mike gone out on a postbaby date yet?
HD: Yes, we've had a few dates since Luca's arrival. At first it was nerve-racking, but the second date went a lot better. It's important for Mom and Dad to have time together.
Keep reading for Hilary's thoughts on postpartum exercise and her decision to partner with Johnson's and Save the Children.
LilSugar: You've been tweeting about returning to working out so soon after the baby was born. Do you have any advice for other new moms on staying in shape during/post pregnancy?
HD: Do what is comfortable for you. Everyone is different. Take an hour a day to go out and break a sweat — it helps clear your mind and body.
LilSugar: Why did you decide to partner with Johnson's and Save the Children?
HD: Now that I'm a new mom, I couldn't imagine something happening to my child. I'm inspired by initiatives to help other moms and babies throughout the world. According to Save the Children, 90 percent of US children live in areas at risk of natural disasters. That's why I am proud to partner with the Johnson's Baby CARES campaign in support of Save the Children. [It] helps to provide funding and resources to ensure families have basic essentials to care for their babies in times of crisis. As part of my work with the campaign, I will have the opportunity to assemble "Care Kits" filled with essential Johnson's Baby products that will be sent to families in times of need.
LilSugar: You know you're a mother when _________.
HD: Every picture in your phone is of your baby.
LilSugar: Fill in the blank: I wish someone had told me _________ about motherhood.
HD: Less
LilSugar: Do you think you'll be a helicopter mom or a free range mom?
HD: I will split the difference and hover between!