Holly Robinson Peete Talks About Kids' Food Allergies
Holly Robinson Peete Says Parents Need to Be Compassionate About Food Allergies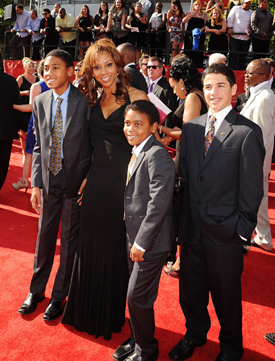 Hollywood's bright light has been very good to Holly Robinson Peete, having starred in two highly successful television series and finishing as runner-up on last season's Celebrity Apprentice. But that doesn't mean the actress, who currently co-hosts The Talk on CBS, hasn't had her own fair share of parenting scares.
After her then-3-year-old son Rodney was diagnosed with autism, she had him tested for food allergies to adjust his diet. Little did she know they'd discover a severe peanut allergy. Now, all four of her kids — Ryan and Rodney Jr., 14, Robinson, 9, and Roman, 6 — have been diagnosed with food allergies, and the hot mama knows a thing or two about anaphylaxis. Holly spoke with me about living with deadly food allergies and how families can cope with the diagnosis.
LilSugar: Have you ever experienced an anaphylactic reaction, and did you respond the way you thought you would?
Holly Robinson Peete: Yeah, it was a crazy moment. I went a little nuts and then I calmed down. I tried to remember everything that I had been taught. I've had two situations. One was out of the country with my younger son who has a severe dairy allergy and the other was at Thanksgiving. Thankfully, both times I had access to my EpiPens, because otherwise — gosh I don't even want to think about what would have happened. I didn't have [a pen] at my mom's house, but, thankfully, I live close enough that I was able to run and get it. I learned you need to have them everywhere your kids are going to be. Especially grandma and grandpa's house.
LS: When do you think parents should start teaching their tots about their allergy and how?
HRP: Well, every parent has to do it their own way. My particular way was, as soon as they could talk, they had to learn what foods they needed to be avoiding, really trying to explain the seriousness of their allergies, trying to explain to them what anaphalaxis is (you should hear my 3-year-old saying anaphylaxis, it's hilarious!), and not being afraid of saying the word death — that it is a deadly situation. I think all parents have different ways of talking about that. For me, it works being open and honest about it. What I found, we would go to birthday parties and things and they would be going "uh – does that have dairy in it? Does that have peanuts?"
Keep reading to see what Holly's tips for helping kids feel normal with their diagnoses and how to handle birthday parties.
LS: How can parents make their child feel normal while taking the necessary precautions?
HRP: From my perspective, they'll feel normal at home; the issue is at school. Whatever that stigma is that surrounds these children with severe allergies, or the inconvenience that some of the other kids have to experience — and sometimes it's more the parents that are more inconvenienced — but I think the biggest game changer was going to school and having a conversation with them. We let them know how severe it was. Once children are informed it's amazing what they'll do with a little bit of information. And they start feeling proactive and involved in their schoolmate's health, and that can usually make them feel less inclined to be bullies and to stigmatize these children.
I don't necessarily want allergen-free schools, but if you go overboard on awareness then it just takes away from the integrity of what's going on here. I learned that I have to be more compassionate to families that are inconvenienced (by my sons' allergies). If their son only eats peanut butter and that's his sole source of protein, I have to be more compassionate with that.
LS: Our readers recently said that they try to accommodate kids' allergies at birthday parties. Do you expect party-givers to do so?
HRP: I never, ever expect someone to accommodate my child's allergy. As a mom, I just don't do that. I always bring gluten free, wheat free — whatever their favorite food is, I bring it with me. I bring tons of snacks. I carry a big giant bag, and it's always loaded with food. You want to talk about having a kid not look cool? Ask the host to make a special peanut-free peanut brittle. I think that you, just under the radar, bring your own stuff and that just helps make the situation easier.
Tune in tomorrow when we're back with more from Holly about motherhood, Johnny Depp, and her role in the 21 Jump Street movie.