Homemade Macaroni and Cheese
Homemade Macaroni and Cheese With Prosciutto and Peas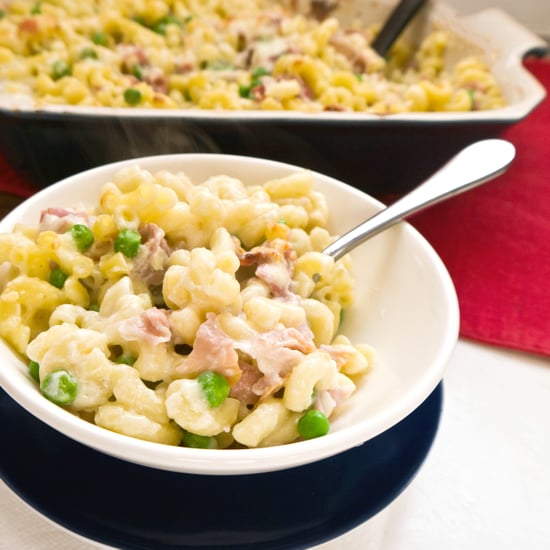 We know macaroni and cheese is a kid favorite, and smart mamas love how quick and easy it is to prepare straight from the box. But that cheesy brand might not be the healthiest option for family dinner. Try your hand at making homemade macaroni and cheese that's so easy you may never reach for the boxed stuff again. Adding prosciutto and peas kicks this recipe up a notch, making it a favorite for the entire family.
Keep reading for the simply tasty directions.
Macaroni and Cheese With Prosciutto and Peas
From Sarah Lipoff, LilSugar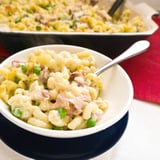 Ingredients
1 tablespoon butter
1/4 teaspoon vegetable oil
1 small clove chopped garlic
1 tablespoon flour
1/4 teaspoon salt
2 cups whole milk
16 ounces cooked elbow macaroni
1 cup shredded white cheddar or Monterey jack cheese
5 slices prosciutto
2 cups peas
Directions
Preheat the oven to 425F. Bring a large stock pot of water to a rolling boil over medium-high heat. Toss in the elbow macaroni, give a stir, and let simmer for 10 minutes.
While the pasta is cooking, melt the butter in a saucepan over low heat along with the garlic, salt, and vegetable oil.

Once the garlic starts to brown, remove from heat and add the flour and whisk. You've just made a

roux

, or the base for the cheese sauce.

Now you can return the saucepan over low heat and whisk while the flour and butter mix together. Invite your child to measure the milk and then carefully pour into the saucepan while you whisk the ingredients.
Let the milk come to a simmer over medium heat, giving it a whisk every few minutes, and then turn off the heat. The sauce will thicken as it cools. Chop the prosciutto and invite your child to measure the peas.

Strain the pasta once al dente and pour into a casserole. Pour the sauce over the noodles and then sprinkle with the prosciutto and peas. Gently stir the ingredients until the macaroni is covered with the sauce.

Now your child can measure 3/4 cup of cheese, sprinkle it over the pasta, and give a stir. Measure 1/4 cup of the cheese and sprinkle over the top of the casserole.
Place the macaroni and cheese in the hot oven for 10 minutes or until the cheese has melted and the pasta is bubbling.
Makes six large servings
Information
Category

Pasta, Main Dishes

Cuisine

North American