Homemade Teething Necklace
Craftastic: Make an Easier-Than-You-Think Teething Necklace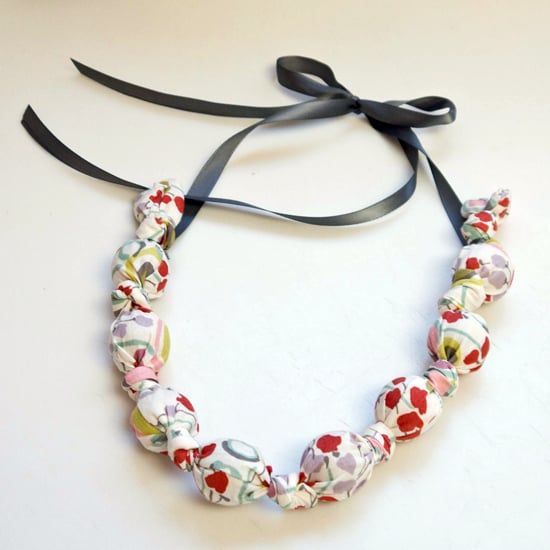 We know that when lil ones are teething they love chewing on just about anything. Save your jewelry with a homemade teething necklace that's just as chic as you are. It may look complicated, but this helpful soother is easier to make than you think. Make a couple in different patterns to mix and match, or give some to friends who also have ornery teethers. All you need are a few supplies that you might already have around the house. Or, after a quick visit to the craft store and only a few dollars spent, you're on your way to making a stylish teether that will make both you and your baby happy.
Keep reading for the easy instructions!

What You'll Need:
Scissors
Length of cotton fabric five inches wide by three feet long
25mm wooden beads
Ribbon
Sewing machine
Directions:
Measure and cut a length of fabric to create a section that is five inches wide by three feet long. You might not need the whole length of the fabric, but this amount ensures you have enough for the teething necklace.
Turn the fabric inside out and fold in half lengthwise, creating a long, skinny rectangle. If you have a sewing machine, hem the edge of the fabric and then do another length of parallel stitches to make sure the necklace will be nice and safe. Don't have a sewing machine? Pick up an easy-to-use, and much more compact, handheld sewing machine, which works just as well. When you've finished sewing the side, sew one end of the long rectangle also, which will secure the teething necklace.

Use all your patience and slowly turn the fabric right side out. Once you've succeeded, you'll have a long, narrow tube. Tie the end that is sewn shut with a secure knot.
Drop a wooden bead into the tube and then twist and knot the fabric nice and tight. Continue adding beads and tying until the necklace is as long as you'd like. Secure the end with a knot, making sure there is enough fabric to do a final stitch.

Trim the remaining fabric, allowing about two inches, fold over into itself, and secure with the sewing machine.
Cut lengths of ribbon and tie to either end of the teething necklace right under the bead closest to each end. Secure the ribbon with double knots and trim.
Your teething necklace is ready to wear and be gnawed on (but never allow a baby to play or chew on the necklace unattended)!