Homemade Trick-or-Treat Bags by Project Nursery
Handmade Halloween: Mummified Loot Bag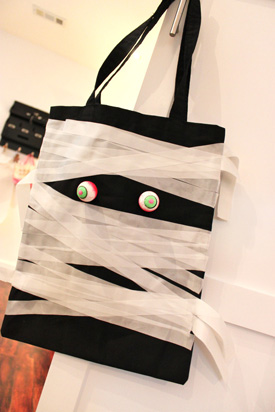 Trick or treat? The classic plastic pumpkin and plain pillowcase are set to get a much-needed upgrade this season. We've tapped some of the web's most creative women to show off their take on the classic Halloween loot bags.
Our first bag comes to us from Melisa Fluhr, editor of the children's interior design blog ProjectNursery. The mom of two lil boys lives in Los Angeles where she is also a partner at Little Apple Design. Be inspired by her treat.
This mummy bag is super simple. I already had the black bag and the first aid tape was in my bathroom cupboard. My toddler loves nothing more than to play with a roll of tape so this was a great opportunity for him. This is a fun, no mess project a tot can help start with a little guidance.