Homemade Trick or Treat Bags 2010-10-12 07:00:34
Handmade Halloween: Paint Can Trick or Treat Collector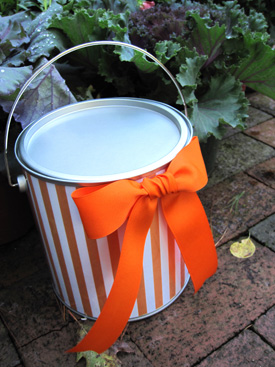 Trick or treat? The plastic pumpkin and plain pillowcase are receiving a much needed upgrade this season. We've tapped some of the web's most creative women to show off original takes on classic Halloween loot bags.
This adorable paint bucket comes to us from Kate Landers, the woman behind the classic children's party firm Kate Lander's Events. Kate's event themes and design, as well as her lines of custom party ware and table ware, bring back old-fashioned birthday party charm. Here are her tricks:
Living in New England I wanted a more waterproof container for treats (note: inside isn't waterproof when lid is off!). Therefore, the plastic paint can seemed like the perfect choice. It is also highly customizable – you can embellish with glitter paper, a monogram decal, even fabric instead of paper! It holds the perfect amount of candy, and can be designed in whatever colors needed to match your costume.
 
I will be using my trick or treat container not only for loot Halloween night, but to hand out as Halloween favors to our neighbors as well, full of tricks and treats!
To see all of the steps for creating this bucket, read more.