Household Uses For Hydrogen Peroxide
9 Household Uses For Hydrogen Peroxide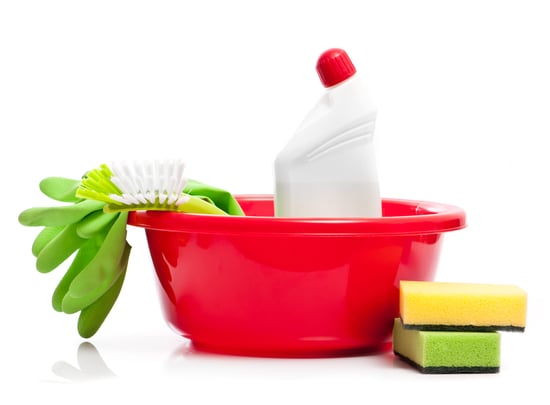 Is hydrogen peroxide a key player in your household cleaning routine? It could be! While many of us keep hydrogen peroxide on hand for cleaning cuts and scrapes, Circle of Moms members have also shared that the affordable, multipurpose product can be used for everything from removing tough stains to disinfecting toothbrushes. Keep reading for all nine of their best tips!

1. Stain Remover

As Circle of Moms member Lisa R. advises, stubborn stains are no match for hydrogen peroxide: "Hydrogen peroxide will take blood stains out of any fabric except silk and satin." Meanwhile, Sandra R. shares that she uses it to quickly remove "blow-out" poop stains from her daughter's white skirt, white high chair buckles, and ExerSaucer.


2. Bleach Alternative
A powerful and effective bleach alternative, hydrogen peroxide is a great way to brighten laundry. Melissa B. recommends including hydrogen peroxide in your prewash routine for heavily soiled laundry: "Fill laundry, add detergent, 1 cup of hydrogen peroxide [and] let it sit for 30 minutes. Then run through the cycle."
3. General Disinfectant
Hydrogen peroxide is an excellent general disinfectant. A Circle of Moms member named Kristin, for example, uses it in a spray bottle for cleaning counters and tiles in the kitchen and bathroom. And other moms use hydrogen peroxide around the house on everything from doorknobs and light switches to toys and cloth diapers.
4. Odor Eliminator
Several Circle of Moms members say hydrogen peroxide has helped them neutralize bad smells in their homes, especially pet odors. When Randi M.'s cats spray the walls or carpets, she finds that "hydrogen peroxide, baking soda, and water will kill the smell right away."
5. Hair Lightener
Looking to achieve summery highlights without toasting in the sun? As a bleaching agent, hydrogen peroxide can do the work for you. "It naturally lightens my hair," shares Lindsey in the Green Moms community.
6. Fruit and Vegetable Cleaner
Remove pesticide residue and bacteria like E. coli from fresh produce with a combination of vinegar and hydrogen peroxide. As Kristin shares the following directions in the Money Saving Tips community: "Place 3 percent hydrogen peroxide in a spray bottle and full strength plain white or apple cider vinegar in a spray bottle. Use a little bit of each one to clean your produce and then rinse with water."
7. Ear Wax Dissolver
Ears plugged up with wax? A drop or two of hydrogen peroxide could loosen things up, as Millie G. shares: "My baby's doctor told me to use hydrogen peroxide. A very small drop. My son has a lot of ear wax build up and this seems to work for us." Be sure to check with your doctor before following Millie's advice.
8. Toothbrush Sterilizer
Hydrogen peroxide can help you keep nasty germs from taking over toothbrush bristles. Elizabeth J. soaks toothbrushes in hydrogen peroxide for a few minutes to kill bacteria; other moms spray toothbrushes after each use to achieve a similar effect.
9. Teeth Whitener
Want a pearly white smile without buying expensive teeth whitening products? Many moms use hydrogen peroxide to whiten teeth. Mother-of-two Erica B. explains: "Use a cap-full and hold in your mouth and swish with [it] for up to five minutes."