How to Babyproof Your Home
4 Smart Tips For Babyproofing Your Home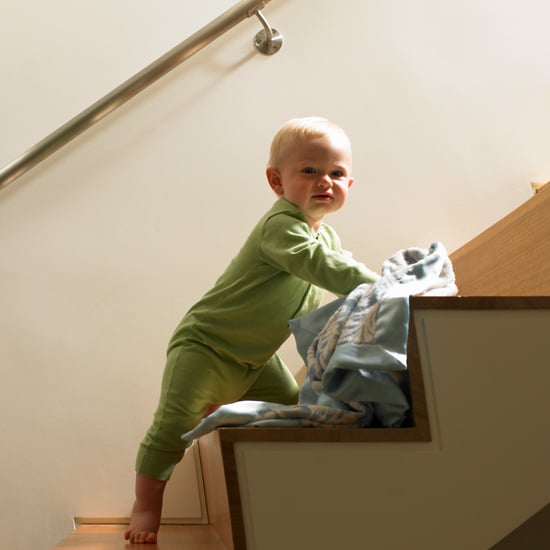 Curious toddlers who want to touch and explore everything can inadvertently create havoc in a home. Some parents are content with the chaos. But it only takes an off-balance baby falling down the stairs once before the safety mind-set sets in.
Jennifer L. wonders how far she should go to baby/childproof her home. "Locks on cabinets? Lock on toilet seat? Outlet covers? Something to keep little fingers from being smashed in drawers or sliding doors? Knob covers for the stove? Gates? Lock on refrigerator? Bubble-wrapped coffee table?"  
Similarly, Heather N. wants to make her home as safe as possible for her child, without going overboard.
 
To aid parents, we've rounded up four tips on babyproofing, as recommended by experienced Circle of Moms members.
1. Assess Your Needs
The first step in babyproofing your home is to assess your child's personality and your needs. For instance, if your home has a pool or wood stove, you will want to make sure there's a gate around them. It also helps to observe your child and see if you can determine what unsafe things will be an attraction, Circle of Moms member say. For example, some moms are forced to put up a protection system around the TV when they find their children are infatuated with pushing its buttons. Other moms say they don't use commonly purchased outlet protectors because their children aren't attracted to outlets.  
When trying to figure out what and how to babyproof, Sandra D. recommends asking yourself specific questions. To determine the appropriate solution for another mom who was concerned that her son was playing with the air ducts, Sandra asked: "What is she doing with them? If she is lifting them out of the floor you can double side tape them down. If she is putting things in them for metal one there is a cover to block air flow it is like a magnet she might have a hard time putting something down them then but you will have no heat or cool air flow through those vents. . . . If she is just dropping items down, I also have placed a thin bounce sheet inside the vent cover to catch the items or you can purchase a sheet for this at the hardware also."   Click here to read more practical babyproofing advice from real moms!
2. Start With the Obvious
Generally, many moms recommend covering power outlets, padding sharp corners that children could accidentally bump into, and putting safety latches on doors or cabinets with unsafe items. Angela C. says she did all this, and once her daughter gets more mobile, she will assess whether other areas of her home warrant more babyproofing.  
A Circle of Moms member who calls herself "Little Miss Can't Be Wrong" says she anchored a heavy TV, because she had heard reports about heavy TVs inadvertently falling and crushing kids to death. Mel H. says in addition to using a starter babyproofing pack that included door knob covers, outlet plugs, and safety catches to prevent a child from opening cabinet doors or drawers, she keeps her bedroom and bathroom doors shut, animal food/water/litter out of reach, and dangerous equipment and chemicals locked up high.  
3. Check Personal Care Product Ingredients
 Even if you take care of the basics, some moms say you should be particularly aware of products with unsafe ingredients. "Baby proofing doesn't only mean wall plugs, and sharp items way up high. It also means taking precautions with your household and personal care items," Debra M. says. "Many products out there, from baby shampoos, to lotions, to dish washing soap, to detergent for laundry, etc., have so many toxic ingredients that cause mild to serious health problems short-term and long-term."
Yet Hannah R. says as long as you can keep an eye on your kids, extra precaution with chemicals is not always necessary. She keeps hazardous chemicals within her children's reach under the kitchen sink, explaining that "[my kids] are fascinated with cleaning at this age, and I plan to take full advantage of it while it lasts." She has, however, covered the outlets in her home after her son stuck an ornament hanger in one.  
4. Teach How to Play Properly
Once the basics are babyproofed, then it's important to set aside areas or items that are OK for a baby to play with. Ariel S., for example, says she has latches on the kitchen cabinets that have dangerous items in them, but not on the ones that have pots and pans. "I'm waiting for him to find that one and have a ball banging them together," she says. "My thought is that kids don't learn about the world if they are bubble-wrapped."  
Similarly, Faith F. says she doesn't babyproof things that she can teach her child to play with properly. So instead of worrying that her child would break her computer as they copied her typing on the keys, she bought a child-friendly computer that her daughter doesn't need to be as delicate with. Her rule of thumb is to babyproof areas that could be potentially harmful, like the stairs or drawers with sharp or harmful things. But "if it can't harm them, teach them."  
In that same vein, Lady G. avoids babyproofing things that she can watch her child use and teach her to navigate safely. "Part of parenting is repetition and perseverance," she says, noting she hasn't babyproofed anything in her house for her fourth child but just uses more persistence and a watchful eye until her child gets the hang of handling things safely.  
"I believe in letting kids explore in a safe place," Tara K. says. Do the babyproofing basics, keep a watchful eye, and other than that, just let your kids "have the run of the house, for the most part," she concludes.