How to Celebrate Thanksgivukkah as a Family
Everything Your Thanksgivukkah Needs, Including the Menurkey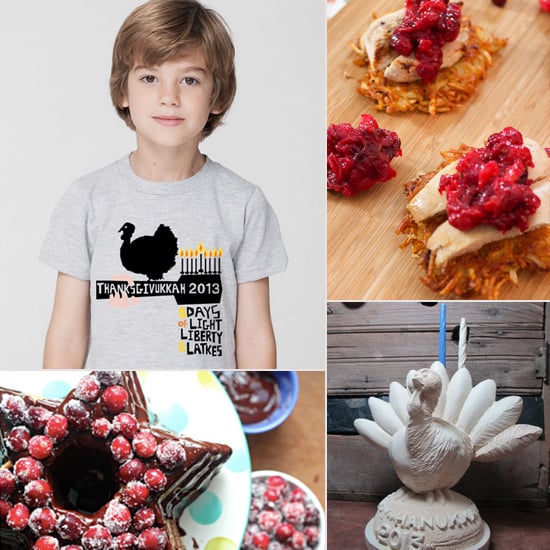 When a holiday only comes around every 78,000 years, or so, you can be sure families are going to celebrate — and do so in a big way! So with Thanksgiving and Hanukkah coinciding on Nov. 28, plans are already under way for a once-in-a-lifetime merging of traditions in a new concept called Thanksgivukkah. Not quite sure that the two can actually be combined? You're in for a treat. The two food and symbol-heavy holidays actually have a lot in common – oil, candles, yummy recipes, and more! — and it's all kid-friendly! Scroll down for everything you need to plan a Thanksgivukkah celebration the whole family can enjoy.
What to Eat
When it comes to holidays, you don't have to look any further than the festive meal to get a feel for the celebration. Though traditional Thanksgiving and Hanukkah dinners don't appear to have much in common, you'd be surprised just how nicely they work with each other. Don't believe us? These fusion dishes look absolutely delicious.
Deep-Fried Turkey
Hanukkah dinner menus are typically filled with fried foods. Food is cooked in oil to commemorate the small amount of oil that lasted for eight days in the Temple. Turkey is the Thanksgiving's signature dish, so when you put the two together — in the form of a deep-fried turkey — you've got yourself one delicious, and symbolic, main course.
Thanksgivukkah Tzimmes Pie
Tzimmes, a traditional Jewish food involving shredded carrots, gets a Thanksgivukkah makeover when The Cupcake Project reinvents it to include sweet potato pie, apple pie, carrot cake, a bit of citrus, and a raisin crumb topping.
Potato Latkes Topped With Turkey and Cranberry Chutney
It wouldn't be Hanukkah without potato latkes on the menu! Girl in the Little Red Kitchen's potato latkes with turkey and cranberry chutney combine the best parts of both holidays into one extremely tasty bite!
Keep reading for more Thanksgivukkah inspiration!
Turkey-Shaped Challah
Challah's always a centerpiece in Jewish holiday meals, so why not have some fun with it? Sweet Happy Life's turkey-shaped challah is sure to be hit with kids of all ages.
Chocolate Cranberry Cake With Gelt Glaze
Thanksgivukkah kicks it into high gear when it comes to dessert. A usually tasty chocolate cake gets made over with a chocolate glaze made from Hanukkah gelt in this chocolate cranberry cake with gelt glaze.
Pumpkin-Glazed Cronuts
You can't talk about dessert without mentioning the Cronut these days. For Thanksgivukkah, Mother Would Know's pumpkin-glazed Cronuts combine Hanukkah's traditional doughnuts and Thanksgiving's pumpkin-themed desserts with the hottest dessert craze in town.
Pumpkin Butter and Caramelized Fig Rugelach
How delicious does What Jew Wanna Eat's pumpkin butter and caramelized fig rugelach look? The traditional Jewish cookie gets a Thanksgiving upgrade that kids and adults will both love.
Cranberry Sauce-Filled Sufganiyot
It wouldn't be Hanukkah without jelly-filled donuts. The Jewish version, called sufganiyot, lend themselves perfectly to Thanksgivukkah when they're filled with cranberry sauce, as Mari Levine does in this tasty recipe.
What to Do
A holiday that doesn't come around for another 70,000+ years, is definitely worth celebrating in a big way. Yes, they'll be plenty of parade viewing, touch football playing, and present unwrapping, but the occasion also calls for some fun activities.
Light the Menurkey

Thanks to an entrepreneurial 9-year-old and a successful Kickstarter campaign, Hanukkah and Thanksgiving can be forever entwined with a beautiful paster and ceramic turkey-shaped menorah. The Menurkey's feathers provide the foundation for the menorah's nine candles, and the base commemorates the once-in-a-lifetime celebration.
Create a Pumpkin Menorah
If you're too late for the Menurkey Kickstarter, you can create one using one of the biggest symbols of the season. This pumpkin menorah is both easy to create and fun for kids to decorate.
Fill a Turkey Piñata with Gelt

Everyone loves playing with a piñata, so why not use one to combine both holidays. Take a turkey-shaped piñata and fill it with Hanukkah gelt. The foil-wrapped gold coins are the perfect filling — plus they'll look great as they come falling out of the sky!
Do the Gobble Tov Activity Book

The free, dowloadable Gobble Tov Activity Book is packed with 10 pages of crafts, word hunts, facts, and mystery math codes to get kids in the Thanksgivukkah spirit.
What to Buy
As with any holiday, there are plenty of things you can buy to prepare yourself for the holiday. From clothing to tabelware, here's what you need to ensure you're properly outfitted!
The Clothing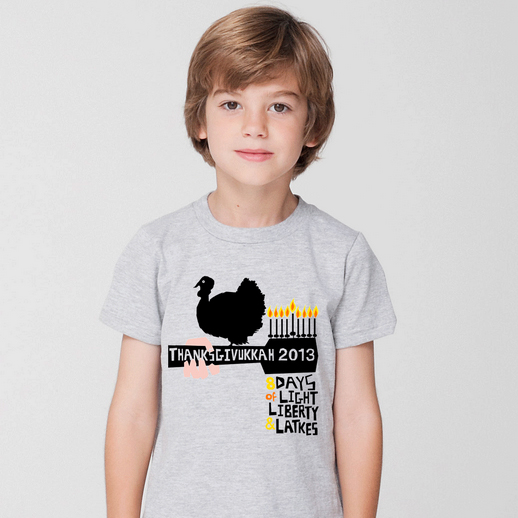 Outfitting the kids in these Woodstock-inspired Thanksgivukkah shirts ($29) will not only make a cute photo-op, it will also do some good. All of the proceeds from the sale of the shirts go to Mazon, a hunger-prevention agency. And don't worry, mom and dad don't have to feel left out — they come in adult sizes too!
The Silverware

A set of Thanksgiving and Hanukkah wooden utensils ($10 for 20) will add a festive touch to your table.
The Plates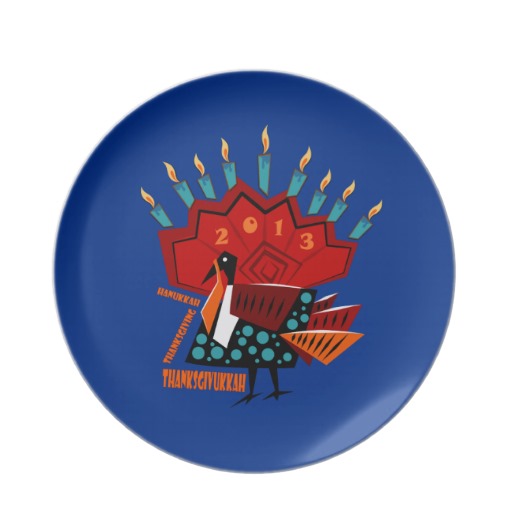 The kids will love these once-in-a-lifetime Happy Thanksgivukkah Hanukkah and Thanksgiving Dinner Plates ($25 each) to commemorate the occasion.
What to Listen to
While the Maccabeats haven't released a tune about Thanksivukkah yet, there are some funny tunes that are popping up online. They might not have caught on as well as White Christmas or Jingle Bells yet, but just wait . . . there's still time!
The Ballad of Thanksgivukkah
Thanksgivukkah Rap Battle Parody