How to Choose the Right Preschool
10 Things to Look For in Finding Your Perfect Preschool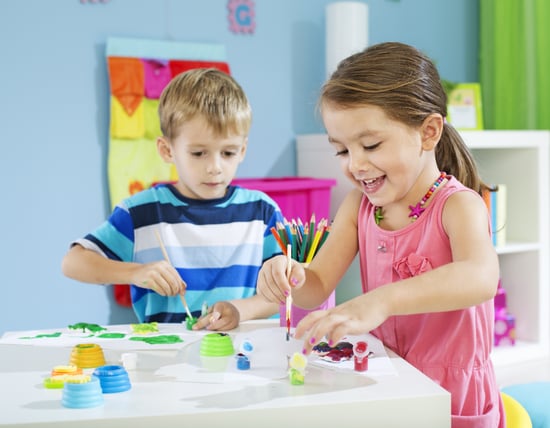 It may only be December, but if you've got a tot who'll be ready for preschool next Fall, it's time to get the ball rolling! Depending on where you live, the process can run from being easy and breezy to overwhelmingly stressful. While we don't have an in with the admissions office (sorry!), we do have some experience in finding a school that suits your needs. Keep reading to learn what to look for in determining the right destination for your child's foray into the wonderful world of education.
1. Determine Your Priorities
First and foremost, have a conversation with your partner about what you're looking to get out of your child's preschool experience. Are you simply hoping for a spot where you can drop them for a few hours a week to get some time for yourself; is socialization your priority; or are you looking for your 2- or 3-year-old to learn some basic skills? Most likely, the end goal will be a combination of elements. Once you know what you're looking for, do some research and identify a few solid options in your area.
2. Observe a Class in Session
Plan to visit the schools on your list during the week so that you can observe kids interacting with their teachers and one another. While it's easy to be dazzled by a neat and tidy empty classroom, it's more important to see what an actual school day would look like.
Keep reading to learn more about what to ask when visiting preschools.
3. Ask About Class Size and Student-Teacher Ratio
Don't assume that the class you're visiting is the norm. Ask the school's director or admissions officer the average class size, what the cap is, and what the student-teacher ratio is. While there's no magic number, you should feel comfortable, not surprised, with their response. The National Association for the Education of Young Children recommends that for 2- and 3-year-olds, class sizes should be smaller than 18, with at least two teachers.
4. Does the School Adhere to a Particular Philosophy?
Montessori, Waldorf, Reggio Emilia . . . preschool education has its very own lingo! Do your homework and brush up on the basic terminology and what it all means. If you're committed to a specific methodology, ask plenty of questions to ensure that it's actually executed in the classroom. But be open-minded, plenty of parents go into the process with a willingness to explore different options.
5. What Does a Typical Day Look Like?
Ask the person you're meeting with to run you through a standard day in what would potentially be your child's classroom. Younger kids require more diversions than their older counterparts, so make sure that they're getting enough stimulation. The day should encompass a good mix of independent play and group activities. Also be sure to ask about snack time and if outdoor play is part of the program.
6. Do the School's Scheduling Options Fit Your Needs?
Make sure that you have an understanding of what your options are when it comes to what days of the week classes are offered, how long they are, and whether or not the school is currently accepting new students. If your top choice has a wait-list, it may be a good idea to select a backup as well.
7. What Kind of Background Do the Teachers Have
While observing them in action is one way to get a feel for a school's staff, asking the person in charge of hiring what they look for in a great teacher offers additional background. What kind of eduction do the teachers have? How long have they been there? Do they receive any standard training during the course of the school year?
8. What's Expected of the Parents or Caregivers?
Every school has its own expectations when it comes to parental involvement. Those with a co-op model may require volunteer hours and other commitments from moms and dads. Find out upfront exactly what's expected of you, whether or not there's a parent board, and if parents are welcome to visit the classroom on occasion.
9. How Safe Is Your School?
While it may be relative to the city or town you live in, get a grasp of your potential future school's safety policies and procedures. Do doors remain locked during the school day? Is the space shared with any other organizations or offices? Who at the school has CPR/First Aid training? What's the communication plan in the event of an emergency? While it's probably the last thing you want to think about, you want a school that's looking out for your child's best interest, even in the worst-case scenario.
10. What Does the School Community Look Like?
Ask the school's director for a snapshot of the community. Do most of the students continue on to the same elementary schools? Do many of the families live in your neighborhood? Is the student body made up of single or dual working-parent families? These may or may not be priorities to you, but it's a good idea to understand who comprises each classroom.