How to Clean Kids' Shoes
5 Tips For Cleaning Kids' Shoes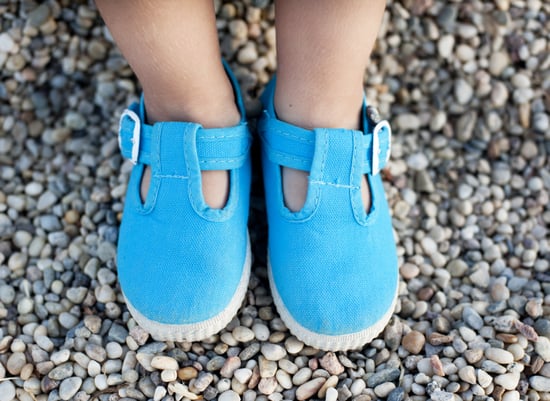 Your kids will probably go through dozens of pairs of shoes before they ever hit their first day of school, and as most parents quickly find out, little sneakers and sandals don't necessarily mean small price tags. (I swear, these days my daughter's shoe wardrobe is worth almost as much as mine is!) Unfortunately, puddles, mud, water, food spills, and, yes, even potty accidents can turn those kicks into stinky, sticky messes. Want to know how to clean them up? Follow these simple methods.
Soak them. You can take those kids' Crocs and jellies and hose them down outside, but for sneakers, a good old soak in a bucket of water can remove caked-on mud. Change the water regularly, and after the majority of the dirt is gone, use an old rag or toothbrush (consider a wooden or metal skewer if the shoes have deep, dirty grooves) to remove the rest. Rinse in cold water, and let air-dry.
Use a cleaning agent. Enlist the help of a kid-friendly stain-fighting tool to remove tougher stains (grass, blood, and other bodily fluids). A paste of baking soda and water also works well. Apply directly to stains, let soak, rinse well, and air-dry in a shady spot (any excess stain fighter could bleach out fabrics in the sun).
Try the Magic Eraser. That magical eraser you use all over your house also does a pretty great job of cleaning rubber soles. Use one to remove mud and other unknown substances.
Try toothpaste. Toothpaste, an old toothbrush, and a good scrub can make soles and even canvas look brand spanking new (and smell minty fresh). After a good scrub, rinse the shoes thoroughly and let them air-dry.
Enlist the help of your washing machine. Most sneakers and canvas shoes (like those oh-so-cute little Toms) are safe to throw directly in the washing machine. Just be sure to avoid the dryer, since it can cause shrinking. Instead, air-dry either outside, inside over a vent, or in front of your refrigerator to soak up that motor heat. If you're afraid of fading, then you want to avoid direct sunlight. Need some additional odor control? A little baking soda in the wash cycle or sprinkled on those wet shoes should help.