How to Clean a Stroller
Baby Deserves a Clean Stroller: How to Get Yours Looking Like New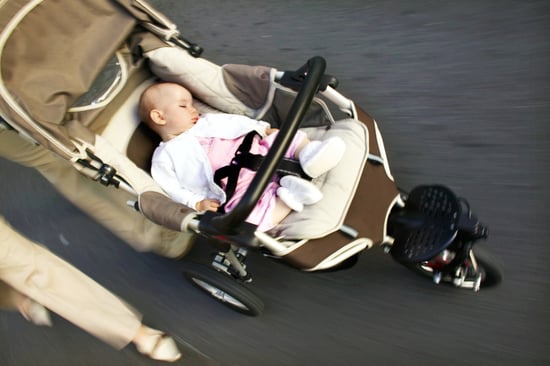 Your stroller is probably one of the biggest investments that you made in the baby gear department, and for good reason. Your little one's first set of wheels is a daily workhorse, cruising through everything from rain and snow to dirt and mud to get you and your baby where you need to go. Protect your precious ride by giving it a thorough cleaning every few months. It will prolong the stroller's life and ensure that your baby is riding in sanitary style. Here's how:
Assemble Your Arsenal: You'll want buckets of both regular and soapy, warm water, a few old dish towels or rags, a soft brush, a vacuum, WD-40, and a bottle of stain remover like BuggyLove or OxiClean Baby.
Break It Down: Take apart whatever pieces of the stroller that you can disassemble. If you can remove the bassinet or seat, do so. Also remove any accessories (cup holders, organizers, etc.).
Vacuum Away: Use your vacuum's nozzle attachment to suck up dirt and crumbs on all fabric surfaces.
Wipe It All Down: Use a soft towel and lukewarm water to clean your stroller's chassis, then dry it off with a dry towel.
(Not-So) Squeaky Clean: Spray some WD-40 on the brakes to prevent squeaking, and keep your stroller riding smoothly.
Brush Up: Use a soft brush to clean dirt and sand from your stroller's tires and any other mechanisms that may be dirty.
Suds Up: To clean a foam handlebar, gently rub it down with soapy water, then wipe away any residue with a dry towel.
Stains Be Gone: Following the directions on your bottle of stain remover, spray away any trouble spots.
Or, You Can Cheat: You'd take your dirty car to the car wash, and now you can take your dirty stroller to one of the many stroller cleaning services that have popped up across the country in recent years. Check out CleanBeeBaby or Stroller Spa to find a location in your area.