How to Clean Your High Chair
4 Easy Tips For Cleaning Your High Chair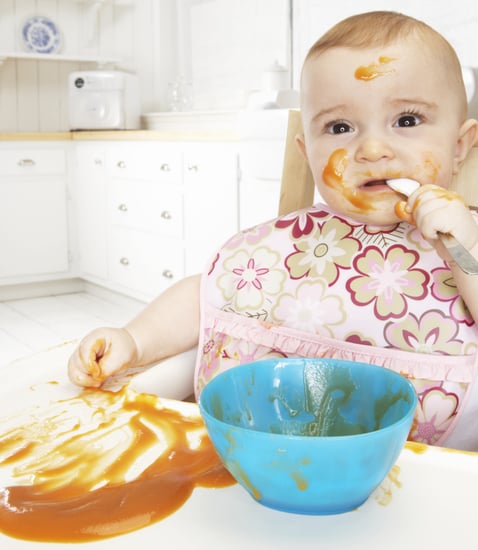 My daughter loves her cushy high chair with its faux leather, comfy seat, and extra-wide tray, but to me, it just looks like one big crumb and spill magnet, complete with lots of nooks and crannies perfect for hiding peas from who knows how many meals ago, ketchup drips, and crushed crackers. If you're in the same "ick" boat as I am when it comes to your high chair, follow these quick tips to take your high chair from gross to gleaming.
Do a daily wipe down. Use a wet rag or nontoxic cleaning wipe to quickly wipe down the seat area to clean up any spills before they dry and harden. Hand wash your tray with dish soap and warm water, or if you have a removable tray, pop it in the dishwasher.
Tackle the crevices. My patented cleaning cheat moves involves using my vacuum's removable nozzle to suck up any crumbs, but you can also use dental floss, a cotton swab, or an old toothbrush combined with a wet rag to pick up tiny bits of food. Rub hardened food spots with warm water or a nontoxic cleaning solution (vinegar, water, and a bit of dish soap work well) and allow to soak for a few minutes before you scrub.
Work on the straps and seat. If you have machine washable parts, by all means, throw them in the laundry, but if you want your seat to last through multiple kids, consider hand washing. You can wipe down the seat and straps with hydrogen peroxide, a natural disinfectant that kills germs without leaving any residue, or use warm soapy water and a rag to gently remove any dirt and grime.
Reassemble and get ready for clean eating! At least, that is, until baby's next meal!