How to Encourage Your Child to Play Sports
How to Be a Team Mom and a Team Player
Sports are a great way for children to have fun, make friends, and learn lessons that also apply off the field. But it can be too easy for kids and parents alike to get caught up in hypercompetitiveness, especially on the heels of the Olympics excitement of the past few weeks.
Before you start fantasizing about signing day or gold-medal moments, teach your little athlete to enjoy the rewards that sports have to offer, at every level. Remember, it's just a game — and a growing opportunity! Here's how to be the encourager, not the coach, and let you and your child get the most enjoyment out of sports.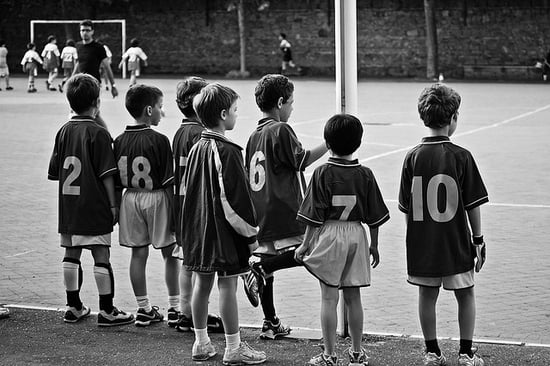 Focus on fun: Fun is the first order of business for both you and your little tyke. This should be the biggest motivation for your child to stay in the game. Enjoy watching him improve, joining the pizza parties, and seeing him make new friends. If you remain lighthearted and appreciate your child's progress without getting too serious, then she can set her own goals and be accountable to herself for her achievements.
Winning is NOT everything: Winning isn't everything, ever, especially when when your child is just starting out. Although beating a rival is thrilling, it won't make or break your kid's athletic career, so don't allow big wins to become the focus. Instead, focus on staying active, making improvements, and demonstrating sportsmanship throughout the season. Learning how to handle a loss is just as important as celebrating a win.
For love of the game: Make sure your child is doing something she enjoys. Don't put her in a sport because you were a college track star or your carpool signed up. If your little one loves to climb everything in site, then maybe gymnastics is the perfect fit. If you haven't been able to get him out of the pool this Summer, then look into registering with a swim team. Be open to the idea of trying several sports before settling on just one.
Dare to compare?: Yes, it is human nature, but do your best not to compare your child's potential to others. Factors like strength, ability, and coordination vary so much among children in their developmental years that it would be unfair to compare your child to his teammates, even in your head. Instead, help him set realistic goals within his own abilities that will challenge but not overwhelm him, keeping him interested without burning him out or discouraging him. It is important to want your child to be at his best, not the best.
Source: Flickr user Geomangio