How to Entertain Kids at Wedding
Tips For Entertaining Your Kids at a Wedding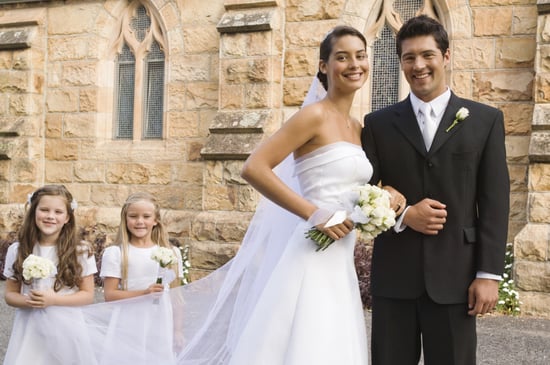 Kids and weddings don't always make the most natural partners. Brides often dislike pint-size guests' affinity for screaming out at inappropriate times and their tendency to hog the spotlight (don't they know she's the star!?), while kids can find the hours-long events mind-numbingly boring. Finding a way to make everybody happy can be tough, but follow our advice and odds are, the whole family will enjoy your next wedding — and the bride won't regret adding your children to the invite.
Before you go, communicate! Prepare your child for the day's events. Will the reception be short or long, and will they be expected to sit quietly and pay attention? How long do you plan on staying at the reception and is it outdoors or in? Let your kids know in advance what's coming, and they'll be more likely to be on good behavior.
Bring along quiet activities for the reception. Soft books for young children or a noise-free, inconspicuous hand-held video game for older ones can be a lifesaver for ceremonies, especially if they include lengthy religious services.
Think food. Hopefully the couple has thought ahead to order kid-friendly meals, but just in case, pack extra snacks for kids who might not like the steak or chicken options, or prepare for your kids to fill up on wedding cake.
Keep reading for more ways to entertain pint-size wedding guests.
Craft it up. Simple, nonmessy crafts like coloring or making friendship bracelets can keep lil ones occupied for large amounts of time. Just be sure to bring all of the necessary supplies and leave those permanent markers and glue sticks at home.
Take them outside. If the weather is nice, consider bringing along a ball, kite, jump rope, or hula-hoop (i.e., anything that will burn off some of that youthful energy!). Have an adult supervise races, a friendly game of catch, or an exploratory walk.
Just dance. Kids love to dance, and luckily for you, most weddings come with a DJ or band. Just be sure to explain to your lil ones that there are certain times (first dance, father-daughter dance) when they're not welcome on the dance floor. Create an adult-supervised area for your tiny dancers so they won't get in the way of bigger (and sometimes inebriated) guests.
Consider hiring a babysitter. Just in case none of the above work for your party-goer, consider a backup babysitter who could watch your kids in a hotel room or at home while you enjoy the reception!