How to Make Ravioli From Scratch With Kids
Make It From Scratch: Homemade Pasta Is a Fun (and Delicious) Family Meal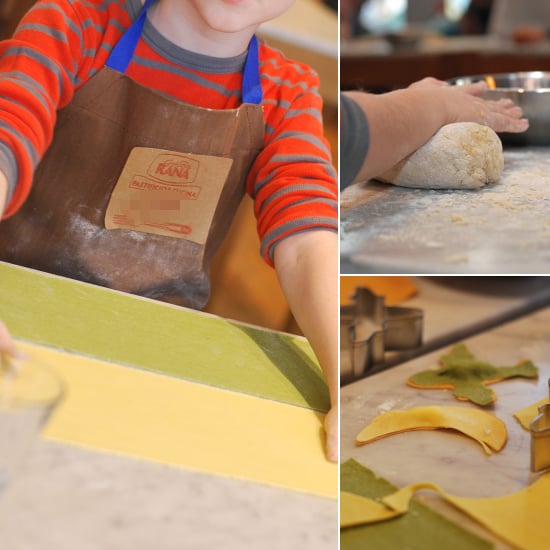 If your home is anything like mine, your pantry shelves are lined with boxes filled with a variety of pasta shapes that make their way onto the kids' plates almost every night. We serve it up in various sauces — spinach pesto! homemade tomato! meat sauce! turkey meatballs! — but until last weekend, we had never attempted to make our favorite meal from scratch. It always sounded hard, messy, and not worth the effort when a store-bought box costs under $2.
Antonella Rana, daughter-in-law of the founder the 50-year-old Italian pasta company Giovanni Rana, may have convinced me otherwise. The animated chef and mom of two at home in Verona, Italy, was in town to host a "Pasta-Making For Kids" class at her family's first US restaurant, Giovanni Rana Pastificio & Cucina. With my 7-year-old in hand, we headed downtown for a morning of ravioli making, and to our surprise, it was easier than we ever imagined — and fun, lots of fun! From Antonella's explanation of her golden rules of cooking (see below) to rolling out the dough and creating fun shapes, we had a blast — and, as with almost anything you make from scratch, it was delicious. And we weren't the only ones who thought so. The class was such a hit that the restaurant will soon be offering it on a weekly basis, so if you're in NYC, it's a fun way to spend a Sunday morning.
Keep reading for Chef Antonella's golden rules and for the recipe for ricotta mascarpone ravioli.
Each class begins with Chef Antonella going through the Little Chef Golden Rules, much to the kids' (and parents'!) enjoyment.


The class then gets to work on a delicious yet kid-friendly recipe for ricotta mascarpone ravioli.
Ricotta Mascarpone Ravioli
Ingredients
For 10 oz. Pasta Dough
5 oz. all purpose flour
2 eggs
1 pinch of salt
*0.5 oz. tomato paste if making red dough
*0.5 oz. chopped spinach if making green dough
For Filling
1.7 oz. ricotta cheese
1.7 oz. mascarpone
1.7 oz. grated parmigiano
Directions
To Make the Dough:
Put the flour with the salt in a large bowl. Mix with a spoon. Place mixture on a clean surface in a mountain formation. Using your fingers, create a hole — like a volcano — in the center.

Add the eggs to the center of the "volcano" one at a time. Once added, mix them with the flour/salt combination with your hands.
Knead the dough well with both hands until it is smooth and elastic.

Let the dough rest before rolling it out and cutting as needed.
To Make the Filling:
Put the ricotta cheese in a large bowl with the mascarpone and the parmigiano.
Stir with care.
Keep the filling refrigerated before using it for the ravioli.
To Make the Ravioli:
Roll out the pasta dough into two very thin sheets.

Lay the sheets evenly across the table.

For Fun-Shaped Ravioli: Using a pastry wheel, or even cookie cutters, cut out the shapes. Place a small amount of the cheese filling in the center of the shape. Using a pastry brush, gently dampen the edges of the shape. Place another shape atop it and press along the edges to seal it.

For Traditionally Square Ravioli: Space the filling with a spoon along its entire length far enough apart so each raviolo will have enough space. Gently lay the second sheet over the layer with the filling, making sure there is no air in between. Cut the ravioli with a pastry wheel.
Refrigerate until ready to cook. When ready to cook, gently place in a pot of boiling water and cook for 3-5 minutes. Drain and serve with your favorite sauce, or a light drizzle of olive oil and fresh herbs.
Information
Category

Pasta, Main Dishes

Cuisine

Italian