How Maternity Clothes Improved my Pregnancy
The LMD (Little[ish] Maternity Dress)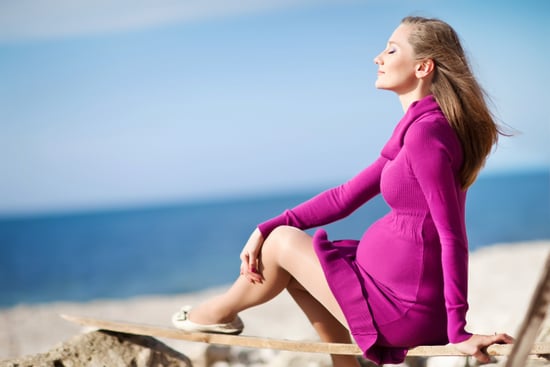 When I was pregnant with my first, I was in the middle of an identity crisis. Like most of my overly-dramatic identity crises, I approached the matter by eating and not taking care of myself. I know, typical female. However, I'm also very "typical female" in that shopping can do a world of wonders for me. Thankfully, my mother knew this. She took one look at me about 18 weeks into my pregnancy, making attempts at pulling myself together whilst donning my husband's Oxford shirt and leggings, and she dragged me to the maternity store. But thank heavens she did! Now, I love maternity clothes! 
Keep reading.
Practical or Frivolous?
Though, as frivolous and girlie as I'd like to be in my fashion endeavors, I'm still a practical soul. Sure, I can admit the need for maternity clothes and regale their accomplishments in making any normal pregnant lady feel better about herself; but there's still a piece of me that thinks, "It doesn't matter. I'm only going to wear this for a few months. I can get by."
Again, this is not my mother's nature. I remember that first maternity shopping excursion so vividly, trying on sweaters and jeans and shirts — anything she threw at me just because I was in new territory. Then she pulled a rather fancy gown off the rack. It was beautiful! I would have worn it, pregnant or not, knowing the deep, rich purple color was perfect for the holidays and that the sparkly embellishment on the front were perfect for a fancy occasion.
"Mom," I said though, rolling my eyes. "I do not need a dress like that while I am pregnant."
"Yes, you do," she said. "The holidays are coming up and you'll want to feel your best if you have to go to an office party or a Christmas get-together." Though I argued the entire time she was forcing me into the dress, while she was paying for it, and while it sat in the bag I carried around the mall the rest of the day, I was secretly so excited that she'd gotten it for me. I knew, come Christmastime, when I inevitably had to dress up for something, I'd pull that beauty out of my closet, get all gussied up, bump and all, and I'd not only feel good, I'd still be able to wow my husband. I did — I wore it to my annual Christmas party and just let myself drown in the compliments. 
The Dress That Saved the Day

This pregnancy go-around, I'm hitting a fresh new season and that practical girl raged out of me again, insisting that I'd manage a pregnant summer just fine with my limited selection of maxi dresses and stretchy tank tops. Yet again, Momma Kinch proved me wrong, showing me how just a few pieces would make my summer that much easier.
One of those pieces was a dress that I, again, thought too fancy to buy. What was the point? We stood in the dressing room having the same argument we'd had over the purple Christmas dress just two years earlier.
"You don't know what you might need to dress up for," she said.
"Well," I pondered. "I guess we do have at least one wedding to go to," I admitted. So the dress was bought!
Last weekend, my husband and I went to that wedding, and boy-oh-boy was I feeling pregnant. I can't imagine I would have had any confidence in myself after trying to squeeze into any of my "regular" wedding go-tos. But I had this little number just waiting for me in my closet. I didn't have to think twice about what to wear. I slipped into my wonderful maternity dress and felt like a million bucks.
I won't argue that it's probably more important for an expecting mommy's practical side to win out. We want to save money for the coming baby and all that entails. But sometimes a little frivolity is more than just treating yourself — it's covering your butt too.
After all, when it comes down to the wire and you're an event to dress for, what do you turn to? Your LBD, of course — your little black dress. But for most of us, LBD isn't doing much good once we cross into third trimester territory. So this is why I recommend an LMD, a little[ish] maternity dress. It's a perfect pregnant go-to: something special that you won't tire of like you do the rest of your maternity clothes and that's got a little extra room for all that's new to love about you.
The views expressed in this article are those of the author and do not necessarily represent the views of, and should not be attributed to, POPSUGAR.